Posted on
Sat, Apr 24, 2010 : 5:15 p.m.
Michigan names Bacari Alexander new men's assistant basketball coach
By Michael Rothstein
When Bacari Alexander started talking with Michigan about its assistant coach opening, something became clear.
He had connections to almost everyone on the Michigan basketball staff. So when Wolverines coach John Beilein started looking for a coach who could recruit and teach post players, Alexander became a quick good fit because he could do both.
And for Alexander, taking the job was as much about coaching at Michigan being a "dream job" as it was about those connections.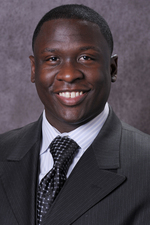 "From the very beginning of this search, I had specific qualities and characteristics I was looking for in our next basketball coach," Beilein said in a statement. "Bacari fits that profile 100 percent.
He's a Detroit native, having played at Southwestern. He played for Michigan assistant Mike Jackson at the University of Detroit. He coached against Jeff Meyer when he was at Butler. When Brian Townsend, Michigan's current director of basketball operations, left his assistant coaching job at Ohio, Alexander replaced him.
"You can go all the way down to Matt Duprey, who is the video coordinator, who was at U of D Jesuit high school at the same time my JV coach at Southwestern was the head coach of the program," Alexander said by phone from Kalamazoo on Saturday. "So there were so many connections there in terms of familiarity.
"So I knew one, great opportunity and great institution and two, extraordinary people on staff."
He helped lead the Titans to the NCAA tournament in 1998 and 1999. In two years at Detroit, he averaged 5.8 points and 4.5 rebounds a game.
After a year working with the Detroit Pistons off the court, Alexander then played two seasons with the Harlem Globetrotters, touring 13 countries and also working as an "Advance Ambassador," which is a 'Trotter who often does media and school appearances along with other public relations duties.
Done playing, Alexander, 33, coached six seasons under former Michigan assistant Perry Watson at Detroit, went to Ohio for one year in 2007-08 and then spent the past two seasons at Western Michigan under Steve Hawkins.
Now, he's headed to Michigan.
"He has strong roots in Michigan and significant recruiting experience both here and in neighboring states," Beilein said in a statement. "He is a passionate teacher with strong communication skills. Bacari is a former post player and has a proven ability in the development of big men at the college level. With our young front court, that was an important factor in my final selection."
Where Alexander fits on Michigan's current staff is as a front court coach and recruiter. He leaves Western Michigan full of players from Detroit. He considers his ability to recruit urban areas of the United States - especially the city he grew up in - one of his greatest strengths as a coach.
That he is a product of the Detroit Public School League is another big factor. It gives Michigan two widely respected assistants with the PSL in Jackson and Alexander.
"I'm a grass-roots guy. I've done very well in recruiting the national urban areas of the United States, let alone Detroit," Alexander said. "I'm a PSL product and a lot of times it helps with regards to recruiting because people tend to embrace their own. So that can be, that has been an advantage.
"…So it's a tremendous opportunity for me to bring that to the table. More than anything, I'm looking forward to working along with the collective strengths of the staff because it's a really good one that coach Beilein has assembled."
Alexander inherits a group of forwards and centers who have no collegiate experience. Redshirt freshmen Jordan Morgan and Blake McLimans sat out last season as Michigan finished 15-17. Freshmen Jon Horford and Evan Smotrycz are coming in.
That, though, isn't a problem. He's been through similar situations before.
"The thing that's nice about that particular situation, with the youth of the frontcourt in particular, is you get a blank canvas, very similar to what I had inherited during my time at Western Michigan," Alexander said. "We had a young group and we gave them a baptism by fire and that's going to be needed in a grueling and physical Big Ten conference."
Michael Rothstein covers University of Michigan basketball for AnnArbor.com. He can be reached at (734) 623-2558, by e-mail at michaelrothstein@annarbor.com or follow along on Twitter @mikerothstein.