Posted on
Thu, Jan 27, 2011 : 11:25 p.m.
Michigan natives Jon Horford and Jordan Morgan celebrate, scenes from the Michigan locker room and more
By Michael Rothstein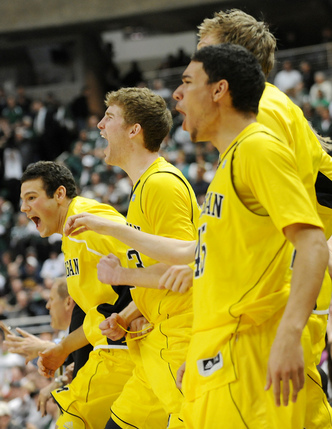 Melanie Maxwell | AnnArbor.com
EAST LANSING — A half hour passed since the Michigan basketball team had run off the court smiling and yelling, the only ones celebrating inside a mostly-silent Breslin Center, when sophomore Matt Vogrich walked back onto the court.
The only people around by then, besides the cleaning crew, were about 30 family members and friends of Michigan players.
When they saw Vogrich - and again when any other Michigan player emerged from the tunnel following the Wolverines' 61-57 win over Michigan State - they applauded.
For some, it was just a huge win over a big rival.
For Jon Horford, who grew up 15 minutes from East Lansing in Grand Ledge, it meant more.
"It makes it 10 times better," Horford said. "I know these guys are feeling great about it, especially Zack (Novak) and Stu (Douglass), guys have been here for a while.
"But I don't know if they feel as good as I feel about this."
Horford is one of five Michigan natives on the Wolverines' roster and one of two, along with redshirt freshman forward Jordan Morgan, to play in the rotation.
Morgan agreed that Thursday night's win meant a little extra to him.
"We knew that it hadn't been since '97 that we won in this building," Morgan said. "We knew what it was. I could say this game is just a game, but it's not.
"It's our rival. You can't help but get excited for it."
Scene from the locker room As Michigan's players hooted and hollered, yelped and screamed more than they had all season in a postgame, little-used forward Blake McLimans saw Vogrich trying to get to his stall in the Breslin Center's visiting locker room.
As the sophomore walked past, he said "1997 was the last time," referencing the last time Michigan won in the Breslin Center.
Both smiled. It was that kind of night.
As players talked with the media, there were random outburst, from walk-ons Corey Person and Eso Akunne cheering to a random Michigan player yelling "Stuuueeyyy," almost out of nowhere, odd because Stu Douglass was outside talking to reporters.
Celebrating too much? After Douglass hit a 3-pointer with 20.2 seconds left to essentially ice Michigan's win, freshman forward Tim Hardaway Jr. had a skip to his step and he ran back down the court.
That turned into a little dance in the seconds before Michigan State brought the ball up the court.
"I thought I tweaked my ankle a little bit," Hardaway Jr. said. "I got a little bit too excited, but it's fine and I'm doing good."
Hardaway Jr. finished with 10 points, eight rebounds and two steals.
Rare bucket Colton Christian hadn't taken a shot in since the calendar flipped to 2011. He hadn't made a shot since Nov. 18, 2010, against Bowling Green, his only basket of the year.
In fact, he had barely played this season. Yet there the freshman was in the first half, with the ball in his hands 19 feet from the basket and the shot clock dwindling down.
So he had no choice. He had to let it go.
"Darius (Morris) saw me in the corner and then I was like 'If he passes it to me, I've got to make this shot,'" Christian said. "I shoot in practice, it's something I've been leading up to, getting the minutes and everything."
Entering the game, Christian averaged 0.1 points a game and played 2.7 minutes a game. So when that went in, to give Michigan a 26-20 lead with 6 minutes left in the first half, it was a relief.
"It was a great feeling," Christian said.
Big games for both Moments before the Michigan men wrapped up its win, the Wolverines' women's team was completing a 69-66 comeback win at No. 24 Ohio State.
Douglass, whose girlfriend, junior Courtney Boylan, is a starting guard for the women's team, became nearly as excited about that news as he was when he made the 3-pointer to seal his team's victory.
"Did they? Really," Douglass asked. "How'd she play?"
Boylan had six points, two assists and two steals. Douglass, meanwhile, had seven points, four rebounds, two assists and one steal.
The most important statistic, however, was big wins on the same night.
This and that Michigan and Michigan State tied in rebounding, 29-29. … Michigan State guard Durrell Summers had a double-double with 13 points and 10 rebounds. … The Michigan student section, the Maize Rage, took a bus from Ann Arbor to East Lansing. After the game they sang 'The Victors' as the rest of Breslin was silent.
Michael Rothstein covers Michigan basketball for AnnArbor.com. He can be reached at 734-623-2558, by e-mail at michaelrothstein@annarbor.com or follow along on Twitter @mikerothstein.