Posted on
Sat, Feb 27, 2010 : 3:59 p.m.
Michigan basketball team received more contributions than normal in Ohio State loss
By Michael Rothstein
COLUMBUS - For most games this season, the Michigan basketball team has been a two-man team on offense.
Junior guard Manny Harris and senior forward DeShawn Sims would supply the majority of the scoring and rebounding for the Wolverines. But on a day where both players struggled - combined they went 5-of-20 from the field - Michigan got help from the rest of its starting five in its 66-55 loss to No. 9 Ohio State.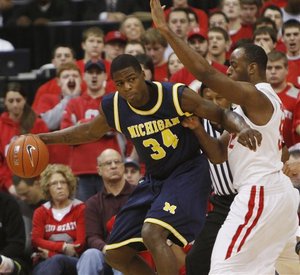 All five starters scored in double figures and gave Michigan coach
John Beilein
something to hang on to as a positive toward the end of the season.
"We've been working so hard in practice at just, whether it's fast break, the guys that are really struggling, we're just working," Beilein said. "That's all that you can really do right now. You don't make trades in the season, you don't do things, you just work with them.
"Those kids come every day with a great attitude, Stu, Zack, Laval, Darius, every day they come with a great, great attitude to practice and I think we saw some of those results today. They certainly have a long way to go."
This isn't to say Michigan had everyone fixed. Sophomore Laval Lucas-Perry missed all three of his shots and was scoreless in a game for the ninth time this year and for the third straight game.
In those games, he's been a combined 0-of-11 from the field.
But Beilein is holding on to the positives.
"We're not as far away as naysayers would say but we just can't get it done right now," Beilein said. "So we just got to keep working at it. That's all we do everyday, just try to get better."
Not perfect, but… Ohio State had the best shooting night an opponent has had all year on Michigan, going 58.7 percent from the field and a more impressive 63.6 percent from the field in the first half.
It doesn't mean Ohio State coach Thad Matta was happy about it, though.
"We shot 59 percent and we wanted to be 100," Matta said. "But I thought we had a decent flow but we weren't as sharp as we needed to be. We were talking a lot about it in timeouts. From the Penn State game the other night, what you want offensively and defensively is five guys going at the same time together and timing.
"We were a little bit off, a little bit sloppy."
Ohio State turned the ball over 12 times, but the Buckeyes were effective enough with three big scorers - William Buford with 24 points, Evan Turner with 18 and Dallas Lauderdale with 14 - to beat Michigan.
This and that Michigan led at half, 33-32, the first time the Wolverines have held a halftime lead since Jan. 30 against Iowa (29-17). … Ohio State has won 10 of the last 12 games against Michigan, including six in a row in Columbus. … Ohio State finished February losing just one game, to Purdue. In February, Michigan went 2-5.
Michael Rothstein covers University of Michigan basketball for AnnArbor.com. He can be reached at (734) 623-2558, by e-mail at michaelrothstein@annarbor.com or follow along on Twitter @mikerothstein.