Posted on
Fri, Mar 18, 2011 : 6:13 p.m.
Michigan sets an unusual NCAA record, Zack Novak channels Charlie Sheen and more notes
By Michael Rothstein
CHARLOTTE — In its 75-45 win over Tennessee on Friday, the Michigan basketball team set an NCAA record.
It is the first team in the history of the NCAA tournament to win a game without making a free throw.
That a John Beilein-coached team would own this record is both expected and confounding. Surprising, because his teams usually shoot well from the free-throw line. It isn't as shocking, though, because this particular Michigan team doesn't get to the free-throw line often.
It is one of many of the surprising statistics surrounding Michigan on Friday.
Michigan also outrebounded Tennessee, 36-26, including 12 offensive rebounds.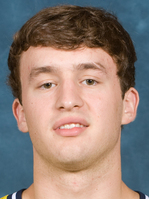 "I made the joke that we were boxing out everybody that came around us for the last four, five days," Beilein said. "Seeing that was a big part of their offense. We were more physical with our backs than probably we had been all year long."
Michigan held Tennessee freshman Tobias Harris to just five rebounds and no offensive rebounds. Brian Williams, the Volunteers center, had no rebounds.
"Going into the game, we knew that that was a strength of theirs and just a recurring theme that we kept seeing on film," said Michigan junior guard Zack Novak, who had 10 rebounds. "They put a shot up and then their big boys were going to get it. We just really did a good job team rebounding tonight.
"That was the biggest thing."
It was the seventh time this season Tennessee had been outscored in the paint, too. Michigan crushed the Volunteers inside, 46-22.
Michigan also shot 3 of 15 from the 3-point line in the first half, a marker that usually portends bad things for the Wolverines. Instead, Michigan led, 33-29, at the half.
Tiger blood?

Novak has something of an obsession with actor Charlie Sheen. So when he spotted a sign in the crowd at Time Warner Cable Arena on Friday saying "Novak Has Tiger Blood!" with a picture of him bleeding from the head in the middle, he had to go get it.
The fan who made the sign happily obliged, and it sat in his locker after the game.
"I just wanted the sign," Novak said. "I think Charlie Sheen's hilarious.
"That's an awesome sign, that's my favorite sign."
The sign will go back with Novak to Ann Arbor, where he said it will hang in his room — likely right over his bed.
As for the tiger blood, Sheen declared during his media blitz earlier this month, that he had the blood of a tiger.
Late night TV watching

Preparing to go to bed in his downtown Charlotte hotel room Thursday night, Beilein glanced at the television screen and saw UCLA ahead by 19 points on Michigan State. So he turned to his wife, Kathleen, and said "Believe it or not, this is a very dangerous time" because of different decisions a coach can make.
Then Beilein went to sleep, woke up and saw Michigan State trailing by two points in the final minute.
On Friday when Michigan had a 10 and then 20-point lead against Tennessee. As his team made a massive run to break open the game, his mind wandered to Thursday evening.
"When it got to over 20, I said 'This would not be good,'" Beilein said. "This would not be good if we blow this lead right now."
Unlike against Northwestern and Indiana in February, Michigan expanded on its lead over Tennessee in March, all the way up to 33 points with 1:33 left.
Walk-on time

With about 6 minutes left on the clock Friday, junior Corey Person started glancing up at the clock. With Michigan rolling over Tennessee, the walk-on from Kalamazoo realized he might get in the game.
"No butterflies, more excitement," Person said. "Make sure we keep it on them and that they don't make a run. That happened to us a couple times this year. Make sure everybody keeps the run going so we can finally get a chance to get in there."
With 1:27 left Friday, Person, Josh Bartelstein and Eso Akunne — three of Michigan's four
walk-ons — got to do that.
Person and Akunne even took 3-pointers.
It was even more meaningful for Bartelstein, who had missed most of February dealing with the aftereffects of a concussion suffered in practice.
"Yeah, I'm just hoping I don't get another headache," Bartelstein said. "But it's crazy. You
grow up as a little kid dreaming of playing in the NCAA tournament and how hard we worked and everything we've gone through to finally get here and beat a good Tennessee team by 30 points, to get on that court it was a special feeling."
This and that

The 75-45 win was the second-largest margin of victory for Michigan this year. It is also the second-largest NCAA tournament win ever for the Wolverines, only topped by a 102-65 win over Virginia in the 1989 Regional finals. ... This loss tied for the worst loss in Tennessee NCAA tournament history. ... The win was Beilein's largest margin of victory in an NCAA tournament game.
Michael Rothstein covers University of Michigan basketball for AnnArbor.com. He can be reached at (734) 623-2558, by e-mail at michaelrothstein@annarbor.com or follow along on Twitter @mikerothstein