Posted on
Thu, Mar 21, 2013 : 4:35 p.m.
Michigan signee Derrick Walton is Class B player of the year; Gabriel Richard's Jason Houle honorable mention
By Pete Cunningham
The Associated Press Class B All-State team was released on Thursday and Michigan signee Derrick Walton Jr. of Harper Woods Chandler Park Academy is the Player of the Year.
Father Gabriel Richard junior Jason Houle earned honorable mention, given to any player to receive one or fewer votes among the 10-person panel.
Houle, a 6-4 guard, averaged 22 points and 6.8 rebounds per game for Father Gabriel Richard and shot 40 percent from 3-point range on the season.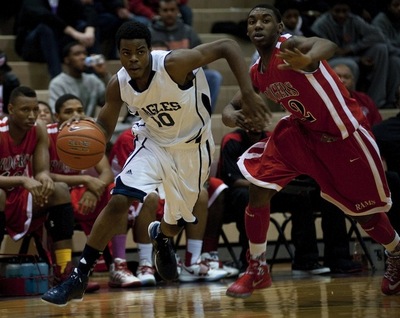 Walton -- a 6-foot point guard who is pegged to eventually replace Trey Burke at point guard for Michigan -- signed with the Wolverines during the early signing period.
Walton averages 26.2 points, 10.1 assists, 7.7 rebounds and 5.4 steals per game as a senior.
The Associated Press All-State team is voted on by a 10-person panel made up of sports writers from across the state from Associated Press membership publications. The top 10 players to receive votes from the panel are considered first team All-State, players who receive two votes or more are automatically special mention and those who receive one or no votes are honorable mention.
The Class C team will be released on Wednesday, Class B on Thursday and Class A on Friday.
The Associated Press Class B boys basketball All-State team, as selected by a panel of 10 Michigan sports writers: ___
Derrick Walton Jr., Harper Woods Chandler Park Academy, 6-0, Sr., Player of the Year
Keith Brushwyler, Stevensville Lakeshore, 6-8, Sr.
Quantrell Hastings, Wyoming Godwin Heights, 6-1, Sr.
Jalen Hayes, Lansing Sexton, 6-7, Sr.
Dontel Highsmith, Dowagiac, 6-3, Sr.
Austin Johnson, Spring Lake, 6-2, Sr.
Josh Kozinski, Edwardsburg, 6-4, Sr.
Mizell Lippett, Warren Fitzgerald, 5-11, Sr.
Lance Monroe, Bridgeport, 6-1, Sr.
Ryan Schall, Comstock Park, 5-11, Sr.
Darrell Davis, Detroit Douglass, 6-4, Jr.
Edmond Sumner, Beverly Hills Detroit Country Day, 6-3, Jr.
___
COACH OF THE YEAR:
Sean Schroeder, Stevensville Lakeshore
___
SPECIAL MENTION (nominees receiving two or more votes from the 10-member panel):
Reid Dugan, Otsego; Mitch Rubio, Goodrich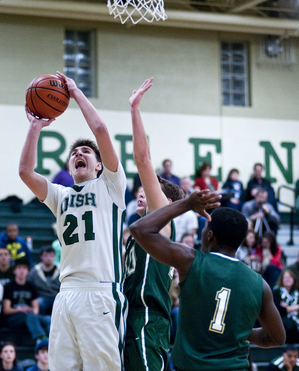 Joseph Tobianski | AnnArbor.com file photo
___
HONORABLE MENTION (nominees receiving one or no votes from the 10-member panel):
Lorenzo Bonam, Dearborn Heights Robichaud; Bo Zeigler, Detroit Community; Austin Price, Beverly Hills Detroit Country Day; Trevor Manuel, Lansing Sexton; M.J. Myles, Corunna; Dillon Rush, Lansing Catholic; Quinn Tyson, Big Rapids; Kody Ambrose, Scottville Mason County Central; Nick Sullivan, Flint Powers Catholic; Brandon Hicks, Warren Lincoln; Lamont Nelson, Clinton Township Clintondale; Cody Edgerton, Yale; Sam Honaker, Marine City; Matt Russell, Marysville; Jordan VanDort, Zeeland West; Mike Siegel, Fremont; Kyle Steigenga, Holland Christian; Jon Marosi, Grand Rapids Catholic Central; Matt Modreske, Hopkins; Michael Welch, Stevensville Lakeshore; Chance Stewart, Sturgis; Josh Bass, Battle Creek Harper Creek; Robbie Ranville, Marshall; Quintan Harris, Olivet; Josh Ledbetter, Shepherd; Evan Marquardt, Midland Bullock Creek; Jason Houle, Ann Arbor Father Gabriel Richard; Jerrell Martin, Detroit Community; Rashawn Walker, Detroit Osborn; Terrell Lee, Algonac
___
COACHES:
Justin Freeland , Midland Bullock Creek; Andy Donovan, Frankenmuth; Tim Tenneriello, Goodrich; Jerrell Marta, Detroit Community
___
Voting panel:
Pete Cunningham, AnnArbor.com; Mike Eckert, Traverse City Record-Eagle; Ross Maghielse, MLive-Flint; Paul Costanzo, Times Herald (Port Huron); Tom Markowski, The Detroit News; Alan Babbitt, The Holland Sentinel; Dick Hoekstra, Lansing State Journal; Steve Kaminski, MLive-Grand Rapids; Scott DeCamp, MLive-Kalamazoo; Jim Lahde, Morning Sun (Mount Pleasant)