Posted on
Sun, Feb 5, 2012 : 4:55 p.m.
Spartans sweep: MSU women win 11th straight against Michigan, 65-63
By Jason Idalski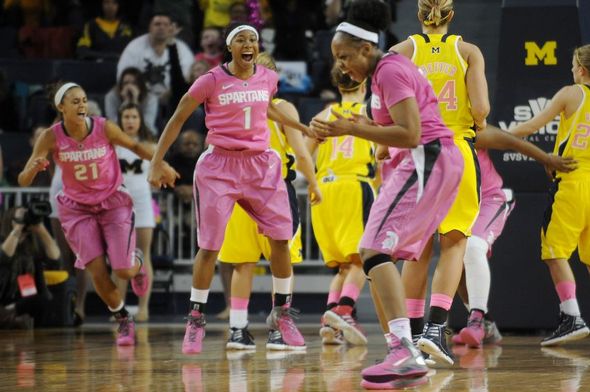 Melanie Maxwell I AnnArbor.com
The streak continues.
Porsche Poole scored the last of her 23 points on a jumper with 3.9 seconds left as the Michigan State women's basketball team closed on a 6-0 run to win its 11th in a row over Michigan, 65-63.
The win is the Spartans' 11th straight over Michigan and their 20th in the past 21 games.
After MSU's Lykendra Johnson tied the game at 63-63 on a layup with 52.4 seconds left, the Wolverines came down with a chance to take the lead. After a Michigan State defender fell down, Courtney Boylan, who finished with 22 points, shot an open 3-pointer and missed.
Related content: Photo gallery | Boxscore
"You have to take that shot," Boylan said. "It's a wide open 3 at the end of the game ... Who knows if you're going to get open again?"
Even Spartans coach Suzy Merchant wasn't sure what went wrong defensively on that play.
"We dodged a bullet there, obviously," Merchant said.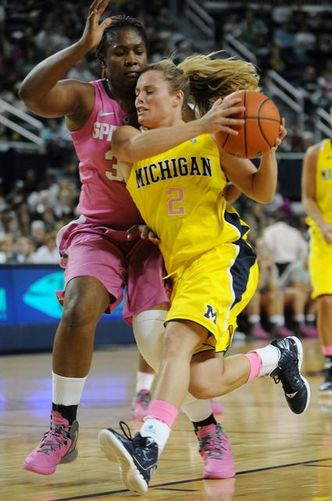 Melanie Maxwell I AnnArbor.com
Michigan State came down with about a 3-second differential between shot clock and game clock. After a time-out, Poole waited until a few seconds remained on the shot clock, dribbled just inside the 3-point line, and swished the long jumper as the shot clock buzzed.
"We took the chance, we put the ball in her hands, and obviously it was a good play," Merchant said.
Jenny Ryan's half-court shot was off the mark as time expired.
"It came down to the last shot for either team," Michigan coach Kevin Borseth said, referring to Boylan and Poole. "We had one, they had one. Their's went in."
Poole had nine rebounds and five assists in addition to her 23 points for Michigan State (14-9, 6-4 Big Ten). Johnson had 16 points and 11 rebounds, all her points coming in the second half, and Klarissa Bell scored 13.
Rachel Sheffer scored 13 points for Michigan (17-7, 6-5).
"I think we played a great game," Sheffer said. "They hit shots (at the end) and we didn't."
That the game had three turnovers in the second half and the teams combined to go 15-for-37 from 3-point range speaks to the level of play.
"It was a very-well played game, probably a very good game to watch," Borseth said. "Not really a fun one to coach in.
"I thought our kids gave a very gallant effort. Very proud of the way we played."
Merchant said the game was a contrast from most of the team's previous encounters, which could be described as Borseth described the second half: smash-mouth.
"It's a slugfest and it's not a pretty game. ... It's usually somebody loses ugly and somebody wins ugly," Merchant said. "You walk out of here and it feels like a heavyweight fight until the last round. I thought there was much more flow offensively on both sides of the ball."
The start couldn't have gone better for Michigan State. The Spartans hit 3-pointers on each of their first three possessions and held Michigan scoreless for the first 3:51, when Boylan's 3-pointer made it 11-3.
But after a Taylor Alton basket made it 13-3, the Wolverines went on an 18-2 run, featuring four 3-pointers (three from Carmen Reynolds) and a 5:35 stretch where Michigan State was scoreless.
The Spartans answered with an 11-2 run to turn a 21-15 deficit into a 26-23 lead. MSU led 30-28 at halftime.
Neither team led by more than four points in the second half until a 6-0 Wolverines run gave them a 57-52 lead with 5:45 to play. Michigan State answered with a 5-0 run to tie it with 3:14 left.