Posted on
Sun, Mar 20, 2011 : 5:59 a.m.
Michigan vs. Duke game comes in middle of Fab Five controversy, but nobody wants to talk about it
By Rich Rezler
CHARLOTTE -- The chant was inevitable.
"We want Duke," Michigan basketball fans at Time Warner Arena called out in the closing minutes of the Wolverines' stunningly easy win over Tennessee on Friday. "We want Duke."
Today, Michigan gets that shot at the No. 1-seeded Blue Devils.
And the matchup couldn't come at a more intriguing time, considering the war of words some of the programs' historic figures have had over the past week.
Former Michigan players Jalen Rose, Juwan Howard, Jimmy King and Ray Jackson spoke freely of their hate of the Duke program in the Fab Five documentary aired on ESPN last Sunday. A segment filled with name calling particularly hit a nerve when Rose said Duke only recruited "Uncle Tom" black players.
Former Blue Devil Grant Hill called the comments "insulting and ignorant" in a response published on the New York Times' website while his old teammates, Bobby Hurley and Christian Laettner, have publicly questioned the Fab Five's place in college basketball history.
When the teams meet again today (2:45 p.m. CBS), there will only be one person on the sidelines that can speak first-hand about the day Hill and Co. blasted a brash young group of Michigan freshmen, 71-51, in the 1992 championship game.
And Duke coach Mike Krzyzewski isn't talking about the old days.
"We're coaching against a great university, a great coach and this team," Krzyzewski said Saturday. "(The documentary) really has absolutely nothing to do with this game. This is my 101st NCAA game. Do you think I need motivation from a documentary?"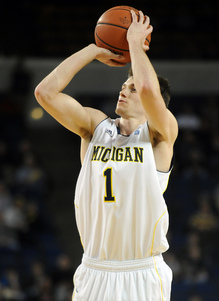 AnnArbor.com file photo
Michigan coach John Beilein insists he's paid little attention to the documentary and the ensuing controversy, saying he's been living inside a vacuum since his team was selected to play in the NCAA tournament hours before the Fab Five aired.
Zack Novak and Stu Douglass both tried to shift some of the focus of a game against Duke away from the past -- the juniors were 2 years old when the teams met in the NCAA final -- and put it on this year's matchup.
"That was something that happened 20 years ago," Novak said. "Right now we're just thinking about present day Duke versus present day Michigan. All the other stuff is really off to the side."
Said Douglass: "All that stuff coming out, we've got a lot of questions about that. But we're looking forward to playing the Duke team now. You know, it was a great rivalry in the past, great history, and it's a new day."
It is a new day, but just like on April 6, 1992, another young Michigan (21-13) team is an underdog to the Blue Devils (31-4) and their winningest coach in NCAA tournament history.
Coach K will be looking for career win No. 900 today. Only Bob Knight (902) has won more.
Like they have all season, Michigan's frontcourt will face a significant size disadvantage against Duke's 6-foot-8 senior Kyle Singler, 6-10 sophomore Mason Plumlee and 6-10 junior Miles Plumlee.
That trio averages 28 points and 20 rebounds, but Michigan's performance against a bigger Tennessee team caught Miles Plumlee's attention.
"They look like they're really physical and play really aggressive on defense," he said. "They're going to get after us and they can really shoot the ball, so we're going to have to sharpen our defensive matchups."
Senior guard Nolan Smith leads the Blue Devils with a 21.3-point scoring average and freshman guard Kyrie Irving returned to the Duke lineup in its 87-45 win over Hampton, scoring 14 points in his first game in three months after recovering from a toe injury.
Like those Michigan fans' chant suggested, everybody looks forward to a shot at Duke. Hampton coach Edward Joyner Jr. knows it, too.
"You know, I think everybody - every college team - sits (and watches) TV and says 'I want to play Duke. I want to see what it's like to play Duke,'" Joyner said after his team's 42-point loss Friday. "We surely found out."
Michigan junior Zack Novak, meanwhile, wasn't interested in looking back at the relevance of the Wolverines' win over Tennessee or too deeply into the all the side stories involved with the upcoming opponent.
"Right now we're just having so much fun, we want to keep this going," he said. "I mean, I don't think right now is the time to be getting nostalgic about it.
"We're going to go back like we do after every game and learn from it and see what we can do better and get ready to go after whoever we're playing next."
Rich Rezler covers sports for AnnArbor.com. Contact him at 734-623-2553 or richrezler@annarbor.com.