Posted on
Tue, Dec 11, 2012 : 11:30 p.m.
Michigan women's basketball beats Eastern Michigan 55-43 for first win over Eagles since 1996
By Pete Cunningham
An Eastern Michigan student won free rent for a year on Tuesday at the Convocation Center because he successfully guessed the distance from there to the Crisler Center in Ann Arbor.
At just under 10 miles it's the shortest distance the Michigan women's basketball team ever travels for games, and while they didn't get free rent for their knowledge, members of the team team know the trip all too well. Over the past two seasons the team has made the trip twice, and twice the short drive home has felt like a long one on the way home after Eagles wins in back-to-back seasons.
The trip home felt just as short as it actually was on Tuesday after the Wolverines defeated their cross-Washenaw County rivals 55-43.
"I know we always traditionally have a tough time playing here in the past, so I was really happy for the upperclassmen because I don't think they've won here yet, so I was really happy that they were able to get that win," said Michigan coach Kim Barnes Arico.
It was Michigan's first win over Eastern since 1996.
The win came on night when the Wolverines (8-2) didn't shoot the ball especially well from the floor -- 39.3 percent, compared to the team's season average of 45.4 percent -- or get major contributions from two of it's stars, Jenny Ryan and Rachel Sheffer.
The seniors average 12.9 and 14.1 points, respectively, but on Tuesday Ryan didn't score and Scheffer scored just eight.
"It wasn't the prettiest at times, but it was nice to have our two stars, Jenny Ryan and Rachel Scheffer, have an off night and our kids be able to step up and be able to grind one out," said Barnes Arico.
One of the players to step up was Sam Arnold, who for the second game in a row had a season-high in minutes off the bench and responded with a season-high in points. Arnold had 11 points on the night, topping her previous high (7) from Michigan's win last week over Illinois State.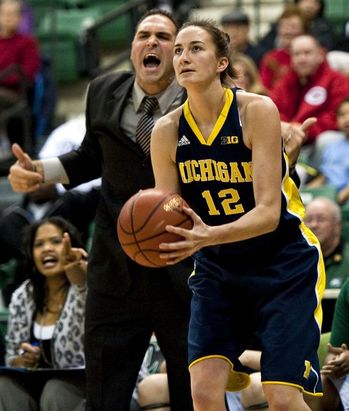 Joseph Tobianski | AnnArbor.com
"I think I'm just starting to relax and just getting out there and working hard," Arnold said. "Things are just starting to click for me, I'm having fun and it's working."
Kate Thompson swished a jumper on Michigan's first shot from the floor of the night and it was a sign of things to come as she would finish with a game-high 17 points to lead all scorers.
Michigan never trailed in the contest.
Eastern tied the score at 2-2 and 6-6, both on India Hairston buckets as the 6-foot-3 Hairston took advantage of a size mismatch against 6-foot Michigan forward Nya Jordan.
Hairston would finish with a team- and career-high 16 points, but Barnes Arico rectified that mismatch coming out of a timeout early in the first half, inserting the 6-4 senior Arnold in the lineup. She made an immediate impact, scoring four points in an 8-0 Michigan run to put the Wolverines up 14-6 halfway through the first.
Arnold even showed off some range, hitting a 3-pointer to put Michigan up 18-8, it's first double digit lead of the game with just over 8 minutes remaining in the first half.
"(Arnold) played great again for us tonight," said Barnes Arico. "I think she is our best player when teams zone us and both last game and this game teams played zone."
Arnold's was the first of three straight 3-pointers from the Wolverines, the last two from Thompson in the right corner as Michigan went up 24-10 with 5:40 left in the half.
It looked like Michigan might be able to put Eastern away in the first half, but coming out of a media timeout, Eastern's leading scorer Miranda Tate finally got something going after a slow start. Tate hit a layup, then forced a Michigan turnover as Eastern switched to a press, then had an assist and grabbed a defensive rebound to make the score 24-17 with 3:13 left.
Michigan led 27-19 at the half.
The run toward the end of the half, and a 6-0 run in the second half were Eastern's most effective and both came out of playing the press, but the strategy wasn't a long term solution for the Eagles (1-8).
"When you're constantly doing it possession after possession after possession, you get tired," said Eastern coach Tory Verdi. "Then all of a sudden they're knocking down threes."
Thompson did exactly that for the Wolverines. Though she didn't have the best shooting night (6-of-16), Thompson hit five 3-pointers. She came into the game with 3.56 3-pointers per game, which is fifth in the nation, and for the sixth time this season hit at least four 3-pointers.
"(Thompson)hesitated a lot, she didn't have a great shooting night, but she still made them when they counted," said Barnes Arico. "Them pressing hurt us up front but if we got past the first line, Kate was getting a shot every single time. And if they were running out on her, that's when we were able to get to the basket and get those baskets."
Tate finished with 12 points and nine rebounds, but shot just 20 percent (4-of-20) from the field and went down with a back injury with under a minute to play. Verdi said Tate's back has been bothering her for a while.
"When you're not healthy, you're not feeling right, you start thinking twice about things, you just can't get in that flow, you know? And we told her, 'Hey if it's not dropping, then go do something else. Drive to the basket.' Then she'd drive to the basket and she missed a couple there as well," Verdi said. "I just think she never really got in the flow of the game."
Barnes Arico is now tied with Sue Guevara for the best start through 10 games for a first-year U-M head coach.
Pete Cunningham covers sports for AnnArbor.com. He can be reached at petercunningham@annarbor.com. Follow him on Twitter @petcunningham.