Posted on
Thu, Feb 21, 2013 : 9:04 p.m.
Michigan women suffer second half scoring drought in 57-39 loss to No. 24 Nebraska
By Pete Cunningham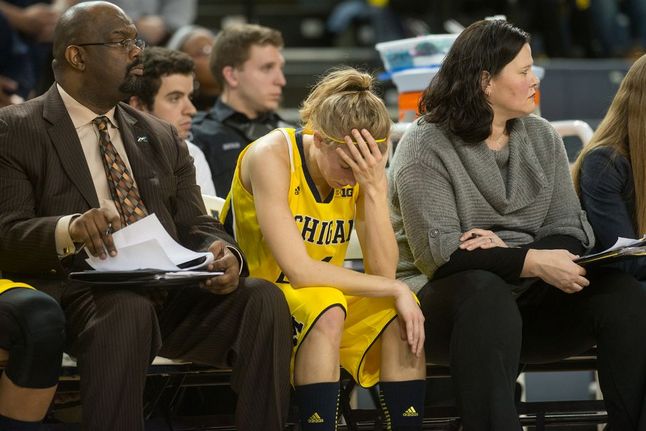 Courtney Sacco | AnnArbor.com
Updated 9:55 p.m..
The Michigan women's basketball team was able to recover from it first scoring drought against Nebraska on Thursday night at the Crisler Center.
But a second dry spell was the Wolverines' undoing.
Michigan gave up a 21-0 run to start the second half as No. 24 Nebraska extended its winning streak to eight games with a 57-39 defeat of the Wolverines.
"I really thought that we looked fatigued, I think we looked worn out," said Michigan coach Kim Barnes Arico of her team's play in the second half. "I think they really beat us in transition and they lost their fire a little bit and I think sometimes not being able to score sometimes takes the wind out of your sails."
Michigan (19-7, 8-5 Big Ten) started the game by scoring on its first two possessions while Nebraska started with two turnovers. The Wolverines stretched the hot start to a 10-2 lead five minutes, 45 seconds into the first half off of a Nya Jordan jumper.
More coverage: Photo Gallery | Boxscore
But the Wolverines wouldn't score again for nearly eight minutes as Nebraska (20-6, 10-3) went on a 13-0 run.
Michigan was able to recover from the first drought and took a 22-18 lead into halftime despite shooting just 32.4 percent (11-of-34) from the field.
It helped that Nebraska only shot 25.9 percent (7-of-27).
"In the first half we really struggled offensively as well, but we did a good job (defensively), they struggled as well, so we kind of went back and forth with the struggles," Barnes Arico said. "In the second half, we continued to struggle and they were able to get out and transition and take advantage of it."
The Cornhuskers came out a different team in the second half, shooting 53.8 percent (14-of-26) from the field, while Michigan's struggles only became worse. A Lindsey Moore 3-pointer put Nebraska up 23-22 with 18:31 remaining and Michigan never saw the lead again.
Moore led Nebraska (20-6, 10-3) with 15 points and made of 3-of-5 from 3-point range. Both teams took 23 3-point shots with Nebraska making 10 and Michigan just three.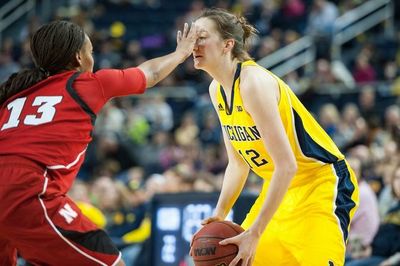 Kate Thompson, who came into the game leading the nation in 3-pointers made per game (3.8), made just one of her 10 attempts and was 2-of-17 on the night from the field.
"Kate was 2-for-17...hopefully that doesn't happen very often," Barnes Arico said.
One of the rare makes for Michigan from distance was from Rachel Sheffer to break Michigan's second-half scoring drought with 11:26 left in the game to make the score 39-25. Though Scheffer's shot was part of a 7-0 run for the Wolverines, they never closed the gap to single digits.
"The second half we just came out dead we didn't have any energy," said Sheffer, who finished with nine points and seven rebounds. "We weren't able to find a spark from anyone or get a spark going with the team."
"We had wide open looks we just didn't knock them down. It happens in the game of basketball," Sheffer said. "I think the biggest thing is we didn't finish on the defensive end of the court."
Jordan led Michigan with 12 points and 16 rebounds.
Pete Cunningham covers sports for AnnArbor.com. He can be reached at petercunningham@annarbor.com. Follow him on Twitter @petcunningham.