Posted on
Sat, Jan 7, 2012 : 1:29 a.m.
Michigan women's basketball hoping to 'Pack the House,' upset Ohio State on Saturday
By Rich Rezler
The Michigan athletic department's marketing department has mobilized to lure a large crowd to the Crisler Center, reaching out to entice groups, campers, kids and alumni to come see the women's basketball team host Ohio State at 5 p.m. Saturday.
Get there and you're promised pre-game face painting, an in-game Player Development Center dedication and post-game autographs. Oh, and wear yellow. It's a 'Maize Out.'
Yes, there's a lot of legwork and effort required to compete in the NCAA's "Pack the House" challenge, which entices programs to set an attendance record.
Of course, the Wolverines (12-3, 1-1 Big Ten) are putting as much effort into preparing for the unbeaten and No. 8-ranked Buckeyes (15-0, 2-0).
Ohio State is averaging 79.3 points behind two of the Big Ten's top four leading scorers: junior guard Tayler Hill (league-best 21.7 points per game) and senior guard Samantha Prahalis (18.3 ppg.).
The guard-heavy play by the Buckeyes (15-0, 2-0) is a stark contrast to their style of play the last few seasons, when they depended heavily on 6-foot-4 center Jantel Lavender.
The fifth overall pick in last year's WNBA Draft, Lavender averaged 22.8 points and 10.9 rebounds last season and left as Ohio State's all-time leading scorer (2,818 points) and the Big Ten's all-time leading rebounder (1,422).
"They're using their perimeter kids, they're using their athletes … and they're using their kids in a capacity where you have to defend them for 40 minutes," Michigan coach Kevin Borseth said in a pregame press conference.
"Last year, their primary focus was a lot around the big kid in the middle, so you didn't have to defend them as much. Now that's changed and all of a sudden you have to defend those kids every possession down the court and they're pretty talented."
Ohio State is the Big Ten's best program, making nine straight NCAA Tournament appearances and winning six straight conference titles before Michigan State bumped them from the top of the standings last season.
Still, with Lavender in the lineup, Michigan finally figured out a way to topple the Buckeyes. The Wolverines swept the teams' two-game regular season series for the first time in school history last season, snapping a 14-game losing streak to Ohio State in the process.
The Buckeyes were ranked No. 12 in the Associated Press poll when Michigan snapped that losing streak, so playing the No. 8 team in the nation holds little significance for the Wolverines.
"I don't think our team is very focused on rank, we just focus a lot on ourselves and going in and being ready as a team and focusing on ourselves, getting things done what we have to get done in order to win," said junior forward Rachel Sheffer, who scored 23 points in Michigan's second win over Ohio State last season.
It's a key stretch of the schedule for Michigan, which lost 60-55 at Michigan State on Wednesday and has upcoming games against Penn State and Minnesota - teams it went 0-3 against last season.
"I think we're just a really confident team and we're able to let losses go, which I think is really important, especially heading into Big Ten season when we play so many tough teams," said senior guard Courtney Boylan, whose 13.3 points-per-game leads Sheffer for team-best honors by tenths of a point.
"We played a tough team in Michigan State, but now we're playing an undefeated top-15 team in Ohio State, so you've got to be able to bounce back right away."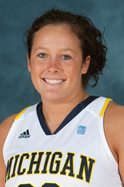 This game is personal
The two Ohio natives on the Michigan roster weren't shy about sharing that the rivalry game against Ohio State means a little extra to them.
"I get really excited about this game every year, whether it's here or at their place," said senior guard Carmen Reynolds, a Hilliard, Ohio, native. "It means a lot. They're a good team, they're competitive every year. I just get really excited to play them."
Freshman guard Brenae Harris, from Marion, Ohio, said she received a lot of flack back home for choosing to attend Michigan.
"It's just motivation," Harris said. "We're going to have to put in extra work, get extra shots up, just for this game. I need to do it for every game, but especially this game."
Rich Rezler is a sports producer for AnnArbor.com. Contact him at richrezler@annarbor.com or 734-623-2553. Follow him on Twitter @rsrezler.