Posted on
Fri, Mar 2, 2012 : 1:18 p.m.
Michigan women's basketball knocked out of Big Ten Tournament by Ohio State
By AnnArbor.com Staff
One streak had to end.
The Michigan women's basketball team had run off three straight wins against nationally ranked Ohio State squads.
The Buckeyes had won three straight Big Ten Tournament titles.
After a red-hot start to the second half, No. 14-ranked Ohio State held off a Michigan comeback attempt in a 57-48 win in a quarterfinal Thursday at Bankers Life Fieldhouse in Indianapolis.
"I think we know we lost to Michigan," Ohio State coach Jim Foster said of snapping a losing streak against the Wolverines. "I think you could tell by the attitude that we brought on the floor defensively that we weren't going to allow it to happen. And scored enough points to take care of our business."
Ohio State (25-5) advances to face Iowa or Nebraska in a semifinal on Saturday while the Wolverines (20-11), hoping to make their first NCAA Tournament appearance since 2001, must wait until Monday, March 12, to learn their postseason fate.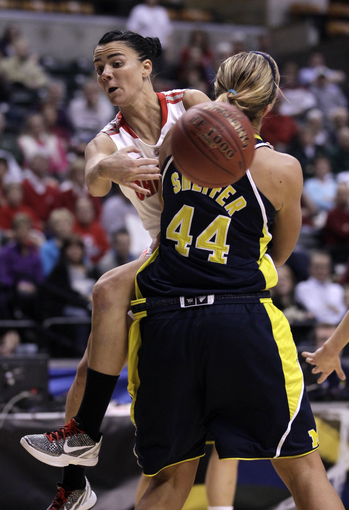 AP Photo
After shooting just 34.9-percent in the first half -- including 1 of 11 from 3-point range -- the Wolverines were fortunate to trail by only three points, 25-22, at halftime.
Not much changed early in the second half for the Wolverines, but the Buckeyes came out of the break hitting on all cylinders.
Ohio State scored the first 11 points of the half and seemed to be in control when Big Ten Player of the Year Samantha Prahalis hit a jumper to put the Buckeyes up 45-29 at the midway point of the second half.
Michigan answered with a 10-0 run, however, that was capped by freshman guard Brenae Harris' first 3-point basket of the season to cut the deficit to 45-39 with 7:49 left to play.
The Wolverines were still within six, 51-45, with 3:33 remaining when Rachel Sheffer hit a 3-pointer, and cut the lead to five, 53-48, on a Courtney Boylan triple with 1:03 to go.
Ohio State sealed the win by going 4-for-4 from the free-throw line in the final minute.
Related content: Photo gallery
Before he stepped into the post-game press conference, Michigan coach Kevin Beilein had already reviewed the opening minutes of the second half on video. He watched his Wolverines miss four shots and turn the ball over once on their first five possessions.
"Didn't score on them. (Ohio State) went down and scored," Beilein said. "It wasn't bad shots we took, they were good shots. They were shots that were taken in the lane, trying to get inside."
Sheffer and Boylan -- Michigan's leading scorers at 13.3 and 12.6 points per game, respectively -- combined to score two points in the first half. Boylan finished with 10 points and Sheffer eight points. Ohio native Carmen Reynolds contributed a team-high 14 points and six rebounds for the Wolverines.
Ohio State's Tayler Hill scored 17 of her game-high 19 points in the second half, including two 3-pointers in the 11-0 run.
Prahalis, who became the all-time Big Ten assists leader during the game, finished with 11 points on 4-of-15 shooting and turned the ball over seven times.
The 57-point output matched Ohio State's season-low.
"I feel like (our defense) has been our strong point all year," Boylan said. "Down the stretch, we just didn't hit the shots that we needed to hit. I think had we done that, we could be sitting here with a win."

Video highlights from the Big Ten Network: