Posted on
Wed, Dec 22, 2010 : 10:30 p.m.
Carmen Reynolds shoots Michigan women's basketball past No. 24 Boston College, 68-55
By AnnArbor.com Staff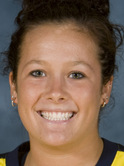 While the Michigan women's basketball team kept the nation's highest-scoring offense in check, the Wolverines needed was somebody to step up and put the game away.
Carmen Reynolds answered.
The junior guard hit three big 3-point baskets in the closing minutes of a 68-55 win over No. 24-ranked Boston College at Crisler Arena.
For most of Wednesday night's game, Michigan found itself in a back-and-forth battle with the previously-unbeaten Eagles, who entered the game averaging 90.6 points.
The teams exchanged leads 12 times over the first 15 minutes of the second half, with neither leading by more than three points until Reynolds got hot.
After missing her first five long-distance shots, Reynolds gave the Wolverines four-point advantages with 4:29 (53-49) and 3:02 (56-52) left to play. But it was her third straight 3-pointer, coming with 1:05 remaining, that was the back-breaker.
That one gave Michigan (7-5) a 59-53 lead and Boston College (11-1) was forced to scramble and foul from that point.
"From Carmen's perspective, I think she felt like she was 0-for-December. The last couple games she didn't hit any," said Michigan coach Kevin Borseth. Reynolds was actually 1-for-4 from 3-point range in a loss to Detroit Mercy on Saturday and a win over New Mexico State on Dec. 13.
"Shooters shoot. That's what they do. They hunt shots down and they make them," he said. "Sooner or later the odds are going to be with you. She hit them at the right time."
Reynolds added another late basket to score 11 of her 18 points in the game's final five minutes. Sophomore Rachel Sheffer added a career-high 19 points and Veronica Hicks finished with nine points and six assists for the Wolverines, who had lost their three previous games against ranked opponents.
Michigan played one of its best games of the season fresh off one of its worst. The Wolverines shot 30-percent from the floor in a 67-48 loss to Detroit Mercy on Saturday. They made 24 of 55 (.436) shots from the floor on Wednesday and shook off an 0-for-5 start from 3-point range to finish 7-for-21.
After a slow start, Michigan found its shooting touch late in the first half to take a 33-31 halftime lead. The teams swapped the lead eight times in the first 20 minutes, setting up the see-saw action in the second half.
Carolyn Swords led Boston College with 16 points and eight rebounds. Kerri Shields added 15 points.