Posted on
Fri, Nov 11, 2011 : 6:34 p.m.
Michigan women's basketball team wins season-opener at Florida, 69-66
By AnnArbor.com Staff
Courtney Boylan started her senior season with a bang.
The Michigan women's basketball team's senior guard scored a career-high 21 points, including a key three-point play late in a 69-66 win over Florida.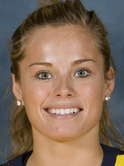 The teams traded the lead 18 times during the second half of Friday's game at the O'Connell Center in Gainesville, Fla. -- the last coming when Michigan's
Carmen Reynolds
hit a 3-point basket gave the Wolverines a 64-62 lead with 1:20 remaining.
After a Florida turnover, Boylan converted her three-point play to put Michigan up 67-62 with 27 seconds left. It was the first time either team led by more than four points.
"It was a really good last few possessions for us," Boylan told MGoBlue.com.
Boylan, who averaged 6.8 points last season, made 8-of-13 shots from the floor and 5-of-6 from the free-throw line. She played a team-high 35 minutes and matched Jenny Ryan with a team-high seven rebounds.
Reynolds finished with 15 points, including three 3-pointers, and Rachel Sheffer added 13 points for the Wolverines (1-0).
"It was a game where we really didn't catch fire until the last two minutes and there were like 20-some lead changes. I don't think the lead was any more than a possession that whole game and it was pretty much tooth and nail," Michigan coach Kevin Borseth said. "It really wasn't until the last two minutes of that game when we got that five-point lead - I don't want to say it was on ice because it was never on ice at that point. We knew at the beginning of the game it would be possession-by-possession and I think these guys did a great job of being strong when they had to."
Jordan Jones scored 21 points for Florida (0-1).
Michigan shot 47-percent from the floor and had a 42-36 advantage in rebounds against the Gators, the top rebounding team in the Southeastern Conference last season.
"You have to give Michigan a lot of credit for the way they played and the way they executed. They really looked like a solid and experienced veteran team," Florida coach Amanda Butler said. "I thought they did an exceptional job of executing their game plan and what would be effective against us - I thought that we didn't, plain and simple."