Posted on
Thu, Dec 29, 2011 : 10:28 a.m.
Michigan women's basketball starting Big Ten play; EMU teams headed West
By Rich Rezler
The Michigan women's basketball team is off to its best start in program history and has a stated goal of returning to the NCAA Tournament.
To do so, the 11-2 Wolverines will need to continue to build on their hot start in Big Ten play, which begins this week.
It won't be long before Michigan has an idea where it stands among the conference's best teams. On the horizon are games at defending Big Ten champion Michigan State (8-5) on Jan. 4, vs. No. 9 Ohio State (13-0) on Jan. 7 and at No. 16-ranked Penn State (10-2) on Jan. 12.
Up first is a visit to Assembly Hall in Champaign, Ill., where Michigan opens Big Ten play against Illinois at 8 p.m. Friday.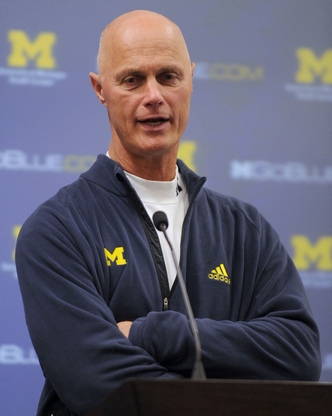 AnnArbor.com file photo
The Illini, who beat Alabama A&M 83-65 Wednesday night to improve to 6-7, are one of only three Big Ten teams with a sub-.500 record in non-conference play.
However, Illinois has faced the ninth-toughest schedule in the nation according to RealTimeRPI.com. At No. 59, the Illini are the top-ranked team in the nation with a losing record. Michigan is No. 14 on the list.
"There are no easy games in the Big Ten, regardless of who you play the first game. We just want to make sure it's difficult on them, too," Michigan coach Kevin Borseth told MGoBlue.com after his team's final non-conference tune-up, a 76-59 win against Illinois State last Thursday.
"I think our kids are determined to get back into the national tournament, and in order to do that we need to take care of business in the Big Ten. It's going to be a tough job, but I think we can do it."
Illinois is led by 6-foot-2 junior forward Karisma Penn, who averages team-best totals in scoring (14.2 points per game), rebounds (7.5) and blocked shots (2.3). She leads the Big Ten with a .559 shooting percentage.
Michigan is led in scoring by Courtney Boylan (13.5 points) and junior forward Rachel Sheffer (12.8), but is getting plenty of production from Jenny Ryan.
The junior guard leads the Big Ten in steals (3.3 per game), assist/turnover ratio (3.5) and 3-point shooting percentage (48.1). She's also among the top 10 in the league in minutes played (34.2), assists (5.1) and rebounding (6.5).

EMU men at Cable Car Classic
The Eastern Michigan men's basketball team adds some serious mileage to its current string of nine straight road games when it joins a wide-ranging group of teams at the 45th annual Cable Car Classic, taking place today and Friday in Santa Clara, Calif.
The Eagles (5-7) play tournament host Santa Clara (7-4) at 11:15 p.m. today while Wagner College (8-3) travels from Staten Island, N.Y., to play Air Force (6-3) in the first semifinal. The consolation game is set for 9 p.m. Friday and the title game for 11:15 p.m.
Wagner College upset No. 15-ranked Pittsburgh last Friday.
EMU has lost five of its last six games and have struggled to score while doing so, averaging 49.8 points. The Eagles' nine-point first half during a 71-50 loss at Virginia Tech last Thursday was a modern-day low for the program. The 36 points they scored in a loss at Purdue on Dec. 10 was the lowest total since 1956.

EMU women headed to Seattle
While the EMU men wrap up 2011 in Santa Clara, the women's team is off to the Pacific Northwest for a holiday tournament hosted by Seattle University today and Friday.
After a 5-1 start, the Eagles (6-4) have lost three of their last four games, all in overtime.
EMU faces Saint Louis (4-8) in a 4 p.m. semifinal today, followed by Seattle (6-6) vs. St. Francis, Pa. (5-5). Consolation and title games will be played Friday.