Posted on
Wed, Feb 22, 2012 : 6:11 p.m.
Michigan women's basketball team hosts No. 22 Purdue, senior night festivities on Thursday
By Rich Rezler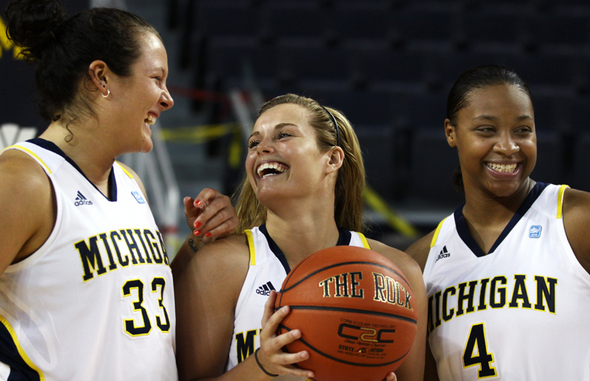 Jeff Sainlar I AnnArbor.com
The Michigan women's basketball team is on the verge of the fourth 20-win season in program history, has Big Ten Tournament seeding to worry about and is still focused on securing the school's first NCAA Tournament bid since the 2000-01 season.
So excuse senior guard Courtney Boylan if she isn't too wrapped up in the sentiment surrounding her final game at the Crisler Center when the Wolverines host No. 22-ranked Purdue on Thursday night (6 p.m., BTN).
"I think it will definitely hit me once we get closer to it," Boylan said in a press conference on Tuesday. "I haven't really thought about it that much, I'm just excited. It's a big game. I'm not so much worried about senior night as I am about winning the game."
Seniors Boylan, Carmen Reynolds and Jamillya Hardley will be honored Thursday while the free-falling Boilermakers try to snap a three-game losing streak.
Midway through the Big Ten season, Purdue was 8-0 in conference play and ranked No. 13 in the country but has lost five of their last six games since.
"Purdue is big, they are athletic, fast, and very talented," Michigan coach Kevin Borseth said. "They have had a little slide as of late where things have been a little difficult for them, but all of the games have been close.
"They are very determined, very well coached and again, very athletic. It is a hard matchup for us with their size. We're obviously going to have to be ready to go, because it is a big game for everyone in the conference at this point in the year."
With a win, Michigan (19-8, 8-6) can become just the second team in program history to win 20 games during the regular season. Only the 1999-2000 squad that finished with a school-record 22 wins has done so. The 1989-90 and 2009-10 teams hit the 20-win mark during postseason play.
Boylan said 20 wins has been a goal for the Wolverines, who wrap up their regular season at Iowa on Sunday.
"I'll take 21 wins over 20," she said. "Either one (against Purdue or Iowa) would be great, but both would be even better."
Winning both would also improve Michigan's seed at the Big Ten Tournament, held March 1-4 in Indianapolis.
The Wolverines are currently in seventh place in the Big Ten standings, one game behind four teams -- including Purdue and Iowa -- that are tied for third place with 9-5 conference records.
The top four teams earn first-round byes in the tournament's quarterfinal round.
Winning both would also move the Wolverines far away from the NCAA Tournament bubble. ESPN's Charlie Creme currently projects Michigan as a No. 9 seed, which doesn't leave much wiggle room. Lower seeds are typically made up of automatic-qualifying teams from smaller conferences.
"We have two games left in the regular season before we head into the Big Ten Tournament and they're important," Boylan said. "You have to come out strong and every team knows that. So while Purdue will come out tough, I think that we will be tough as well."
Purdue is led by senior guard Brittany Rayburn, who is leading the Boilermakers in scoring for the third straight season. She's scoring 14.3 points per game this year.
"(Rayburn) is definitely going to be a focus," said Reynolds. "We're going to have to play good help-side defense and make sure whoever is guarding her is getting out and pressuring her for the 3-pointer, but be ready for her to drive too."
Fan appreciation night
Fans can purchase $1 tickets for the game online or at the door as part of a fan appreciation special. There will also be $1 hot dogs and a buy one-get one free pizza deal.
Rich Rezler is a sports producer at AnnArbor.com. Contact him at richrezler@annarbor.com or 734-623-2553.