Posted on
Wed, Feb 29, 2012 : 10:36 a.m.
Michigan women's basketball team on NCAA tournament bubble entering Big Ten Tournament play
By Rich Rezler
Not long ago, the Michigan women's basketball team appeared to be a shoo-in to make its first NCAA tournament appearance since the 2000-01 season.
After losing six of their last nine regular-season games, the Wolverines head to this week's Big Ten Tournament in Indianapolis back on the proverbial bubble.
The No. 7 seed Wolverines open against No. 10 Illinois at 11:30 a.m. on Thursday. The winner plays No. 2 seed Ohio State in a quarterfinal at 11:30 a.m. Friday.
Michigan coach Kevin Borseth wouldn't call the first-round matchup against Illinois a must-win game, but he didn't side-step its importance.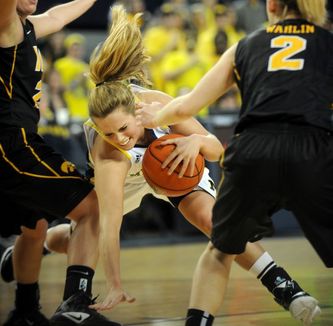 Melanie Maxwell I AnnArbor.com
"I don't know. What I see and what somebody else sees could be two different things," Borseth said on a Big Ten coaches teleconference when asked if his team needed to win to get an NCAA Tournament invitation.
"Obviously, that's what we want to be able to do, so getting to the Big Ten Tournament and doing well is paramount on our behalf."
The Wolverines (19-10) have the resume of a classic bubble team: 44th in the RPI rankings and 45th in strength of schedule, according to realtimeRPI.com. Their resume boasts four victories against top 50 teams (Florida, Iowa State, Ohio State and Nebraska), but is marred by a late-season slump, which includes losing three of their last four games.
ESPN's Charlie Creme lists Michigan as a No 11 seed in his NCAA Tournament projections, down from a No. 9 seed one week ago. The Wolverines are in his "last four in" category.
Purdue coach Sharon Versyp thinks the Big Ten conference has six NCAA bids locked up: Her Boilermakers, along with Penn State, Ohio State, Nebraska, Iowa and Michigan State.
As for Michigan?
"They may have a little work to do, but they had an incredible resume, have had some great wins," she said. "So I think it's a possibility right now. I think it's a big possibility."
Despite a 20-point victory against Illinois in their Big Ten opener on Dec. 30, the Wolverines don't need the pressure of a potential must-win situation to avoid overlooking the Illini.
Last season, Michigan was the No 3 seed in the Big Ten Tournament and was upset by No. 11 Illinois, 55-47, in its first game.
"Anybody in this conference on any given night, I've come to learn, can beat anybody," Borseth said. "(Illinois has) improved dramatically since the beginning of the year. Both teams have changed a lot since then."
Illinois (11-18) won't play a postseason game beyond the Big Ten Tournament unless it wins the Sunday title game. So coach Jolette Law is calling this her team's March Madness.
"This is the third chapter of our season," she said. "We have nothing to lose."
The Illini's loss to Michigan was the beginning of an 0-7 start to its Big Ten schedule. Since then, they've knocked off nationally ranked Ohio State and defending champion Michigan State in East Lansing.

All-Big Ten selections
Michigan's Jenny Ryan, Rachel Sheffer and Courtney Boylan were named honorable mention All-Big Ten selections by Big Ten media members this week. Big Ten coaches voted Ryan to their All-Defensive Team and listed Sheffer on their honorable mention list.
Coaches and media selected the same players for their All-Big Ten first team: Jordan Hooper, Nebraska; Tayler Hill, Ohio State; Samantha Prahalis, Ohio State; Alex Bentley, Penn State; Maggie Lucas, Penn State.
Penn State's Coquese Washington was the unanimous Coach of the Year.