Posted on
Wed, Jun 27, 2012 : 5:59 a.m.
Michigan's John Beilein committed to his favorite charity: Chelsea's St. Louis Center
By Nick Baumgardner
It didn't take long for John Beilein to cross paths with the St. Louis Center.
Shortly after accepting the Michigan basketball head coaching position in 2007 and subsequently moving to Ann Arbor, Beilein began hearing about the Chelsea-based facility in passing.
And now, five years later, he's fully entrenched in the St. Louis Center's mission -- and is one of its biggest ambassador.
"In some of the other places I've been, it's always the fourth or fifth year when you really get a chance to meet people and know the culture of the city," Beilein said Tuesday. "Whether it was Buffalo, Richmond, West Virginia -- now, it's been five years, the same house, meeting people, it's really (allowed you to) get more ingrained in the culture. And the St. Louis Center is part of the culture of this area.
"I'm going to help it become (part of the culture), I don't think a lot of people knew it even existed."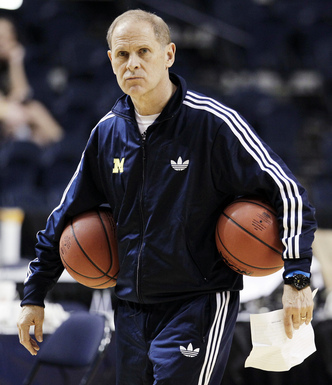 Associated Press
Originally established in 1960 by the Archdiocese of Detroit, the St. Louis Center is a residential community for boys, men and women who suffer from intellectual and developmental disabilities.
Presently, the foundation is run by "the Servants of Charity Congregation of Catholic missionary priests and brothers." The foundation's mission: "to care for the 'poorest of the poor.'"
And after five years in Ann Arbor, Beilein is now completely dedicated to supporting its cause.
In January, Beilein entered the "Infiniti Coaches' Charity Challenge," a fundraising event featuring 48 college basketball coaches who competed for their favorite charity. Beilein's choice was the St. Louis Center, and as a result, the foundation received a donation of $5,000 from the event.
On Tuesday, the St. Louis Center thanked Beilein by honoring him at its annual golf outing with the "John Panelli Celebrity Award."
Beilein appreciated the award, but that's not what he's out to accomplish.
"It's nice, but my goal is to (help) get this thing started," he said. "The residents they have there need this center so badly, that's why it's so rewarding for us to go out there and make a few people smile. Do a few drills with them. It's great."
Beilein and his wife, Kathleen, originally visited the center in January. He also invited four residents to a Michigan home game against Illinois on Feb. 12, and allowed them to celebrate the team's win over Illinois in the locker room afterward.
And last week, he brought current Michigan basketball players Tim Hardaway Jr., Jordan Morgan, Eso Akunne and former player Zack Novak with him to meet and greet some of the facility's residents.
"(The players) were smiling as much as I was," Beilein said of the visit.
Beilein's honor was just part of a day-long golf outing fundraiser held by the St. Louis Center at the University of Michigan Golf Course.
Other sports dignitaries on hand were Detroit Pistons and Michigan State football broadcaster George Blaha, former longtime Michigan football assistant Jerry Hanlon, ex-Michigan running back Mike Hart, Michigan football legend Ron Kramer's son, Kurt, and eight former NFL players -- including Jim Bradshaw, George Goeddecke, Scott Kowalkowski, Reggie McKenzie, Tom Nowatzke, Joe O'Donnell, Brett Petersmark and Bill Wagner.
Beilein was officially honored by the St. Louis Center on Tuesday, but he says his -- and his program's -- relationship with the foundation won't end there.
As long as he's in charge at Michigan, the Wolverines and the St. Louis Center will have a common bond.
"Right now, it's going to be -- I hope I have a lot of (favorite) charities," Beilein said. "But this is one I plan on having an affiliation with as long as I'm coaching at Michigan."
For more on the St. Louis Center, or to donate, click here.
Nick Baumgardner covers Michigan basketball for AnnArbor.com. He can be reached at 734-623-2514, by email at nickbaumgardner@annarbor.com and followed on Twitter @nickbaumgardner.
Want to stay connected to Wolverine basketball in your Facebook newsfeed? "Like" AnnArbor.com's Michigan Basketball News & Views.