Posted on
Fri, Mar 12, 2010 : 5:10 p.m.
Postseason seems like a no-go for Michigan basketball team
By Michael Rothstein
INDIANAPOLIS - Earlier this week, Michigan coach John Beilein said his team has no plans to play in the College Basketball Invitational, a third-tier tournament behind the NCAA and NIT.
Michigan athletic director David Brandon said Friday that despite the way Michigan played in its 69-68 loss to Ohio State, nothing has changed with the Wolverines' decision.
Without playing in the CBI and an NIT bid extremely unlikely, it means the end of Michigan's season.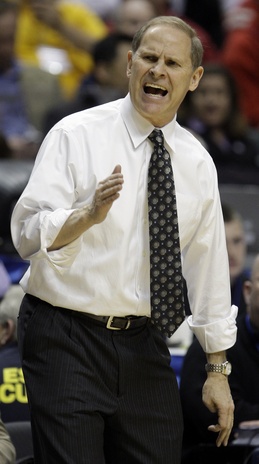 AP photo
The players are OK with not going to the CBI.
"It's Michigan. High standards. And that's a great thing for the university and the prestige and having pride," senior forward Anthony Wright said. "It's not about just continuing the post-season, you know. It's about going to the NCAAs or, you know, you just miss it and you go to the NIT.
"But, he's not going to do that because it'll be an embarrassment for the program. So definitely."
Not every player, though, is ready for Michigan's season to end.
Senior forward DeShawn Sims, who had 16 points and six rebounds against the Buckeyes, said it didn't feel like Michigan's season had ended.
"It had gone so fast, man," Sims said. "It just few by so fast man. I can't believe it's over yet.
"I hope it's not over yet."
Harris doesn't talk about his decision
Michigan junior Manny Harris, coming off his best game of the season, said Friday he didn't feel it was the right time to talk about his future.
Harris, who had 26 points and twice hit shots to give Michigan the lead late against Ohio State, has an option to declare for the 2010 NBA Draft or return for his senior season in Ann Arbor.
"It'd be wrong and it'd be selfish for me to talk about me after we just lost and had a disappointing season in general," Harris said. "I'm not even thinking about that part."
Harris averaged 18.1 points this year and with his 26 points Friday moved into the Top 10 all time in scoring at Michigan, passing Henry Wilmore, who had 1,654 points.
Harris now has 1,668 points in his career and if he returns would have an outside chance of breaking Glen Rice's career scoring record of 2,442 points.
If Friday was his last game at Michigan, it'll stick with him the rest of his life.
"That's just going to be a feeling that I remember, period, for the rest of my life," Harris said. "Losing on a half-court shot, I've never been in a game like that where I lost by a half-court shot or won by a half-court shot.
"That was just a game that I'll always remember."
End of an era
Barring an unlikely postseason berth, Friday's game was the last one Sims and Harris will play together in college.
The two best friends have been on the court together for the entirety of John Beilein's tenure in Ann Arbor.
"It's definitely been a great adventure," Sims said. "Me and Manny have known each other for a long time and we complement each other's games. The Michigan program
has helped us a lot, and to become stars somewhat.
"But it's been great playing with Manny and playing with all the guys that I've come across since I've been at Michigan."
This and that
Sims finished his Michigan career No. 16 all-time in scoring with 1,584 points, five points shy of Roy Tarpley in 15th place. He's also 22nd in games started (92), tied for 12th in rebounds with Courtney Sims (728), 12th in blocks (82) and tied for 14th in steals with Lester Abram (103) … With four assists, Harris moved into ninth place all-time at Michigan in assists with 366, passing Bernard Robinson Jr., who had 364. … Fifth-year senior Zack Gibson finished his career 13th in all-time blocks with 65.
Michael Rothstein covers University of Michigan basketball for AnnArbor.com. He can be reached at (734) 623-2558, by e-mail at michaelrothstein@annarbor.com or follow along on Twitter @mikerothstein.