Posted on
Fri, Aug 3, 2012 : 6:45 p.m.
Michigan's Trey Burke, Jordan Morgan and Corey Person visit 9-year-old Joshua Smith, a Detroit hero
By Nick Baumgardner
DETROIT -- Jordan Morgan has seen some pretty impressive stuff in his life.
A junior center on the Michigan basketball team, Morgan has competed against some of the country's best athletes and has done so in front of sellout crowds from Ann Arbor to Hawaii.
He's stood toe-to-toe with future NBA stars, played for a Big Ten championship and danced in the NCAA Tournament.
But perhaps nothing has impressed Morgan more than Joshua Smith, a 9-year-old Detroit boy who is trying to save the city -- one cup of lemonade at a time.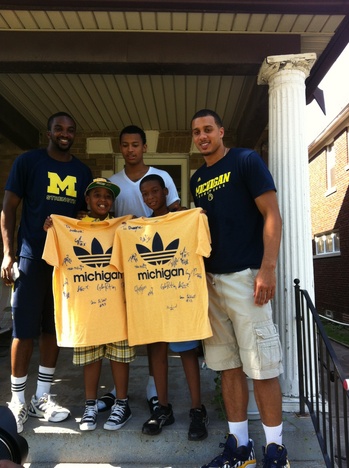 Nick Baumgardner | AnnArbor.com
"You hear a lot of people complain about what's going on in the city, but it takes a collective effort from everybody to want to change it," Morgan said. "And to hear that type of attitude from a 9-year-old kid ... this kind of message needs to get out there and supported.
"From a 9-year-old kid, it's amazing."
Smith and his lemonade stand were profiled in the Detroit Free Press earlier this week. Together with his 10-year-old friend Dwayne Durant, Smith has been selling lemonade, fruit punch and popcorn at his house in an effort to raise money for the city of Detroit.
He's been hard at work all week, from 5-8 p.m., and according to his mother -- Rhonda Smith -- he's raised more than $2,000.
He has plans to present the money to the city council next week, and is expected to receive an award from the city for his efforts.
On Friday, he got a pat on the back from Morgan and the Michigan basketball team.
The 6-foot-8 center brought senior Corey Person and sophomore Trey Burke out to Smith's Detroit neighborhood Friday afternoon to show their support for his effort.
The trio presented Smith and Durant with T-shirts that were signed by the entire Wolverine basketball team. And, of course, they had some lemonade, too.
"(Morgan) told us the story (Thursday) in the locker room about what he was doing," Person said. "When I heard about that, and heard how old he was, I felt like he was a superstar and I had to meet him.
"When he said he was coming out here to see him, I wanted to be a part of that. That's such a big thing for somebody his age to be doing something like this."
Burke, who said he has relatives that live in the Detroit, said he could tell Smith's efforts struck a chord with Morgan -- a Detroit native -- and added that he felt it was important to lend his support and help encourage other youngsters to follow in Smith's steps.
"I think we have an influence on a lot of kids, and to see a 9-year-old try to make a difference in this city (is great), it says a lot about the kid," Burke said. "When I was 9-years-old, I was playing video games, running the streets playing football and basketball.
"If more kids his age had the mindset he has, they could change the world."
It's been a pretty big week for Smith. He's become somewhat of a household name in the city, he's received a scholarship for his efforts and now has the support of the entire Michigan basketball team.
Apparently, a little lemonade goes an awful long way.
"I just wanted to get down here and show some support," Morgan said. "I don't have a lot of money, I'm a college student, but I wanted to show him Michigan was behind him.
"I'm proud of him."
Nick Baumgardner covers Michigan sports for AnnArbor.com. He can be reached at 734-623-2514, by email at nickbaumgardner@annarbor.com and followed on Twitter @nickbaumgardner.