Posted on
Wed, Mar 7, 2012 : 4:10 p.m.
Minnesota or Northwestern? John Beilein doesn't care, he'll just prep for both
By Nick Baumgardner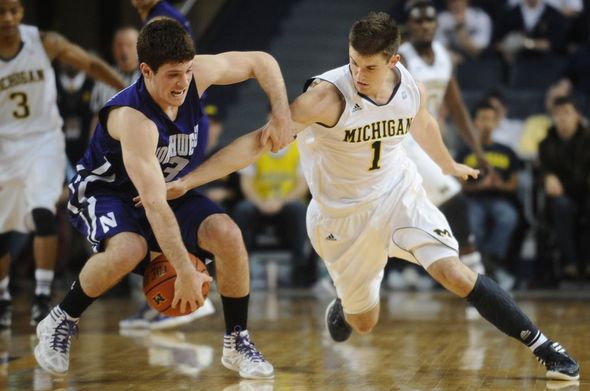 Melanie Maxwell I AnnArbor.com
In a former life, John Beilein's brain would already be in "win, or go home" mode.
As a former head coach at NCAA mid-major schools Canisius and Richmond, conference tournament time used to mean everything.
"From the world I came from," Beilein said. "Winning the (conference) tournament was the only way you got to the NCAA (Tournament)."
It's safe to say Beilein's beyond that now. His Michigan basketball team currently holds a co-Big Ten regular-season title, a No. 2 seed in this week's Big Ten Tournament and a rock-solid spot in this month's NCAA Tournament.
But, according to Beilein, if the Wolverines want to go 2-for-2 in championship tries this month, they'd be wise to adopt the old mantra of his Golden Griffin and Spider clubs.
"It's important that we go in there with that mindset right now," he said. "You want to have a great season? Go win a Big Ten Tournament championship.
"Because you don't have to share that with anyone."
The Wolverines have to wait to find out who their Big Ten Tournament journey begin against. The winner of Northwestern-Minnesota first round matchup on Thursday (5:30 p.m., ESPN2) will face Michigan on Friday (6:30 p.m., BTN) in the quarterfinals.
That means Beilein and the Wolverines have the unenviable task of preparing for two teams at once.
Related: AnnArbor.com's Nick Baumgardner predicts the Big Ten Tournament
In Minnesota, Michigan would be getting an athletic group that can push the ball and be active on the offensive glass. The Golden Gophers (18-13, 6-12) are paced by junior forward Rodney Williams and junior combo guard Julian Welch, both of whom average better than 10 points per game.
Inside, Minnesota has 6-foot-11 center Ralph Sampson III, who anchors the league's best shot-blocking defense.
Northwestern (18-12), meanwhile, is quite a bit different.
Coach Bill Carmody's deliberate Princeton-style offense, combined with his 1-3-1 defensive set, makes the Wildcats one of the toughest teams (along with Michigan) to prepare for on short notice.
Two Michigan assistant coaches will head to Indianapolis early to watch the Minnesota-Northwestern game at Bankers Life Fieldhouse.
The Wolverines swept Northwestern this season, winning both games in overtime, most recently earning 67-55 overtime win over the Wildcats on Feb. 21.
Beilein said he doesn't buy into the notion that it's difficult to beat a team three times in one season, because, with Northwestern, it's hard to beat them just once.
"Knowing how complicated Northwestern's offense is, playing them a third time (isn't a big difference)," he said. "We know we'll have to be versatile."
As far as Minnesota goes, Michigan only saw Tubby Smith's club once this season, a 61-56 home win on Jan. 1, a game that took place "a year ago," according to Beilein.
Leading into the game, Michigan will alternate scout team looks in practice, spending equal amounts of prep work against both systems.
Who would Beilein prefer?
"I never have any preference," he said. "Whatever happens, happens, and you have to be ready for it.
"I rooted for a team once, way back when, and we lost. I'm never doing that again."
Nick Baumgardner covers Michigan basketball for AnnArbor.com. He can be reached at 734-623-2514, by email at nickbaumgardner@annarbor.com and followed on Twitter @nickbaumgardner.
Want to stay connected to Wolverine basketball in your Facebook newsfeed? "Like" AnnArbor.com's Michigan Basketball News & Views.