Posted on
Wed, Mar 21, 2012 : 6:28 p.m.
Evan Smotrycz's mom says he 'wasn't happy,' holds no ill-will toward Michigan basketball program
By Nick Baumgardner
Evan Smotrycz's decision to leave the Michigan basketball program was far from spur of the moment.
Smotrycz's mother, Charleen Smotrycz, told AnnArbor.com on Wednesday that the 6-foot-9 sophomore forward just wasn't happy any longer at Michigan, but holds no ill-feelings toward the program he called home for two years.
"This is something Evan's been thinking about for some time," Charleen Smotrycz said. "He was kind of assessing things along the way, things he needed to work on and things that he felt would make him a stronger player, not just at Michigan but moving forward.
"He's not an impulsive guy, he's pretty methodical. He did a review at the end of the year and just felt this was the right decision for him. ... But he owes so much to Michigan and John Beilein and that whole group, they've been unbelievable for him."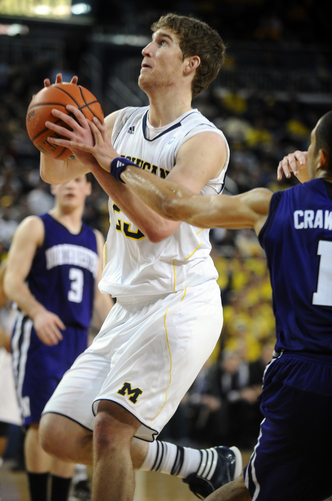 Melanie Maxwell | AnnArbor.com
Michigan announced the official departures of three players from its program Wednesday: Smotrycz, freshman guard Carlton Brundidge and sophomore forward Colton Christian.
But Smotrycz, a Reading, Mass. native, was easily the biggest loss, production-wise, for the program. The sophomore forward played in 69 games during his Michigan career, and averaged 7.7 points and 4.9 rebounds this past season.
He was the team's second-leading rebounder and its most efficient 3-point shooter (43.5 percent). Had he returned next season, he would've likely been a top candidate to earn a spot in Beilein's starting lineup.
However, according to his mother, he simply wasn't happy.
"It was a very, very difficult decision for Evan," Charleen Smotrycz said. "He just loves the guys he played with and the coaches have done so much for him. But he said, in essence, he really needed to find his happiness.
"He wasn't happy and he felt that he needed to take a pause, head home and kind of re-assess what he was looking for in the next step of his life, and we supported him."
Charleen said Evan informed Beilein of his decision to leave the program earlier on Wednesday, and that the Michigan coach was "a consummate professional" about the entire situation.
As for the future, the Smotryczs aren't sure where Evan will end up just yet.
"He doesn't know," Charleen said. "He says he's wide open, his options are wide open. He's receptive to seeing different programs and searching for what he's looking for based on his experiences at Michigan."
The future remains uncertain for Smotrycz, and the decision to leave Michigan wasn't easy.
But even still, he holds no regrets or grudges.
"He says those teammates are his brothers and the university has been great to him," Charleen said. "He's very, very at peace with his decision and still pleased with everything he got out of his time at Michigan."
Nick Baumgardner covers Michigan basketball for AnnArbor.com. He can be reached at 734-623-2514, by email at nickbaumgardner@annarbor.com and followed on Twitter @nickbaumgardner.
Want to stay connected to Wolverine basketball in your Facebook newsfeed? "Like" AnnArbor.com's Michigan Basketball News & Views.