Posted on
Sun, Dec 4, 2011 : 12:13 p.m.
Was it the haircut? Michigan forward Jordan Morgan breaks out against Iowa State
By Nick Baumgardner
Maybe it's the haircut.
Entering the season, Michigan sophomore forward Jordan Morgan sported a different look, with a more full head of hair than he went with for most of the 2010-11 campaign.
On the floor, Morgan started slow. He began the season coming off the bench and has been relatively up and down for most of the year, continuing to show a penchant for foul trouble.
But on Saturday, Morgan had a new haircut. Or, rather, an old haircut. And with it, an old-style game as well.
"We got showtime back," Michigan sophomore guard Tim Hardaway Jr. said of Morgan's 16-point performance in a 76-66 in over Iowa State. "His (Kenny) Sky Walker hair wasn't really paying off.
"But it showed (Saturday), with the low-cut (hairstyle), he played like he did last year."
For really the first time all year, Morgan asserted himself in the paint from the beginning and never relented.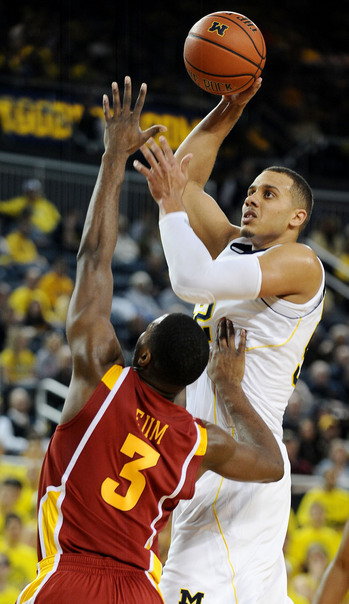 Melanie Maxwell | AnnArbor.com
He scored Michigan's first four points of the game, and showed an array of low-post scoring moves.
He scored via the two-handed dunk, the jump hook and an 8-foot jumper. He went 2-for-3 from the foul line, and in 23 minutes of action, committed just one foul.
Morgan wasn't as effective on the glass, picking up just two rebounds, but offensively, it was his most efficient performance of the season.
"I just felt like I got the ball in places where I can score," Morgan said. "My teammates were looking for me."
Morgan's numbers aren't yet up to where they were a season ago, as he's averaging 7.6 points and 3.9 rebounds through eight games this year (he averaged 9.2 points and 5.4 rebounds last season).
But he's getting there. And the more Morgan establishes himself in the interior, the less one-dimensional the guard-heavy Wolverines become.
The hair's back to normal, and now, Michigan hopes Morgan's game will follow.
"You have to have some presence inside," Michigan coach John Beilein said. "He's worked hard and he's continued to work hard. We've just got to get some consistency (inside)."

Sloppy finish a concern

With 3:50 to play Saturday, Michigan found itself in complete control against Iowa State. The Wolverines had an 18-point lead and appeared to be on their way to a blowout win.
Iowa State had other plans. The Cyclones suddenly caught fire, ripping off a 16-4 run to pull within just six points after a Chris Allen 3-pointer with 24 seconds to play. During ISU's run, Michigan coughed the ball up six times.
The Wolverines went 8-for-8 from the foul line in the game's final minute, so the late run was for naught. But that doesn't mean it wasn't forgotten.
"You get ahead in the game and we're trying to put it away and we weren't strong with the ball," Beilein said. "We talk about being 'boss with the ball.' We weren't. We were just watching the clock.
"Turnovers with that team are automatic points. There's no defense for a turnover. You can go back and hustle all you want, but the numbers favor them."

Free throw success

Saturday was Michigan's best foul shooting day of the season, as the Wolverines went 15-for-18 (83.3 percent).
On the season, Michigan is still shooting a less-than-stellar 67 percent (80-for-120) from the foul line. But Beilein said Saturday's performance was encouraging.
"Remember who went to the line there (late), Tim and Zack (Novak) went to the line," Beilein said. "But for a guy like Jordan Morgan, who's shooting hundreds (of free throws) every week, if not days, it was good to see him knock those down."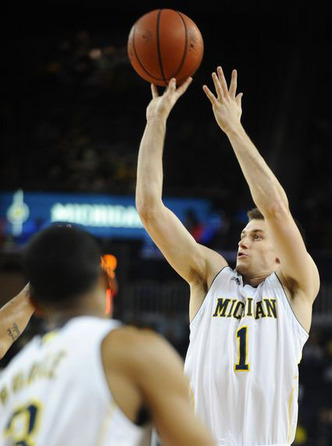 Melanie Maxwell | AnnArbor.com
Vogrich, Douglass
continue to struggle
Senior guard Stu Douglass and junior guard Matt Vogrich continued their early-season shooting slumps Saturday, combining to go 1-for-5 from the floor and 0-for-4 from 3-point range.
For the year, Douglass is shooting just 38 percent from the floor (20-for-53) and 28 percent from 3-point range (10-for-36). Vogrich is in a far worse slump, shooting 6-for-20 from the floor (30 percent) and 1-for-12 from 3-point range.
"They're either hurrying or pressing, I've been there before and I've watched it even with my own son," Beilein said. "There's not much you can do sometimes. I'm concerned for their attitudes, but I just want them to know that they both still have the green light when they're open.
"Because that's the type of shooters that they are."

Odds and ends

Beilein said sophomore Jon Horford is currently nursing a sore foot. Horford had three rebounds in 10 minutes against Iowa State. ... Evan Smotrycz finished with eight points, seven rebounds and three assists, but fouled out for the second-straight game and the third time this season. Smotrycz now has a team-high 29 fouls in eight games. ... Michigan football offensive coordinator Al Borges was at Crisler Arena on Saturday, and received a large ovation from the crowd after being shown on the video board.
Nick Baumgardner covers Michigan basketball for AnnArbor.com. He can be reached at 734-623-2514, by email at nickbaumgardner@annarbor.com and followed on Twitter @nickbaumgardner.
Want to stay connected to Wolverine basketball in your Facebook newsfeed? "Like" AnnArbor.com's Michigan Basketball News & Views.