Posted on
Wed, May 16, 2012 : 5:37 p.m.
Michigan women's basketball coach Kim Barnes Arico has no roster turnover, keeps recruits
By Nick Baumgardner
Melanie Maxwell | AnnArbor.com
Personally, the past few weeks have been rather hectic for new Michigan women's basketball coach Kim Barnes Arico.
Her office inside the William Davidson Player Development Center is filled with unpacked boxes and she's still in the process of moving her family to Ann Arbor, something that will have to wait until her young children finish the school year in New York.
Professionally, however, the beginning of Barnes Arico's tenure with the Wolverines has been extremely smooth.
"(The team's) enthusiasm, their excitement welcomed me from the second I walked in the door," Barnes Arico told AnnArbor.com on Wednesday. "I think they're all on board. I've had an opportunity to meet with some of them individually, everybody seems to be really excited to move forward and excited to continue.
"We didn't lose anybody in the transition, which is unbelievable."
Barnes Arico, who was hired last month to replace Kevin Borseth (who left Michigan for Wisconsin-Green Bay), said she has not had any player with remaining eligibility ask for a release from her scholarship.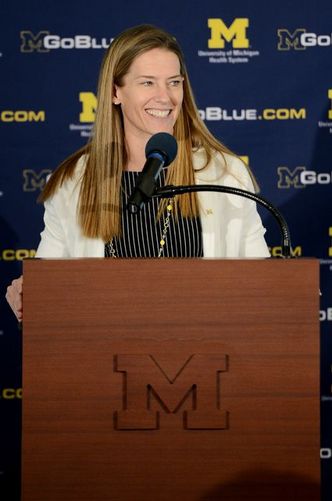 Melanie Maxwell | AnnArbor.com
Additionally, she says she's been able to maintain all four members of Michigan's 2012 signing class -- including 2012 Michigan Miss Basketball Madison Ristovski.
Ristovski, a 5-foot-10 guard from University Liggett School in Grosse Pointe Woods, is joined in the 2012 class by Inkster's Kelsey Mitchell -- who finished third in the 2012 Miss Basketball voting -- Symone Denham from Columbus, Ohio, and Rebecca Lyttle from Hollywood, Fla.
"All four of them are really excited," Barnes Arico said. "I've obviously had a chance to personally meet with the two Michigan young ladies, Kelsey and her dad, as well as Madison and her parents, and those meetings went exceptionally well.
"They're extremely excited. They're excited to get started with their college careers, and they're excited that I'm on board as well. We talked about it, we're starting this thing together -- and they're excited about it."
As important as it was for Barnes Arico to maintain Michigan's signing class, it was just as important for her to keep the remaining portion of the roster intact for next season.
Michigan, which played in the NCAA Tournament for the first time in 11 years last season, will have to replace a combined 21.3 points per game from departing seniors Courtney Boylan and Carmen Reynolds.
However, the Wolverines will return leading scorer Rachel Sheffer, as well as seniors Jenny Ryan, Nya Jordan, Kate Thompson and Sam Arnold.
Barnes Arico said her first goal upon arriving in Ann Arbor was to meet with the returning players and make them feel at home, something she hopes she's accomplished.
"One of the reasons that I chose to come to the University of Michigan was them," she said. "I had an opportunity to watch them play in the NCAA Tournament, I had an opportunity to do my research and do my homework on what those kids have done for Michigan women's basketball in the past three and four years.
"They've changed the culture, they've changed the face of Michigan women's basketball."
As far as her coaching staff goes, Barnes Arico says she's still formulating a plan to fill out the rest of her bench -- a process she hopes to start making final decisions on early next week.
"I'm in the process of finalizing that, I think I should have (a majority) of the pieces in place by early next week," she said. "There are a couple positions I haven't really tackled yet, I'm trying to get assistant coaches and an operations person on staff (first) to get on board with recruiting and catch up."
Barnes Arico said she did have some conversations with "a number of people" on the previous coaching staff about future positions, but said those that opted to leave did so "in good standing."
Former Michigan associate head coach Dawn Plitzuweit was named head coach at Northern Kentucky last week and former assistant Tianna Kirkland was hired at Illinois shortly before Barnes Arico took the Michigan job in April.
First-year assistant John Barnes was also on Borseth's staff a year ago.
Nick Baumgardner covers Michigan basketball for AnnArbor.com. He can be reached at 734-623-2514, by email at nickbaumgardner@annarbor.com and followed on Twitter @nickbaumgardner.
Want to stay connected to Wolverine basketball in your Facebook newsfeed? "Like" AnnArbor.com's Michigan Basketball News & Views.