Posted on
Wed, Jan 12, 2011 : 10:24 p.m.
No. 2 Ohio State hangs on to beat Michigan basketball, 68-64, at Crisler Arena
By Michael Rothstein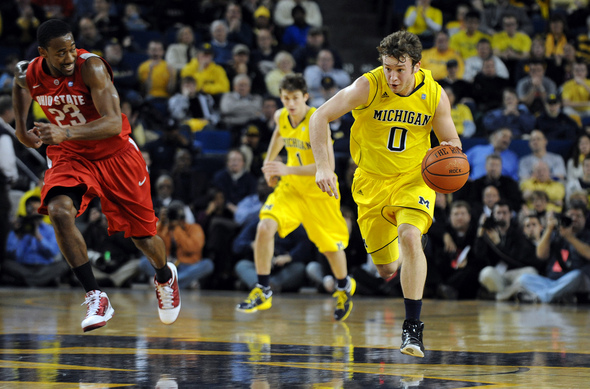 Lon Horwedel | AnnArbor.com
Updated 10:24 p.m.
Zack Novak stood in front of his locker — Michigan likes its players to address the media that way — and cringed.
He didn't know how to explain what happened, didn't want to think about how close Michigan had come, again, to knocking off a top 5 team in Crisler Arena.
After pushing No. 3 Kansas to overtime on Sunday it had one of its biggest rivals, undefeated and No. 2-ranked Ohio State, at home on Wednesday.
And Michigan came close, again, before losing to the Buckeyes, 68-64.
"We're right there. We're a good team," Novak said. "Once we get it, we can beat anybody. Right now we can beat anybody.
"We're right there. We just have got to learn from it."
Learning, though, might be the hardest part. Michigan could see a poor shooting performance in a 67-60 loss to Kansas and rationalize if it had played better, it might have beaten the Jayhawks.
In this one, Michigan played well. So did Ohio State. And the Wolverines still hung close.
Michigan (11-6, 1-3 Big Ten) shot 52.2 percent from the field. The Wolverines' double-team defensive strategy held national Player of the Year candidate Jared Sullinger to 12 points and seven rebounds and forced the freshman forward to foul out for the first time in his career.
And, in the first half, they went with Ohio State (17-0, 4-0) every step, trailing by one, 35-34, at halftime. But a 12-0 run in the middle of the second half, when Michigan had three missed shots and four turnovers, put them in a 12-point hole, 53-41.
This team a year ago, heck, this team two months ago, might have folded against a team more talented than them.
Instead, they fought. They used a 5-0 run in the game's final minutes to close within four, 62-58, and then made it a two-point game with 22 seconds left after Novak made two free throws.
"It's right there," redshirt freshman forward Jordan Morgan said. "We know we can play with anybody but we want to win. We want to win those two games, we could have used those two games."
Instead, they have to settle with being close.
Most Michigan players admitted this felt a lot like Sunday's game against Kansas. Which is both a good thing and a bad thing.
It is good because Michigan is realizing its potential, that it can play — at least at home — with the nation's elite.
It is bad because the difference is still there. And that playing close and being able to actually win these games is a vast difference.
A 6 minute, 12 second scoring drought like what happened in Ohio State's 12-0 run cannot happen. Its forward, Morgan, cannot get into foul trouble as he did dealing with Sullinger, because while Michigan's four other starters all scored in double figures -- led by 18 from Darius Morris -- Morgan didn't score for the first time this season.
"We're close but to get over the hump you've got to be better than the breaks, better than the other team. You have to stay so focused," Michigan coach John Beilein said.
"You have to be better than any calls that don't go your way and that's a tougher thing to do than people think.
"We just have to keep stressing it and the process will take care of itself."
The process, initially thought to be one that could take all of this season or longer, is starting to accelerate. Michigan's players are starting to believe they can play with anyone. Beat anyone.
Kansas stung. But it was an out-of-conference game. So while Wednesday night felt the same, there was a little more bitterness.
A little more anger.
This was a Big Ten game. This was a rival. For the second straight time, Michigan came close to beating Ohio State, which got a game-high 19 points from guard William Buford.
"This one hurts a little bit more," Morris said. "This is Ohio State and you can't forget that. Great rivalry and you always want to be on the winning side of this one.
"Equally (like Kansas), but a little more tough because it's Ohio State."
Michael Rothstein covers Michigan basketball for AnnArbor.com. He can be reached at (734) 623-2558, by e-mail at michaelrothstein@annarbor.com or follow along on Twitter @mikerothstein.