Posted on
Mon, Jan 21, 2013 : 10:31 p.m.
No. 23 Michigan women's basketball team goes cold at the end in 59-49 loss to No. 8 Penn State
By Pete Cunningham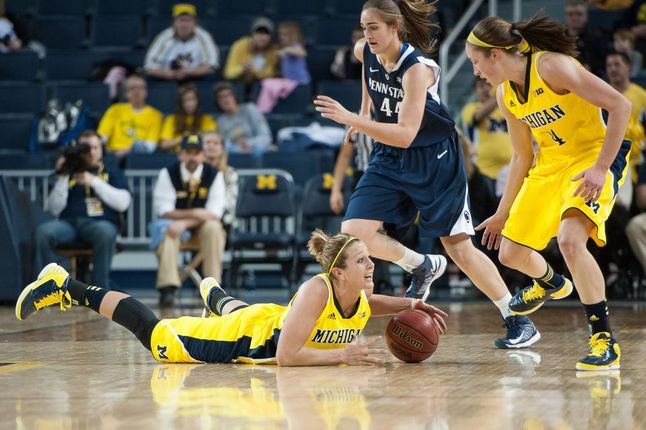 Courtney Sacco | AnnArbor.com
With seven minutes to play against the No. 8 team in the country, the Michigan women's basketball team was poised for a signature win. Trailing Penn State 46-45 and with the home crowd at the Crisler Center into the game, No. 23 Michigan looked like it might end the night alone atop the Big Ten standings.
It was a bad time to go stone cold from the field.
Michigan missed its next nine shots as the Nittany Lions put together a 12-0 run. The Wolverines wouldn't score again until under a minute to play, but it was too late as they fell 59-49.
More coverage: Photo Gallery | Boxscore
"It was a quality team and they just wore us out," said Michigan coach Kim Barnes Arico. "I guess that's why they're probably No. 8 and we're probably No. 23 at this point because they had four more minutes than we did."
Michigan (15-3, 4-1 Big Ten) had a counterpunch to everything Penn State (15-2, 5-0) threw at it all night, and even had a 35-34 lead five minutes into the second half.
But Penn State showed it could finish, ending the halves on 8-1 and 12-3 runs.
"The thing about Penn State is they score in bunches," said Michigan guard Jenny Ryan, who had seven points and six assists on he night. "I think it was just one of those games where their runs just came at a bad time for us."
Michigan had one of its worse shooting nights of the season shooting just 27.8 percent from the field, and 23.1 percent from 3-point range. The Wolverines have averaged 46.5 percent from the field so far this season and 39.5 percent from beyond the 3-point line.
Barnes Arico attributed some of the off shooting night to fatigue and some to Penn State's high-pressure style of defense, but Ryan didn't think the off night was fully explicable.
"I think we got the looks that we wanted and I think that, from my point of view, I thought every shot was going in. I mean they hit the back of the iron, they went in and out, I think there were three or four that were half way down," Ryan said. "So I don't know if it was their defense on the last eight shots, but I do think we did get the shots we wanted it was just one of those days."
Michigan couldn't have asked for a better start as forcing Penn State into a pair of turnovers in their first three possessions defensively. Offensively, Kate Thompson got hot from the outside right away and Michigan jumped to an early 8-2 lead.
But after hitting her first two 3-pointers of the night, Thompson made just one of her next 12 attempts. She finished with 9 points, just the fourth time she's had less than 10 points all season.
"I think she got a little frazzled by them and then she got a little fatigued," said Barnes Arico, who had no problem with Thompson trying to shoot through her woes, saying the senior (who was 7-of-10 from distance in the team's last game) has the "green light."
"If she's not shooting it, who's shooting it? And who's making it?" Barnes Arico said.
Penn State responded to Michigan's hot start with a 15-0 run of its own and Michigan only led again by one point for a brief moment in the second half.
Penn State's dynamic backcourt combination Maggie Lucas and Alex Bentley had 19 and 16 points, respectively. Lucas went cold to start the second half, but had a step-back, behind the back, crossover three as the shot clock was expiring that ignited Penn State's final run.
Courtney Sacco | AnnArbor.com
Despite a considerable size disadvantage, Michigan was able to outrebound Penn State 20-19 in the second half after being outrebounded 22-14 in the first half. That was thanks in large part to Michigan's
Rachel Sheffer
baiting
Nikki Greene
into her third foul less than a minute into the second half.
Sheffer ended with a game-high 20 points and had 10 rebounds as well. Even with Greene on the bench for much of the second half, Sheffer had to work for every inch.
"They have post players for days and they rotated post players in that could post anyone up," Sheffer said.
The loss ends Michigan's 10-game winning streak. Though the Wolverines have yet to beat a ranked opponent, Sheffer feels her team showed that they have what it takes to compete with the best teams in the Big Ten and the country.
"I think for the entire game leading into that (final seven minutes) I think we did an awesome job and it really showed a lot about our team," Sheffer said.
Pete Cunningham covers sports for AnnArbor.com. He can be reached at petercunningham@annarbor.com. Follow him on Twitter @petcunningham.