Posted on
Thu, Mar 21, 2013 : 2:59 p.m.
No. 4 Michigan vs. No. 13 South Dakota State: A comprehensive guide to our coverage
By Pete Cunningham
Daniel Brenner | AnnArbor.com
Postgame coverage:

WHO: No. 4 Michigan (26-7, 12-6 Big Ten) vs. No. 13 South Dakota State (25-9, 13-3 Summit League).
WHERE: Palace of Auburn Hills, Auburn Hill, Mich.
WHEN: Thursday, 7:15 p.m.
LIVE COVERAGE: Join Michigan beat writers Nick Baumgardner and Kyle Meinke from our Live Chat on the Michigan Basketball homepage for their take of the action as it happens. You can also follow them on Twitter @nickbaumgardner and @kmeinke.
ODDS: Michigan is favored by 11 points according to SportsBook.com.
SERIES RECORD: Michigan leads, 2-0.
LAST MEETING: The teams last met Dec. 3, 1988, with Michigan winning 104-66. Michigan went on to win the national championship that season.
BROADCAST INFORMATION: TV: CBS; Radio: Detroit: WWJ (950 AM), Ann Arbor: WWWW (102.9 FM).
SOUTH DAKOTA STATE Roster | Schedule
Coverage throughout the week: It's the most wonderful time of year: March Madness. Michigan and South Dakota State are among the select few still left in the college basketball landscape, but by day's end, only one will stand. Incase you've been under a rock for the past week, or the entire season, here is everything you could possibly want to know about the meeting between the Wolverines and Jackrabbits: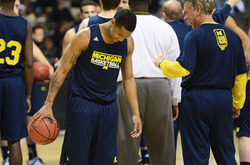 Michigan looks more loose this March, but insists its focus is razor sharp heading into NCAA tournament
Last year the Michigan basketball team's focus may have been too sharp. At practices leading up to its loss to Ohio in their opening game of NCAA Tournament, there weren't many smiles. That wasn't the case Monday in Auburn Hills and John Beilein hopes the his team's looseness is a sign of being comfortable and confident.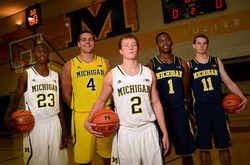 Michigan, the youngest team in the NCAA tournament, pinning hopes on freshmen
Michigan's best player, Trey Burke is a sophomore. Freshmen Mitch McGary, Glenn Robinson III, Caris LeVert, Nik Stauskas and Spike Albrecht are all vital cogs to the Michigan team. It should come as no surprise that Michigan is the youngest team in the NCAA Tournament with an average experience level of .8 years. Second youngest is Oklahoma State, at 1.01.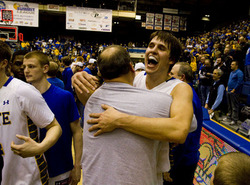 South Dakota State 'not intimidated' by Michigan, expects Palace support from Michigan State fans
The South Dakota State players insist they aren't scared of Michigan, and they won't be overwhelmed by playing the Wolverines in Auburn Hills, just 55 miles away from the Crisler Center. In fact, they're hoping to get some love from the Spartan fans in the building.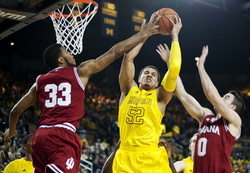 Lineup shakeup? Jordan Morgan could be replaced as starter for Michigan's NCAA tournament opener
Jordan Morgan has not played his best basketball of late and in contrast, freshman Mitch McGary has come on strong down the stretch. The result may be McGary supplanting Morgan in the starting lineup on Thursday against South Dakota State, and beyond should Michigan advance in the tournament.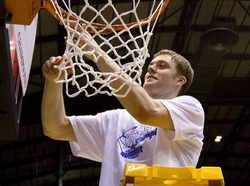 South Dakota State star Nate Wolters tries to deflect focus off matchup with Michigan's Trey Burke
Michigan won't be the only team with a national player of the year candidate on the floor on Thursday. South Dakota State senior Nate Wolters is no slouch himself. Though all eyes will be on the Wolters vs. Trey Burke matchup on Thursday, Wolters has done all he can to deflect the attention leading up to the game. He insists more will have to happen than him winning an individual matchup for his team to prevail.
Column: No more early exits, Michigan must at least hit the Sweet 16 to continue progression
When John Beilein first arrived at Michigan, just getting to the tournament was an accomplishment. Beating Clemson one year, and Tennessee another in opening round games was going beyond expectations, but expectations have changed. Early round exits won't do it for the Wolverines anymore. They need to get to the Sweet 16 or beyond to prove their progression as a program.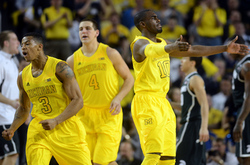 CBS: Michigan has more NBA potential than any other NCAA tournament team
President Obama likes Michigan as an Elite Eight team, others believe the Wolverines are a fraud. But regardless of how the Wolverines finish this March, one analyst says Michigan's talent matches up with anyone. CBSsports.com's Jeff Goodman says Michigan has more NBA-level talent than any other team in the NCAA tournament.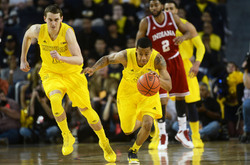 Michigan: South Dakota State's fast-paced style 'plays to our advantage'
Michigan features one of the country's most dynamic offenses, but it stalled a bit in recent weeks as it plodded through the Big Ten slate. Now the fourth-seeded Wolverines will open NCAA tournament play against 13th-seeded South Dakota State, another team that likes to let it fly -- and they're thrilled with the matchup.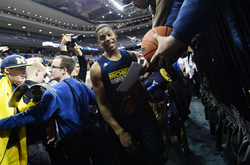 Michigan's freshmen prepping for first NCAA tournament run
Michigan has five freshmen in its lineup. They're not quite the Fab Five, but they have some chops. The group of underclassmen is preparing for their first run in the NCAA Tournament and loving every minute of it at the advice of the old man of the team: Tim Hardaway Jr.
President Obama picks Michigan to reach Elite Eight
Michigan got as resounding an endorsement as possible heading into the tournament. President Barack Obama picked the Wolverines to reach the Elite Eight. Mr. President also picked two Big Ten teams to reach the Final Four.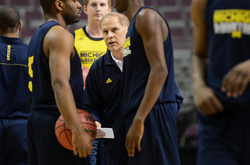 Michigan's John Beilein: Detroit Pistons would struggle to slow South Dakota State's shooters
How much does John Beilein respect the offense of the South Dakota State? He believes slowing down the Jackrabbits would be tough for every team in Auburn Hills...including the Detroit Pistons.

HOW FAR WILL THE WOLVERINES GO?
An overwhelming majority of AnnArbor.com readers believe Michigan will advance at least past the first round, but there are still some who belive the Wolverines will fall to the Jackrabbits of South Dakota State.
How far do you think this year's team will go?
Associated Press Side-by-Side comparisons:

Michigan | South Dakota State
Record: 26-7 | 25-9, Advantage: Michigan.
Average Points: 75.2 | 73.9, Advantage: Michigan.
Opponents' Avg. Pts.: 62.9 | 65.6, Advantage: Michigan.
Avg. margin of victory: 12.3 | 8.3, Advantage: Michigan.
Avg. field goal percentage: .484 | .470, Advantage: Michigan.
Opp. FG Pct.: .419 | .442, Advantage: Michigan.
3-Pt. FG Pct.: .383 | .394, Advantage: South Dakota State.
Opp. 3-Pt. FG Pct.: .330 | .357, Advantage: Michigan.
3-Pt. FG made per game: 7.5 | 7.8, Advantage: South Dakota State.
Opp. 3-Pt. FG-Game: 6.5 | 6.9, Advantage: Michigan.
Free throw Pct.: .707 | .763, Advantage: South Dakota State.
Rebound Margin: 2.9 | 4.1, Advantage: South Dakota State.
TO Diff.: 2.9 | 0.8, Advantage: Michigan
Avg. Steals: 6.0 | 5.1, Advantage: Michigan
Avg. Blocks: 2.8 | 2.3, Advantage: Michigan