Posted on
Sun, Mar 31, 2013 : 5:59 a.m.
No. 4 Michigan vs. No. 3 Florida: Wolverines one win away from Final Four
By Pete Cunningham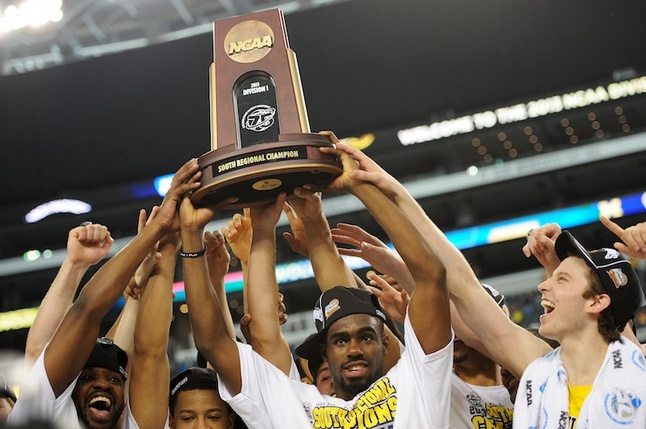 Melanie Maxwell | AnnArbor.com
Postgame coverage:
WHO: No. 4 Michigan (29-7, 12-6 Big Ten) vs. No. 3 Florida (29-7, 14-4).
LIVE COVERAGE: Join Michigan beat writers Nick Baumgardner and Kyle Meinke from our Live Chat on the Michigan Basketball homepage for their take of the action as it happens. You can also follow them on Twitter @nickbaumgardner and @kmeinke.
WHERE: Cowboys Stadium, Arlington, Texas.
WHEN: Sunday, 2:20 p.m.
ODDS: Florida is favored by 3 points according to SportsBook.com.
SERIES RECORD: Michigan is 1-1 all-time against Florida.
LAST MEETING: Michigan lost, 79-63, at the Orange Bowl Classic on Dec. 27, 1998.
BROADCAST INFORMATION: TV: CBS; Radio: Detroit: WWJ (950 AM), Ann Arbor: WWWW (102.9 FM).
Coverage: When Michigan trailed Kansas by 10 with less than three minutes to go on Friday, there weren't many who would have picked the Wolverines for the Final Four. But after a late run, capped by some Trey Burke heroics, Michigan is one win away from its first berth since 1993. Standing in the way is Florida. Here's everything you need to know about the Wolverines' matchup with the Gators:
Michigan a three-point underdog against Florida in the Elite Eight
Michigan will be an underdog for a second straight game at Cowboys Stadium. The fourth-seeded Wolverines (29-7) opened as a three-point underdog against the third-seeded Gators (29-7), according to Pregame.com.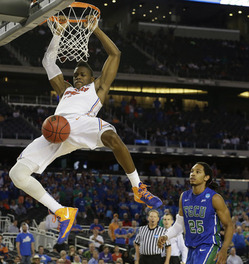 Get to know: Florida, Michigan's tournament-savvy Elite Eight opponent
The Florida Gators have become a juggernaut in recent years, winning back-to-back national championships in 2006 and 2007, and now are making their third consecutive Elite Eight appearance. They lost the first two. Will the third time be the charm, or will Michigan's charmed run continue on to the Final Four?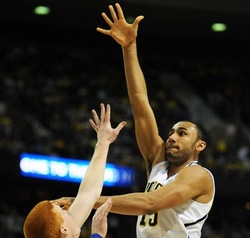 Michigan's Jon Horford offers insider take on Florida, where his brother starred
Michigan forward Jon Horford knows a thing or two about the University of Florida. His brother, Al, starred for Donovan from 2004-07, winning a pair of national championships with the Gators. Horford chose the Wolverines over Gators and has a chance on Sunday to prove it was the right call.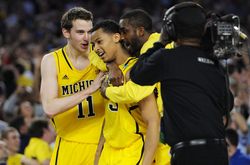 Michigan's Trey Burke gets more than 200 phone messages after the 'biggest shot I've ever made
Hours after sinking the biggest shot of this NCAA tournament, after celebrating with teammates and listening to countless questions from throngs of reporters, Trey Burke checked his phone. While sifting through more than 200 messages late Friday night, Burke saw countless congratulations and even a few premature condolences on a tough loss.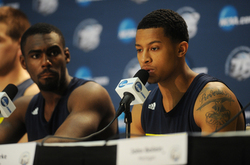 Transcript of Michigan starters, John Beilein addressing media before Elite Eight game against Florida
The Michigan basketball team had plenty to say on Saturday after defeating Kansas late on Friday night. John Beilein, Trey Burke, Tim Hardaway Jr., Mitch McGary and many more gave their take on Kansas and Florida. Check out the entire transcript.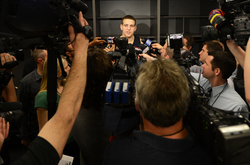 Florida's Billy Donovan a big Mitch McGary fan, calls him a 'phenomenal teammate'
Florida coach Billy Donovan knows a thing or two about Michigan big-man Mitch McGary, he recruited McGary to come to Florida. Though McGary ended up choosing the Wolverines, Donovan has remained a fan of McGary and the way he plays the game.

Who ya got?

Associated Press Side-by-Side comparisons:

Florida | Michigan
Record: 29-7 | 29-7. Advantage: None.
Average Points: 71.8 | 75.4. Advantage: Michigan.
Opponents' average points: 53.7 | 63.1. Advantage: Florida.
Margin of victory: 18.1 | 12.3. Advantage: Florida.
Field goal percentage: .480 | .486. Advantage: Michigan.
Opp. FG Pct.: .379 | .423. Advantage: Florida.
3-Point FG Pct.: .380 | .381. Advantage: Michigan.
Opp. 3-Pt. FG Pct.: .303 | .325. Advantage: Florida.
3-Pt. FG-Game: 8.3 | 7.5. Advantage: Florida.
Opp. 3-Pt. FG-Game: 5.1 | 6.4. Advantage: Florida.
FT Pct.: .678 | .705. Advantage: Michigan.
Rebound Margin: 5.0 | 3.3. Advantage: Florida.
Turnover Differential: 3.1 | 2.8. Advantage: Florida.
Average Steals: 7.2 | 6.1. Advantage: Florida.
Average Blocks: 3.3 | 2.7. Advantage: Florida.

Pete Cunningham covers sports for AnnArbor.com. He can be reached at petercunningham@annarbor.com. Follow him on Twitter @petcunningham.