Posted on
Sun, Oct 30, 2011 : 1:03 p.m.
No star? The Michigan women's basketball team says that's no problem
By Nick Baumgardner
Technically, the Michigan women's basketball team will have to replace its leading scorer this season.
But while the Wolverines will miss former guard Veronica Hicks, and her 11.2 points per game, replacing her production on the floor isn't something coach Kevin Borseth seems overly concerned about.
"We're really not a program that's star-laden," Borseth said Thursday at Big Ten basketball media day in Rosemont, Ill. "We're pretty much a balanced team."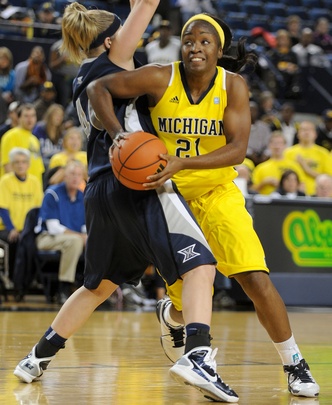 Borseth's not lying. Hicks may be gone, but Michigan's top producers everywhere else are back.
The fifth-year Michigan coach pointed to seniors Courtney Boylan and Carmen Reynolds, a duo that combined to average 16.8 points per game a year ago, as players that will alleviate the scoring burden.
Junior forward Rachel Sheffler wasn't the team's leading scorer a year ago, but very well could've been. She averaged 11 points to go along with 3.7 rebounds per contest.
It doesn't stop there, either. Guards Kate Thompson and Jenny Ryan both averaged better than 7 points per contest, and the re-emergence of junior forward Nya Jordan (who missed all but 13 games a year ago due to injury) should provide the Wolverines with even more balance.
Borseth is confident his experienced group can make up Hicks' production together as a unit.
There is one caveat, though.
"We've got eight or nine kids we think can play in different capacities," Borseth said. "But our biggest thing now is at the end of the shot clock.
"Who do you give the ball to?"
Last year, the easy answer to that question was Hicks. That answer gets a bit more complex this season.
Borseth said it could be Boylan, it could be Jordan, or maybe even freshman guard Brenae Harris, who averaged better than 20 points per game for Marion Harding High School in Ohio.
Or, it could be a combination.
There's no star this season, but there is experience.
And, for now, that seems to be more than enough.
"We return four starters," Boylan said. "And now we bring back Nya Jordan, who started at the beginning of last year. So, technically, we have five players who have started in Big Ten games.
"And I think that's one of our major strengths."
Nick Baumgardner covers Michigan basketball for AnnArbor.com. He can be reached at 734-623-2514, by email at nickbaumgardner@annarbor.com and followed on Twitter @nickbaumgardner.