Posted on
Wed, Oct 19, 2011 : 5:59 a.m.
No time to waste: Zack Novak values the finality of his senior season at Michigan
By Nick Baumgardner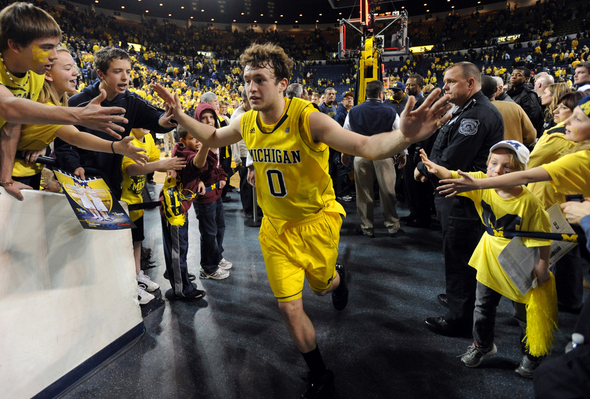 AnnArbor.com file photo
Zack Novak
isn't standing for it.
Not this year. Not as a senior.
During the summer, when the Michigan basketball team went through voluntary pickup games, Novak took the opportunity to remind anyone who forgot.
Losing doesn't fly in Ann Arbor anymore.
Not on his watch.
"Maybe my team would lose and it'd be some stupid mistake," Novak recalls. "I'd just go nuts. Off the wall, way more than I needed to for an open gym, but I'd just lose it.
"I just wanted them to see that passion for winning, even in an open gym."
So there he was. Though Michigan was dressing in one corner of campus, lifting in another and playing in a third due to Crisler Arena renovations, Novak wasn't about to let anyone take a second off.
Whether he was storming off the court in a fury or laying into a younger player to make a point, Novak's message seemed clear.
He doesn't have time for lapses. And neither do his teammates.
"You play four years here, you get, what, 120ish games? Maybe?" Novak asks rhetorically. "That's not that many when you think about it. Your whole life you get to play 120 college basketball games.
"Every opportunity you have is important, and they need to value every opportunity."
An old-school attitude

Ask Novak how long a loss sticks with him, and he's pretty honest.
"There's games I'll never get over losing," he says. "There's games in the fourth grade that I lost that I still think about and say, 'You've got to be kidding me.'"
Struggling to swallow a loss isn't a new concept. It's tossed around in athletic competition enough to become cliche.
But Novak's not cliche. Not even close.
He's a 6-foot-4 guard that dabbles as a power forward. A player that came off the bench for his AAU team before willing his way to a scholarship as a senior in high school.
When he says losses stick with him, he means it.
"Even in drills at practice, he wasn't losing," said Chesterton (Ind.) High School basketball coach Tom Peller, who coached Novak from 2005-08.
Novak started during his freshman season at Chesterton, and almost immediately developed a reputation as a win-or-else kind of guy.
Long before willing Michigan to its first road win at Michigan State in 14 years this past January, Novak was busting the chops of older teammates at Chesterton.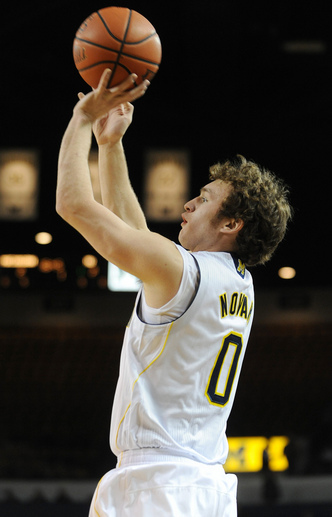 AnnArbor.com file photo
"He lost maybe one or two his entire high school career," Peller said of the old high school practice drills. "He would rally around his team and basically be like, 'We're not losing this drill. It's not happening.' And he started that his freshman year.
"The guys were all sort of like, 'This guy's for real.'"
Novak's youthful intensity paid off. He led Chesterton to 57 wins and exited as the school's all-time leading scorer with 1,791 points.
But Novak's more than just a sore loser, Peller says. He's a leader.
Whether he ever wanted to be or not, it's something that's always come natural.
"He always let his teammates know, 'Let's not let this loss happen again,' " Peller said. "He let them know through his words, and through his work ethic."
"I'd hate for them to go through something like that"

Novak doesn't have time for losing, but he has even less for frustrating flashbacks.
The Wolverines are entering similar territory this season. Picked by many to finish toward the top of the Big Ten, selected by others to be a top 25 team and a favorite to make a second-straight NCAA Tournament.
Sound familiar?
Following an NCAA Tournament breakthrough in 2008-09, Michigan entered Novak's sophomore season as a top 25 team, a group that was expected to compete in the Big Ten and a sure-fire bet to make a second straight Big Dance. Obviously, that didn't happen.
The Wolverines dropped two games at the Old Spice Classic in Orlando, Fla. Then a home loss to Boston College was eventually followed by a blowout defeat at Utah. And after Michigan couldn't knock off top-ranked Kansas on the road, the once-top 25 Wolverines limped into Big Ten play with a 6-5 record.
Michigan never stopped the bleeding, finishing the season 15-17.
A trip down memory lane suddenly makes Novak's pickup game freakouts seem a lot less ridiculous.
"I'd hate for them to go through something like that," Novak says with regard to his younger teammates. "I'm not worried about that happening, but it's just not fun. It's not the way we want to build this program."
It's early, but the young Wolverines appear to be paying attention.
Michigan freshman guard Carlton Brundidge compared Novak to his own father. And Tim Hardaway Jr. challenges anyone who thinks Novak isn't serious this season to come to a workout and find out first hand.
"Come to a practice and see if someone messes up, you'll know," Hardaway says firmly. "If you don't listen to him, something's wrong with you."
One final go-around

Entering his final year at Michigan, Novak's name is starting to creep up inside the pages of the Wolverine basketball record book.
He's fifth all-time in 3-pointers made (161) and fifth in 3-pointers attempted (464). He's the 57th player in school history to play in 100 career games and he's 232 points away from Michigan's 1,000-point club.
Those are all nice numbers, but they're not Novak's style.
"He doesn't put up 20 points a game and he's fine with that. A lot of guys say (they're fine with that), but the bottom line with a lot of them is that they do want to be a star and be in the limelight," Peller says. "But Zack is genuine about it. He really means that. If he doesn't score and they win, he's fine.
"You really don't see that anymore. It's a disease to me with a lot people (in basketball now), the 'if it's not me, then the heck with it.' Zack's the opposite."
Novak? He's less sentimental.
"You always see on TV guys talking about, 'Oh, this is my senior year, I want to go out with a bang,' " he said. "Yeah, of course you want to go out with a bang, but I don't want the year just to be about that. Everybody graduates from college, it happens, that's part of life and you get over it."
The legacy he hopes to leave behind has little to do with 3-point percentage or career scoring rank. It won't be about how, at 6-4, he had the capability of playing four spots on the floor -- and play them well.
And no, it won't be about the Tiger Blood, either.
As a Michigan Wolverine, Zack Novak is 57-45 with two NCAA Tournament appearances.
His only remaining intentions, the only ones he has time for, are to add more wins to the former and one more number to the latter.
"It's really about the team," he said. "This team, this year. We're all here, we're all going to put in the same amount of work and we're all going to be here together."
Nick Baumgardner covers Michigan basketball for AnnArbor.com. He can be reached at 734-623-2514, by email at nickbaumgardner@annarbor.com and followed on Twitter @nickbaumgardner.