Posted on
Mon, Feb 13, 2012 : 10:21 p.m.
Numbers, patience, faith have helped John Beilein improve Michigan basketball recruiting
By Nick Baumgardner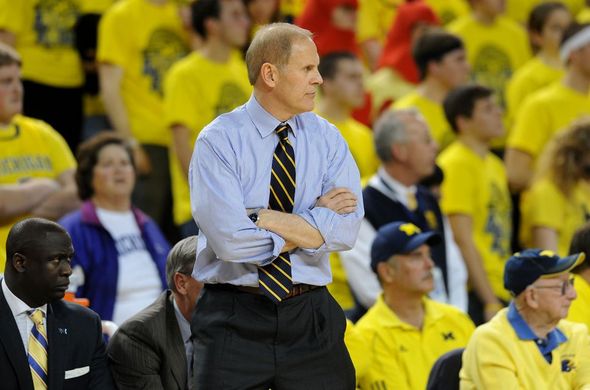 Angela J. Cesere | AnnArbor.com
When John Beilein first took charge of the Michigan basketball program prior to the 2007-08 season, he did so with very little wiggle room in terms of scholarships.
As a result, building the foundation for his rebuilding project wasn't the easiest thing in the world.
"We came in here with like one scholarship," Beilein recalled Monday during his weekly radio show. "Remember, we (commitments from) had Alex Legion, we had Manny Harris and we had Kelvin Grady. Not one of those guys made it to their senior year with us, (nor did transfer) Laval Lucas-Perry.
"We didn't have a lot to work with as far as space, but we took faith in who we had, did the best we could and eventually got to the NCAA Tournament."
Fast forward five years to now, and Beilein is no longer in the position of having to crunch numbers and roll the dice just to put a class together.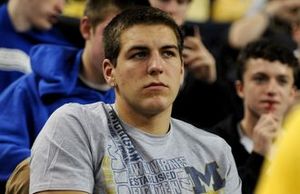 Next season, Michigan will welcome a top 10 recruiting class into its program, featuring five-star power forward Mitch McGary, four-star wing Glenn Robinson III and four-star combo guard Nik Stauskas.
But it doesn't stop there, either.
In 2013, the Wolverines currently have verbal commitments from four-star point guard Derrick Walton, four-star guard Zak Irvin, three-star forward Mark Donnal and three-star guard Austin Hatch.
So, how did Beilein and company get from there to here?
With plenty of patience, faith and extra room to work with.
"If you're good enough to hit on two (recruits) a year over a four-year period (you're doing well," said Beilein, who plans to watch every current signee or commitment play in person at least once this year. "Then you have eight, and you also have three or four developmental guys waiting to get better. Then you're at nine, 10 or 11.
"And, remember, two of my first recruits, Stu (Douglass) and Zack (Novak) were guys people doubted early, and (they weren't recruited) by a lot of the teams we play. You've just got to wait over four years and see how it all works out."
Presently, Beilein and his coaching staff are doing plenty of work on the 2014 class, attempting to get a further head start than they already have.
Although the Michigan coach says he's careful not to get too ahead of himself.
"It's very dangerous and we're really trying to move back as much as we can and not offer as early," he said. "We'll wait and wait, knowing that there will always be players around. But, if there are no-brainers out there, (we'll offer).
"We just don't offer a scholarship to get the class done. This is the University of Michigan, we've got to get the right fit for a long period of time. They're coming here to get a Michigan education and play for Michigan. It's a destination-type university. ... You do that successfully, and then who knows what opens up for the future."

Saturday waiting game

Beilein said Michigan will use a road game routine prior to its 9 p.m. home tip Saturday against Ohio State.
With extra time to kill throughout the day, he said the Wolverines will have to be careful not to get overly excited leading into a crucial Big Ten battle with the Buckeyes.
"We're going to play it almost like an away game," he said. "We're going to get them up and breaking a sweat at some point during the day, right after lunch.
"Then come back for video, a pregame meal at 5 p.m., then go home and get a nap in, come back for the 9 o'clock game and let's go."
Saturday will also feature an appearance from ESPN's "College GameDay." Beilein said he phoned a coaching friend this week who has already gone through the "GameDay" experience, just to see what he and his team were in for.
And, upon further review, he says he can't wait for the opportunity.
"It's going to be a great experience," Beilein said. "It's a full-day commercial for the University of Michigan, and it's a great honor."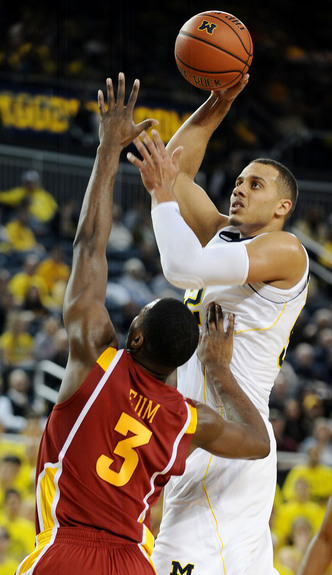 Melanie Maxwell | AnnArbor.com
Stop tweeting
Beilein said sophomores Evan Smotrycz, Tim Hardaway Jr. and Jordan Morgan all experienced "fairy tale" seasons a year ago in terms of limited adversity.
This season, all three have gone through prolonged slumps for the first time as college players.
Beilein said it was important to shield all three from any type of negative media, both mainstream and socially, throughout the entire process.
"When (a slump) hits you on national TV as a 19-year-old, it becomes all-encompassing," Beilein said. "(But) you don't need to have a Twitter account, you don't need people tweeting you, you've got enough going on as a college student."

St. Louis Center visitors

Beilein said Michigan welcomed a few visitors from the St. Louis Center in Chelsea on Sunday after beating Illinois.
Currently, Beilein is involved in The Infiniti Coaches' Charity Challenge, with the St. Louis Center being his charity of choice.
To learn more about the Infiniti Challenge, or to vote for Beilein, visit www.espn.com/infiniti
Nick Baumgardner covers Michigan basketball for AnnArbor.com. He can be reached at 734-623-2514, by email at nickbaumgardner@annarbor.com and followed on Twitter @nickbaumgardner.
Want to stay connected to Wolverine basketball in your Facebook newsfeed? "Like" AnnArbor.com's Michigan Basketball News & Views.