Posted on
Thu, Dec 16, 2010 : 5:40 p.m.
Oakland center Keith Benson has gone from unheard of to almost unstoppable
By Michael Rothstein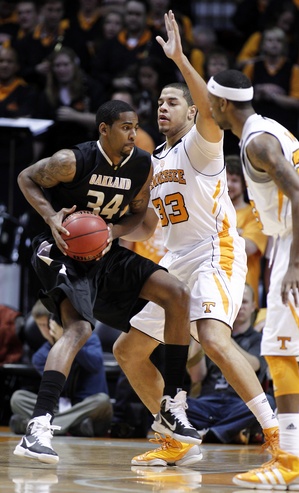 Wade Payne | AP Photo
ROCHESTER - Inside the O'Rena, Keith Benson took the ball, squared up to the basket, took a small crossover dribble and dunked the ball. Hard.
The Oakland University basketball practice stopped. Players were stunned before they started chest-bumping the then-freshman. Oakland coach Greg Kampe couldn't believe it.
The Grizzlies' coach had ridden Benson hard all season and, admittedly, said "it wasn't going good." But if you want to trace back to the moment Keith Benson the questionable project became Keith Benson the potential NBA player, Kampe goes back to that February 2007 practice.
"I was like 'Are you kidding me? You can do that?'" Kampe said. "From that day on, boy, we knew that this kid, that he's a long way away but he's got it in him.
"It was the most unbelievable thing I've seen in the game."
Benson talked about the dunk late Thursday morning, sucking down a drink after an Oakland practice in preparation for Saturday's game at Michigan (noon, ESPN3.com). And he smiled. Then, he laughed a little bit.
Benson barely played at Detroit Country Day, let alone grabbed any attention from the high-major programs he could easily play for now. Benson was still figuring out his body after growing from 6-foot-2 his sophomore year of high school to 6-foot-8 when Kampe was one of the few Division I coaches to recruit him.
Even then, Kampe didn't know he'd become the 6-foot-11, 230-pound center he is now, let alone a potential NBA lottery pick.
College coaches weren't the only ones unaware of Benson.
"I didn't know anything about him in high school," said Oakland guard Larry Wright, who played at Saginaw High. "We played (Country Day) three or four times in high school and I didn't remember him at all."
It's been a long road since then.
Benson arrived at Oakland and told Kampe he could play as a freshman. Kampe recommended he redshirt. Smart move.
Besides the moment of shock in that February practice, Benson gained weight and grew more. He learned the Oakland offense and started to feel his way around the defense. He became a part-time starter as a redshirt freshman and, for the past three seasons, has started every game.
"My redshirt freshman year is when my offense started getting better. I just needed to work on some things on defense and I was getting alley-oops and stuff in the games and getting more comfortable," Benson said. "I was just trying to improve every year so my production went up every year."
He went from averaging 5.2 points a game as a redshirt freshman to 17.3 points last year, when he was named the mid-major Player of the Year. And the kid who wasn't really recruited at all worked his way to being a potential NBA player.
That's something Benson knew, kind of, before last season. NBA scouts had asked about him during his redshirt sophomore year.
"I believe them that they noticed, that they knew I existed," Benson said. "I didn't think it was anything, like, serious. I just knew they were aware of me."
Those scouts are part of the reason Oakland is playing its incredibly tough schedule this year. Kampe wanted to give his star center a chance to play consistently against high major opponents.
And it worked.
Benson had 26 points and 10 rebounds in a win over No. 7 Tennessee, 17 points and 12 rebounds in a one-point loss to Michigan State and 16 points and 14 rebounds against Purdue and its star center, JaJuan Johnson.
This year, he's off to his best start, averaging 18.8 points, 11.5 rebounds and 3.4 blocks.
"When the pro scouts come in and say 'Hey, what do you think he'd do against them?' it's like 'Here's the tape,'" Kampe said. "Everywhere we go there's a host of scouts and the kid's put up huge numbers against those teams.
"He's played himself right now up to a possible lottery pick, still a long way to go."
The lottery became a consideration after he went to the Amar'e Stoudamire Skills Academy before the 2009-10 season and played well, even scoring "a couple of times" against then-Kansas center and future NBA lottery pick Cole Aldrich.
By then, Benson believed. It's part of why, when he played NBA 2K11 on the XBox 360 this year, he created himself and put himself through all the virtual pre-draft workouts.
When he did it, in some ways, it mirrored his career - and he couldn't help but think about whether the virtual him could end up be his real future.
"I thought I could," Benson said. "I just don't like how you start off really terrible (in the game), like you can't catch the ball or anything."
In the game, he improved. In real life, he improved.
In the virtual world, he ended up being the No. 27 pick in the first round.
Come June 2011, when the NBA has its next draft, Benson could go there. Or he could be selected higher.
Wherever he is drafted, it's a long way from that first practice his freshman year when he shocked his entire team by making one athletic play.
Michael Rothstein covers Michigan basketball for AnnArbor.com. He can be reached at (734) 623-2558, by e-mail at michaelrothstein@annarbor.com or follow along on Twitter @mikerothstein.