Posted on
Tue, Jan 11, 2011 : 11:31 a.m.
Ohio State basketball coach Thad Matta masters navigating one-and-done players
By Michael Rothstein
Thad Matta has heard the questions and figures they are inevitable when you have a potential National Player of the Year on the roster.
Yet if any coach is prepared to handle whether or not star freshman forward Jared Sullinger is going to leave for the NBA after this season, it is Matta. After all, this isn't the first time he's gone on the one-and-done merry-go-round with a player.
At Ohio State, which will play at Michigan on Wednesday night (6:30 p.m., Big Ten Network) it is almost a rite of winter. Have a player. Expect questions about whether or not he'll be around the next year.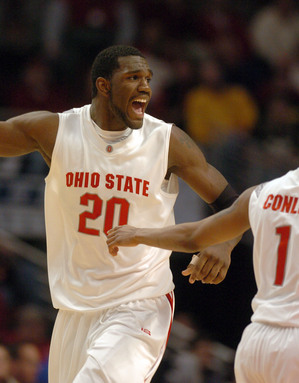 File photo
Matta made his program malleable. Every summer — especially after a player leaves early for the NBA Draft — Matta sits down with his assistant coaches and examines his roster.
In an era where many players depart school early for the NBA, Matta has sustained success despite losing six underclassmen (five freshmen) to the NBA over the past four years.
"In a lot of ways," Matta said. "We've started over a lot of times."
Since the 2006-07 season, Ohio State has lost six players early to the NBA Draft — five of them freshmen.
It is a staggering rate of turnover in a sport where a team can only have 13 players on scholarship at a time. Matta admits there are times where not knowing what will happen from year to year is stressful.
"You think sooner or later it's going to catch up with them and Thad's done a great job with his staff of being able to survive and maintain enough quality players to stay up in the Big Ten race and be one of the better teams in the country," Illinois coach Bruce Weber said. "I think you saw Carolina go through, I'd say, finally caught up with them last year a little bit and they see a little bit of a residual over an extended amount of time, as you continue to lose all those guys, it's hard to replace.
"It's a difficult thing and he should be applauded for what he's done and seeing if he can maintain it, that will be the question in the next couple of years if he continues to lose these guys."
For Matta, it started in the 2006-07 season, when he recruited the best freshman in the country, Greg Oden, to Columbus from Indianapolis. He brought with him his point guard at Lawrence North, Mike Conley Jr., and three other high-quality recruits.
Due to the then-new rule instituted by the NBA that players couldn't be drafted until one year after their class graduated high school, potential NBA rookies had to take a one year detour to college, which is part of how Matta ended up with Oden.
That team ended up reaching the national championship game before losing to back-to-back national champion Florida but it set a precedent.
Matta was going to go after one-and-done players — and he'd have success with it.
"You know that you'll have a pretty solid team when you have a guy like that in your program every year," Minnesota coach Tubby Smith said. "Probably guarantees you the opportunity to have a winning or very competitive season. I've been very impressed with Thad's ability."
After Conley, Oden and Daequan Cook left following the 2007 season, Matta recruited center Kosta Koufos, who left after his freshman year.
Then, B.J. Mullens was one-and-done in 2009. Meanwhile, Evan Turner was starting to play more minutes.
By 2010, Turner's junior year, he was named national Player of the Year and left for the NBA.
Now there's Sullinger, who is a favorite to win National Player of the Year honors and potentially be a top pick in the 2011 NBA Draft.
Yet Matta, who has a 156-54 record at Ohio State, continues to win. The Buckeyes have made the NCAA tournament in four of Matta's six years. His first season, 2004-05, OSU was ineligible due to NCAA violations from Jim O'Brien's tenure. And in 2007-08, with Koufos, they missed the NCAA tournament.
But won the National Invitation Tournament.
This year, Ohio State is at it again, ranked No. 2 in the country and are 16-0. Not that this is a surprise. Thad Matta knows how to do this.
He's been there before.
"I've almost learned over the time, when the season ends, you kind of sift through the NBA process," Matta said. "Take a look at what's going to happen.
"Sort of sit down in the summer and say, 'Here's what we got, let's make it work.'"
Michael Rothstein covers University of Michigan basketball for AnnArbor.com. He can be reached at (734) 623-2558, by e-mail at michaelrothstein@annarbor.com or follow along on Twitter @mikerothstein