Posted on
Sat, Dec 24, 2011 : 5:59 a.m.
Ohio State leads the way, Indiana, Michigan State are early threats as Big Ten season gets under way
By Nick Baumgardner
The preseason tournaments, money games and bonding sessions are over.
It's time to get serious.
Big Ten basketball play begins Tuesday, meaning we're about to find out who's for real, who's overrated and who can survive one of the deepest leagues in America.
As of Monday, half of the league's 12 teams were rated among The Associated Press' Top 25. Today, we take a look at where they rank with respect to one another in the first edition of this season's B1G Hoops Rankings.
Associated Press
Driver's seat
No. 2 Ohio State (11-1)
Last week:
W 70-50 vs. Lamar, W 69-40 vs. Miami-Ohio
Up next:
vs. Northwestern (Dec. 28), at No. 17 Indiana (Dec. 31)
Even without Jared Sullinger, Ohio State is the best team in the Big Ten. With Sullinger healthy, the Buckeyes might be the best team in America. Sullinger, Deshaun Thomas and William Buford are all threats to take over a game, and Aaron Craft remains dynamite at the point guard spot. League test No. 1 comes early, though, as Ohio State will have to enter hostile territory at a recently rejuvanated Assembly Hall on New Year's Eve.
Contenders
No. 17 Indiana (12-0)
Last week: W 107-50 vs. Howard, W 89-47 vs. Maryland-Baltimore County
Up next: at No. 19 Michigan State (Dec. 28), vs. No. 2 Ohio State (Dec. 31)
Indiana has backed up its program-returning victory over Kentucky by handling Notre Dame and clobbering a pair of non-conference cupcakes. Cody Zeller is, if possible, even better than some folks thought he'd be during his first season, and the Hoosiers are still refusing to miss 3-point shots. Are they for real? We're about to find out, as IU visits Michigan State and hosts Ohio State during the first week of league play.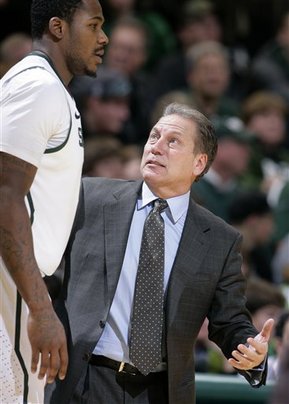 Associated Press
No. 19 Michigan State (11-2)
Last week:
W 89-54 vs. Missouri-Kansas City, W 90-81 vs. Lehigh
Up next:
vs. No. 17 Indiana (Dec. 28), at Nebraska (Dec. 31)
The Spartans began the year unranked with a pair of brutal tests (vs. North Carolina, vs. Duke) immediately staring them down. Michigan State dropped both those games, but hasn't lost since. The Spartans knocked off Florida State in the Big Ten/ACC Challenge and scored at win at Gonzaga in their current 11-game win streak. And, more importantly, they look like the Tom Izzo teams of old — ripping down more than 40 rebounds per game and holding a double-digit rebounding advantage for the season.
On the fringe
No. 13 Wisconsin (10-2)
Last week: Vs. Mississippi Valley State (Friday)
Up next: at Nebraska (Dec. 27), vs. Iowa (Dec. 31)
Wisconsin tripped up twice this season, at North Carolina and at home against Marquette, which really isn't anything to be too upset about. The Badgers have been themselves defensively, limiting teams to less than 50 points per game this season. However, point guard Jordan Taylor has not been himself — averaging just 11.8 points per night entering Friday, shooting below 40 percent for the season.
No. 20 Michigan (10-2)
Last week: W 77-66 vs. Bradley
Up next: vs. Penn State (Dec. 29), vs. Minnesota (Jan. 1)
Point guard Trey Burke has been one of the nation's top newcomers, Tim Hardaway Jr. has shown flashes of a first-team All-Big Ten-type performer, and Evan Smotrycz is starting to look like a legitimate John Beilein-style four man. However, the Wolverines still have little to no low-post depth, and have yet to establish a solid backup for Burke at the point. Michigan's extremely dangerous, but has some kinks to work out.
Hanging around
No. 25 Illinois (11-2)
Last week: W 64-60 vs. Cornell, L 78-74 at No. 8 Missouri
Up next: vs. Minnesota (Dec. 27), at Purdue (Dec. 31)
Illinois started out hot behind the scoring of D.J. Richardson and the improved play of 7-footer Myers Leonard, running out to a 10-0 mark. Since then, though, the Illini were pasted against UNLV in Chicago, struggled to slip by Cornell at home and lost by four at No. 8 Missouri. Not exactly the type of feeling a squad wants entering league play.
Northwestern (10-1)
Last week: W 87-72 vs. Eastern Illinois, L 87-79 at No. 21 Creighton
Up next: at No. 2 Ohio State (Dec. 28), vs. Penn State (Jan. 1)
Is this the year? Will the Wildcats finally make the NCAA tournament? John Shurna and Drew Crawford have been fantastic, with Shurna averaging 19.5 points, and Crawford chipping in with 16.6 per game. However, the Wildcats haven't gotten a ton of scoring contribution from the rest of their roster, and Northwestern is one of the worst rebounding teams in the country (32.5 per game). If the Wildcats want to back up a strong non-conference slate, they'll have to prove they're tougher than the numbers suggest moving forward.
Minnesota (12-1)
Last week: W 63-59 vs. North Dakota State
Up next: at No. 25 Illinois (Dec. 27), at No. 20 Michigan (Jan. 1)
Minnesota's non-league slate to this point hasn't exactly been challenging. In fact, the Golden Gophers have yet to play a road game. However, Minnesota's still standing without star Trevor Mbakwe, who suffered a season-ending knee injury earlier this year. That's an accomplishment by itself. Can the Gophers keep it up? We'll see. A pair of road games against Top 25 teams welcome Minnesota to Big Ten play.
Purdue (10-3)
Last week: W 81-56 vs. IPFW
Up next: at Iowa (Dec. 28), vs. No. 25 Illinois (Dec. 31)
The good news: Robbie Hummel is averaging 17.5 points and has shown no lingering knee issues through Purdue's non-league slate. The bad news: Purdue has failed every early test its faced. The Boilermakers fell against Alabama, blew a lead at Xavier and lost to a Butler squad that had already suffered seven losses by the time the two teams had played. Purdue has the potential to become a tournament team, but someone outside of Hummel is going to have to do something, especially in the paint.
Outside looking in
Nebraska (8-3)
Last week: W 72-69 vs. Central Michigan
Up next: vs. No. 13 Wisconsin (Dec. 27), Michigan State (Dec. 31)
Welcome to the Big Ten, Cornhuskers. Just like football, the league did the basketball Huskers no favors with its schedule. Nebraska, which struggles to score (66.8 points per game) and rebound (34.6 rebounds per game) kicks off Big Ten play with four consecutive games against ranked opponents (Wisconsin, Michigan State, Ohio State and Illinois). Survive that stretch, and Nebraska will earn some respect.
Iowa (8-5)
Last week: W 105-64 vs. Central Arkansas, W 81-72 vs. Boise State
Up next: vs. Purdue (Dec. 28), at No. 13 Wisconsin (Dec. 31)
Fran McCaffery's second season at Iowa hasn't started off with a bang, losing in-state games to Iowa State and Northern Iowa, and getting embarrassed by 16 points at home to Campbell. The Hawkeyes are rebuilding, clearly. And this deep league will likely take no pity on McCaffery.
Penn State (8-5)
Last week: W 72-42 vs. Mount St. Mary's, W 74-67 vs. Cornell
Up next: vs. No. 20 Michigan (Dec. 29), at Northwestern (Jan. 1)
Point guard Tim Frazier has been fantastic statistically this season, putting up 17.2 points, 7.2 assists and 5.8 rebounds per game. However, he's been a one-man gang. He's Penn State's only double-figure scorer, and at just 6-foot-1, he's far and away the team's best rebounder. That's not a good thing. The Nittany Lions and first-year coach Pat Chambers have a long way to go.
Nick Baumgardner covers Michigan basketball for AnnArbor.com. He can be reached at 734-623-2514, by email at nickbaumgardner@annarbor.com and followed on Twitter @nickbaumgardner.
Want to stay connected to Wolverine basketball in your Facebook newsfeed? "Like" AnnArbor.com's Michigan Basketball News & Views.