Posted on
Wed, Feb 17, 2010 : 11:30 a.m.
Ohio State's Evan Turner rises to top of player of year poll
By Michael Rothstein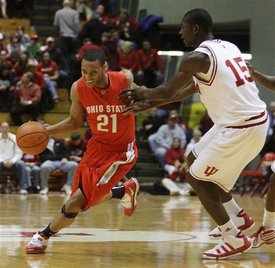 There is a new leader.
The AnnArbor.com College Basketball Player of the Year poll's 49 panelists moved Ohio State junior guard/forward Evan Turner ahead of Kentucky freshman guard John Wall in its third ballot of the season released Wednesday.
Turner, who missed almost six weeks with a fractured back during the non-conference season, has led the Buckeyes to nine straight wins in the Big Ten Conference and nine wins in the past 10 games.
Turner is averaging 19 points, 9.4 rebounds, 5.8 assists and 1.9 steals for Ohio State, which is in second place in the Big Ten standings.
Turner received 30 first-place votes ­ the most of any player and appeared on 41 of 49 ballots. Wall appeared on the most ballots, 45, but just 13 first-place votes.
In our first poll on Jan. 20, Wall earned 32 of 45 first-place votes and 114 total points. Turner was in third with three first-place votes and 32 points.
By the second poll, released Feb. 4, Turner was in second place and grabbed 18 of 48 first-place votes and 82 points. Wall still held a lead with 106 points and 25 first-place votes.
Now, it appears things have shifted.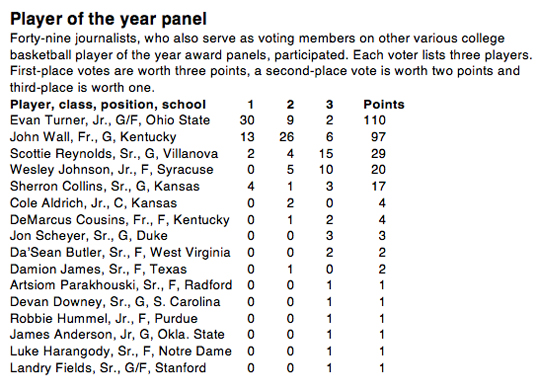 MORE ANALYSIS: • The poll added one more respondent this poll ­ up to 49 voters ­ and had its highest amount of players receiving votes this season, 16. The first poll had 11 players mentioned and the second had 14.
• Three players made their first poll appearances of the season: Fields, Hummel and Butler. Two players dropped out: South Florida junior guard Dominique Jones and BYU guard Jimmer Fredette. One player re-appeared: Parakhouski.
• Turner made the biggest jump, from 82 points to 110 points and from second place to first. Johnson made the largest drop, from 38 points in the second poll to 20 points in the third poll.
• Six players had first place votes in the first poll. Five had No. 1 votes in the second poll. Four have first-place votes in the third.
• Eight players have been named on all three polls: Turner, Wall, Reynolds, Johnson, James, Collins, Harangody and Scheyer.
• Seven conferences are represented among the 16 players: ACC, Big East, Big Ten, Big 12, SEC, Pac 10 and Big South. Two schools ­ Kansas and Kentucky ­ have two players receiving votes.