Posted on
Mon, Dec 5, 2011 : 8:56 p.m.
Once an insurance policy, Trey Burke paying big dividends for Michigan basketball team
By Nick Baumgardner
Plenty of things came out of the Michigan basketball program's summer trip to Europe prior to the 2010-11 season.
The tour provided great life experiences, chances for team bonding and an opportunity to hone on-court skills.
And, in a way, it paved the way for Trey Burke to end up as a part of the Wolverine program.
"We might not have (evaluated the roster so much) if we hadn't gone to Europe," Michigan coach John Beilein said Monday during his weekly radio show. "We went to Europe and decided, 'you know what, we need one more backcourt player.' We thought Darius (Morris) would be a junior when Trey would come in and we needed somebody else.
"It was 'let's make sure that if Darius gets a sprained ankle, we've got a guy.' Darius (didn't get) a sprained ankle. He's with the Lakers. (We were) very fortunate."
Fortunate, indeed.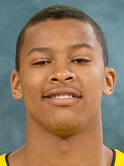 Burke had originally committed to Penn State, but eventually de-committed, offered a verbal to Michigan during the team's European trip and signed in November of 2010.
Through eight games this season, Burke has done his part in helping Wolverine fans get over the early departure of Morris, who set the single-season school assist mark last season.
The 5-foot-11 freshman from Columbus is averaging 11.3 points and four assists this year. Beilein said the early success has mainly been due to Burke's willingness to listen to any type of teaching coming his way.
"He's going to listen to all the experience around him (and do) whatever they say," said Beilein, who also credited Michigan assistant coach LaVall Jordan with Burke's early development. "He's very receptive to coaching. ... He's really been very receptive of change with high school habits to college habits, just like you change college habits to pro habits."
Burke's potential as an insurance policy and heir-apparent to Morris is what sold Michigan.
But what sold the Ohio native on the Wolverines?
"He's from Columbus and he's really a Big Ten kid," Beilein said. "He wanted to play in the Big Ten, he wanted to play against Ohio State."

Other radio show tidbits

Beilein said Michigan forward Jon Horford continues to work through a "hot spot" on his foot. "We're treating it very gingerly," Beilein said of Horford's ailment. "He can't do some things in our practices yet. We're going to wait and see what happens in the Oakland game (on Saturday in Auburn Hills)." ... Beilein paid great praise to Oakland coach Greg Kampe, essentially calling him a college basketball hall of famer. "(Kampe) is a guy who will certainly be in the Oakland hall of fame, certainly the (state of) Michigan hall of fame, if not a consideration for Springfield," said Beilein, referring to Naismith Memorial Basketball Hall of Fame in Springfield, Mass. "He's got quite a record and quite a legacy." ... Beilein said Michigan will stay in Auburn Hills on Friday night prior to playing Oakland at The Palace on Saturday.
Nick Baumgardner covers Michigan basketball for AnnArbor.com. He can be reached at 734-623-2514, by email at nickbaumgardner@annarbor.com and followed on Twitter @nickbaumgardner.
Want to stay connected to Wolverine basketball in your Facebook newsfeed? "Like" AnnArbor.com's Michigan Basketball News & Views.