Posted on
Thu, Nov 10, 2011 : 4:21 p.m.
Persistence pays off: John Beilein offers first comments on Mitch McGary, Glenn Robinson III
By Nick Baumgardner
When Michigan basketball coach John Beilein first saw Mitch McGary play, things were quite a bit different than they are now.
During the 2007-08 season when Beilein was in Chesterton, Ind. recruiting current Wolverine senior captain Zack Novak, he couldn't help but notice the tall kid who wasn't seeing much game action.
"He did not play a great deal when Zack was a senior, and he was a freshman on that team," Beilein said of McGary, a former prep teammate of Novak's at Chesterton High School. "(But) we kept (him) in the back of our mind. ... and just kept in contact."
McGary doesn't sit the bench anymore.
And Beilein's persistence paid off.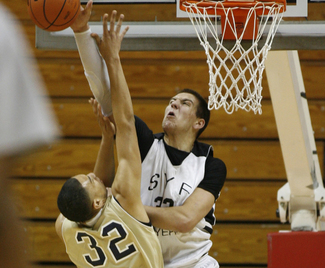 Beilein gave his first public comments on his 2012 recruiting class Thursday, after officially receiving national letters of intent from McGary (the country's top power forward) and Lake Central (Ind.) High School small forward Glenn Robinson III on Wednesday.
Michigan cannot comment on St. Mark's (Mass.) shooting guard Nick Stauskas until his letter of intent is processed. Stauskas announced via Twitter that he intends to sign his letter and send it to Michigan on Thursday night.
In McGary, Beilein has the biggest fish of his coaching career, as the 6-foot-10, 250-pounder is regarded as a consensus top-three prospect in the country.
It wasn't always that way.
After first spotting him as a raw teammate of Novak's, Beilein and company then took a front row seat with regard to McGary's development on and off the court.
After his sophomore year at Chesterton, McGary opted to transfer to New Hampshire's Brewster Academy, where he would receive a much more structured atmosphere in the classroom and on the floor.
Was there one particular moment when Beilein realized what type of player he had on his hands?
Not really. But the maturation process was obvious.
"When he went to Brewster, we saw some really positive changes in his game and overall," Beilein said. "He really embraced his experiences at Brewster, and that really helped."
"I think when we went up and saw him last year, (we) saw his whole development as a person as he continued to develop. I don't think there was any (one) moment, other than 'hey, you know what, this young man has a chance to be special.' "
Beilein's continued monitoring of McGary paid off in the long run, but Novak's involvement didn't hurt either.
In McGary's hometown, Novak's a legend. At Michigan, he's become the face of Beilein's culture shift.
Add it all up, and everything came up maize and blue.
"Mitch grew up watching and was smaller than Zack at one time," Beilein said. "They grew up to be pretty good friends where Zack really mentored him.
"(Zack's) role here and how (much) he loves the University of Michigan spoke well for our chances."
With Robinson III, Beilein's initial evaluation wasn't all that different than the McGary experience. Robinson wasn't overly polished at the time, but Beilein wasn't concerned with that.
He saw what most of the recruiting world eventually found out about Robinson.
He's really, really good.
"It's so hard to judge when they're 16-years-old and then 17 or 18, there's such a development curve there that you really can't predict," Beilein said. "But I love the fact that he's coming to Michigan."
When Robinson committed to Michigan in 2010, he was a 6-foot-4 wing known more for his famous father (Glenn "Big Dog" Robinson) than his game.
Fast forward to now, and Robinson (6-6, 185) is a four-star prospect and Rivals.com's 34th-ranked player nationally.
"Glenn has that explosiveness and a really good feel for the game," Beilein said. "And his passion for the game is incredible.
"(McGary and Robinson III) are both versatile, where they can both play a couple different positions. And that's really appealing."
Michigan will be left with a consensus top 10 class (ESPN currently slots Beilein's haul at No. 6, Scout.com puts it at No. 7).
In McGary and Robinson, the Wolverines have a pair of high-level prospects that can play multiple positions in Beilein's system.
But more importantly, according to Beilein, they're two kids who love basketball.
"You'll love the personalities, the enthusiasm, they're just fine young men who you want to coach, and the big thing, is they want to be coached," Beilein said of his class. "You can't teach some of those passion things that we talk about.
"Those two certainly have it."
Nick Baumgardner covers Michigan basketball for AnnArbor.com. He can be reached at 734-623-2514, by email at nickbaumgardner@annarbor.com and followed on Twitter @nickbaumgardner.