Posted on
Mon, Mar 12, 2012 : 2:31 p.m.
Plenty of connections between the Michigan and Ohio basketball teams
By Nick Baumgardner
Trey Burke had his fingers crossed Sunday, hoping his first NCAA Tournament experience would be played in his own back yard.
Some analysts had projected the Michigan basketball team to open tournament play in Columbus, Ohio, Burke's hometown. As the selection show moved forward, it appeared his wish might come true.
It didn't, as No. 4 Michigan ended up drawing No. 13 Ohio in Nashville, Tenn. Not exactly home, but a familiar opponent nevertheless.
"I won't deny it, I was definitely in there hoping we'd go to Columbus," the Michigan freshman point guard said with a smile. "It's my hometown, but we're great where we're at in Nashville playing a good team in Ohio.
"(My family) will be there either way."
Burke has more than a few ties with the Ohio program, starting from the unofficial visit he took to the school early on his his recruitment.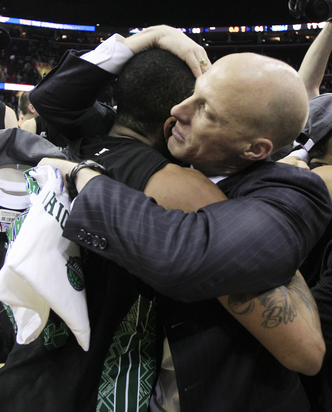 AP Photo
While visiting the school, he met his counterpart for Friday, Ohio point guard D.J. Cooper. Cooper averaged just under 20 points per game for the Bobcats in last week's Mid-American Conference Tournament, and finished the season as team's leading scorer at 14.6 points per game.
He also got to know Ohio sophomore Nick Kellogg, the son of former Ohio State star and current CBS analyst Clark Kellogg. Additionally, he played AAU basketball with Bobcat freshman guard Stevie Taylor.
"It was a nice campus, much smaller than here," Burke said of Ohio. "I was considering them early on in the process."
Burke isn't the only Michigan player with Ohio ties. Senior Zack Novak has a friendship with Bobcat junior guard Walter Offutt.
Novak met Offutt, a former Ohio State player and Indianapolis native, on the AAU circuit while in high school.
After finding out Michigan would be playing Ohio on Sunday night, Novak sent a text to his old friend, offering a friendly challenge.
"We're big 'Talladega Nights' fans," Novak said, referring to a Will Ferrell comedy. "So I said 'first, or last,' of course.
"And then just told him congrats, personally for him because he's been through a lot with two knee surgeries. Then I said 'we'll see you in Nashville, let's get after it.'"
Michigan coach John Beilein doesn't have any personal connections with the Bobcat program, but he is very familiar with Ohio coach John Groce, a former Ohio State, Xavier and Butler assistant, and also a friend of Wolverines' assistant Jeff Meyer.
While Groce was at Xavier, Beilein was the head coach at Atlantic-10 Conference rival Richmond.
Also, current Wolverine assistant coach LaVall Jordan played at Butler while Groce was an assistant at the school. And, Michigan assistant Bacari Alexander spent time as an assistant coach at Ohio in 2007-08.
"I haven't seen them a lot," Beilein said. "But you can bet your paycheck that I'll be watching a lot of them in the next coming days."
Nick Baumgardner covers Michigan basketball for AnnArbor.com. He can be reached at 734-623-2514, by email at nickbaumgardner@annarbor.com and followed on Twitter @nickbaumgardner.
Want to stay connected to Wolverine basketball in your Facebook newsfeed? "Like" AnnArbor.com's Michigan Basketball News & Views.