Posted on
Thu, Apr 29, 2010 : 5:16 p.m.
John Beilein's presidential connection, plus Michigan basketball schedule news
By Michael Rothstein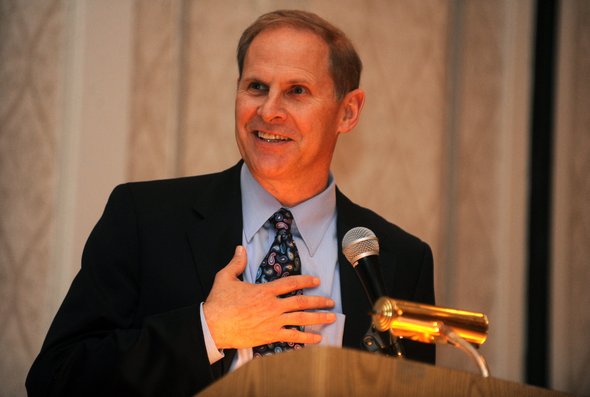 Melanie Maxwell | AnnArbor.com
President Obama's visit to the University of Michigan on Saturday means John Beilein will be having a family reunion of sorts. 
The Michigan basketball coach isn't related to Obama, but he is related to Capt. Joseph Ludick, one of the 13 pilots who fly helicopter Marine One.
Beilein said his nephew started his job during the Bush administration and continued under President Obama.
Ludick is one of at least four members of Beilein's family who serve or have served in the United States military. With the family connections, Beilein has been offered the chance in the past to go overseas on goodwill missions.
"I've been invited two times now to go and do one of the trips," Beilein said. "Because of the transition, I have never been able to do them, but I hope I can do that one day. But when you're trying to rebuild programs, it's very hard to do everything you want in the summertime because that would be a two-week trip in the summer."
Beilein won't get to see Ludick much on his current visit, but said Ludick is supposed to go to his house Friday. Beilein joked he might try to get a couple of his special basketballs, which help with shooting, into the hands of the President and his daughters.
Known as a fixer of shots, Beilein also offered some advice to the President, who is a basketball player and an avid college basketball fan.
"There was a little bit of a kink to (his shot)," Beilein said. "I'd like to work with him a little bit. But it went in. It went in enough.
"Probably could have used him this year."
As for the President's visit, Beilein used it in his recruiting pitches.
"He can't visit every university in the United States," Beilein said. "That he would choose to give a commencement address says an awful lot about the quality of the education and reputation of the university.
"We've mentioned it on every recruiting visit or in our slideshow that he's going to be visiting."
Beilein been through expansion before

Big Ten expansion continues to be discussed, and the topic of expanding is a familiar one to Beilein.
He's seen all of this before when he coached West Virginia in the Big East.
"There's a lot of coaches that have lots of thoughts on a lot of areas. I know what I don't know. I don't know the financial dynamics that go into these things and marketing as a league. You have to trust our presidents and Jim Delany that they are going to do the right thing for our league."
Beilein said he hasn't discussed the issue in depth with Michigan athletic director Dave Brandon, and he didn't offer an opinion on the potential Big East schools that might be candidates - Rutgers, Pittsburgh, Syracuse, Connecticut and Notre Dame.
"I'm sure that the Big Ten will choose the right schools," "If we expand, it's going to be with the right universities. I would have full faith that they would make the right choices.
"I would not like to say I prefer one or the other because there are great programs that would fit but I would defer to people who are in the know."
Schedule matters

Beilein said he has almost completed Michigan's non-conference schedule for this coming season and doesn't anticipate adding a road marquee game to the schedule as he has done in past years.
Michigan will likely be on the road in the Big Ten/ACC Challenge this year and will play in the Legends Classic along with Syracuse, Georgia Tech and UTEP in New Jersey.
Kansas and Utah come to Michigan, including the Utah game on the weekend of the Big Chill outdoor hockey game.
"It's a difficult thing to take a young team on the road," Beilein said. "That was a difficult part of this year as well, that we were very young in the backcourt, boom, boom, boom and BC right away. Those were four high-quality games in six days."
This and that

Beilein officially announced new assistant Bacari Alexander joined the staff Thursday. Alexander and assistant Mike Jackson will be primary recruiters for Michigan, and Jeff Meyer will do more of the national recruiting. … Alexander will, as expected, work with Michigan's post players. … Adding Alexander will also allow Michigan to "put more bodies on people" during practice.
Michael Rothstein covers University of Michigan basketball for AnnArbor.com. He can be reached at (734) 623-2558, by e-mail at michaelrothstein@annarbor.com or follow along on Twitter @mikerothstein