Posted on
Tue, Dec 28, 2010 : 6:30 p.m.
Purdue blows out Michigan basketball team in Big Ten opener, 80-57
By Michael Rothstein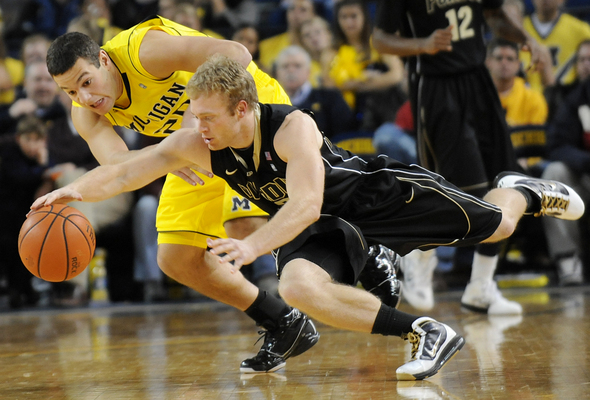 Melanie Maxwell | AnnArbor.com
Updated 6:30 p.m.
Team chemistry can be a fickle thing, something gained over a season lost in an instant.
And in the first few minutes of the Michigan basketball team's Big Ten opener against No. 12 Purdue, Michigan was out of sync offensively. And it was easy to see why.
Michigan's point guard Darius Morris was on the bench. What followed was an 80-57 loss to the Boilermakers that ended the Wolverines' seven-game winning streak.
Michigan coach John Beilein benched Morris - who entered the day as the Wolverines leading scorer (15.8 points a game) and leader in assists (7.5 apg) - for the first 4 minutes, 5 seconds of the game for an undisclosed violation of the team's "core values."
"I made a mistake, and I apologized to my teammates and am ready to move forward," Morris said. "I learned a lot from this experience and a lot from this game."
By the time Morris entered the game, Purdue had a 12-2 lead.
"We scouted for them and realized (Morris) is the head of their team," said Purdue forward JaJuan Johnson, who scored a game-high 22 points. "He's going to pretty much get the show rolling for them. A lot of things go through him, and we really tried to key in on him a lot."
It showed. With Michigan already flustered with three turnovers and only one good look at a shot in his first four minutes of action, Morris forced the ball as he tried to settle into the game.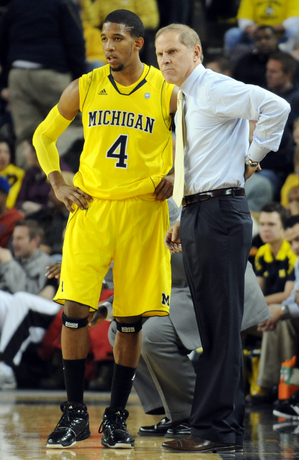 Melanie Maxwell | AnnArbor.com
"I would be lying if I said it wasn't (different) when I was used to starting," Morris said. "But it was a situation I put myself in, and I need to be ready to adjust."
Michigan was limited to one field goal in the first nine minutes of the game, which allowed the Boilermakers to take control against Michigan (10-3, 0-1 Big Ten) before halftime.
At one point in the first half, Michigan — one of the best assist-to-turnover teams in the country — had two assists and nine turnovers.
"You can tell when we only have three points in 10 minutes that we're not doing something right," sophomore guard Matt Vogrich said. "Darius came in and calmed us down, and Stu and Evan were hitting shots in the first half.
"The biggest things were stops."
Beilein said he wasn't sure whether keeping Morris out of the starting lineup was part of the Wolverines' stagnant start, but Purdue used its pressure defense to fluster whoever had the ball for Michigan before Morris came in.
"There's distractions, and any time it happens you don't know how it affects your team, but it happens," Beilein said. "You've just got to move on. It's no different than a guy who gets injured or gets a technical foul.
"Your team has to be able to rebound."
Morris' replacement in the starting lineup, junior guard Stu Douglass, saved that from happening.
Douglass scored 13 of his 15 points in the first half — most of them in a 23-6 run that culminated with Michigan taking a 26-25 lead with 1:20 left in the first half. From there, though, it all unraveled.
Johnson hit one of his 10 free throws and then Purdue guard Ryne Smith hit one of his five 3-pointers to take back the lead.
Falling behind early caused Michigan to expend a lot of energy to come back in the game, something that showed in the second half when Purdue (12-1, 1-0) made an early 8-0 run that ended up setting up its game-clinching 17-5 run late in the second half.
"We lost focus defensively," Michigan junior guard Zack Novak said. "Let them get going, and you can't let a team like that get going."
Michigan did. And it was part of a combination of things that led to the Wolverines' first loss in a month.
Box score | Slideshow 1 | Slideshow 2 | Notebook
Three Stars | Videos
Michael Rothstein covers University of Michigan basketball for AnnArbor.com. He can be reached at (734) 623-2558, by e-mail at michaelrothstein@annarbor.com or follow along on Twitter @mikerothstein