Posted on
Sat, Jan 23, 2010 : 11:12 a.m.
Purdue guard Chris Kramer is a pain for opposing guards
By Michael Rothstein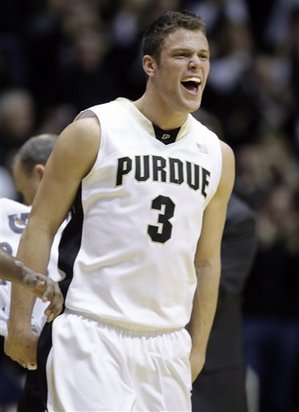 When
Chris Kramer
arrived at Purdue a little less than four years ago, he was just another player from a small town in Indiana, a guy who had been a multi-sport star in Huntington, Ind. Going from there to the big-time atmosphere of the Big Ten was a stretch.
Plus, Purdue coach Matt Painter was considering redshirting him. He had never been in that situation, so he went to then-assistant coach Cuonzo Martin to try to find a way on the court.
Defense. Become really good at defense.
He spent the year guarding David Teague in practice, becoming a pain to him much like he was doing to opponents on the court.
It all made him better.
"Playing defense is all pride," Kramer said. "So if you have that kind of pride to go out there and shut down another player, you'll have that pride to play at this level. I try to take pride every day and whoever I guard, I try to shut that guy down in practice or in a game.
"That's in everything I try to do."
The defense picked up quick. He was starting early in his freshman year and by the end of the season was named to the Big Ten's All-Defensive Team. A year later, as a sophomore, he'd be named the league's Defensive Player of the Year.
Not bad for a 6-foot-3 guy who has had to guard all sorts of players throughout his career, from versatile future pros like Ohio State's Evan Turner and the matchup he'll likely face today (4 p.m., ESPN), Michigan's Manny Harris.
Neither one was his toughest assignment, although Kramer listed both players and former Ohio State guard Mike Conley among his most difficult matchups.
The toughest came his freshman year in New Orleans. Purdue had made the second round of the NCAA tournament. Kramer's job ¬- guard 6-foot-10 Joakim Noah, the reigning Most Outstanding Player from the 2006 Final Four. Now, a year later, Kramer had to handle him in the second round of the 2007 tournament.
"I was giving up 7 inches, but the thing I tried to do was just be physical with him and front him everywhere on the court," Kramer said. "But boxing him out, like a football block, trying not to let him get it but not worrying about getting the ball, just trying to let anybody else on our team get it.
"It was definitely a tough task, but I think it made me a better tough post defender."
When opponents, especially those familiar with Kramer in the Big Ten, see Purdue on the schedule, they know their best player might be in for a rough game. The way Kramer plays, flying around to grab loose balls, guarding his defender so close they might appear attached at times, is an art not always practiced anymore.
It's why Kramer has been so valuable to the Boilermakers as they have ascended to one of the elite programs in the country the past four years.
"(He) takes it personally and that's, I guess, his biggest role on the team is to lock down the biggest scorer on the opposing team," Northwestern coach Bill Carmody said. "Just like a good offensive player is tough to contend with because he can make shots, he's tough because he doesn't let you breathe."
Purdue is a better team when Kramer is in his defensive rhythm and may be a reason to explain the Boilermakers' recent slide in which they have dropped three of their last four games.
Against Ohio State, Wisconsin and Northwestern he was assigned to the opponent's best guard. And all three had big games against Purdue.
Not surprisingly, all three teams knocked off the Boilermakers.
"He hasn't been our defensive stopper the past couple weeks," Purdue coach Matt Painter said Monday. "Evan Turner, Jason Bohannon, Drew Crawford, you can go across the board and those guys have gotten the best of him. It hasn't happened here in the past couple weeks and that's where you really have got to keep your focus is what's happened recently. He did a great job up until that point."
Painter is hoping Kramer rediscovers what made him one of the Big Ten's best defenders in time for Harris, who was ejected from last year's game at Mackey Arena.
Harris hit Kramer's nose with an elbow clearing out the ball. To that point a year ago, Harris had five points in 18 minutes. When they played later in the year, Harris had 27 on Purdue and Kramer.
But if Kramer is on his game, as Illinois coach Bruce Weber put it, "he's relentless."
Whether Michigan sees that Kramer or not might be the difference between the Wolverines pulling an upset or yet another Kramer shut down of a Big Ten star.
Michael Rothstein covers University of Michigan basketball for AnnArbor.com. He can be reached at (734) 623-2558, by e-mail at michaelrothstein@annarbor.com or follow along on Twitter @mikerothstein.