Posted on
Thu, Jan 5, 2012 : 5:57 a.m.
Quotable coaches, such as Bo Ryan, spice up Big Ten basketball season
By Nick Baumgardner
Wisconsin coach Bo Ryan really didn't know what to do Tuesday night after a clock malfunction snatched away another shot at overtime. .
He just knew what he wasn't allowed to do.
"Violence is out of the question," Ryan quipped after a frustrating overtime loss vs. Michigan State. "What are you going to do?"
I'm not sure violence was ever actually a viable option, Bo, but you're right.
What are you going to do?
Well, I'll tell you what I'm going to do. I'm about to compile a few of the best one-liners from Big Ten basketball coaches this season.
Enjoy.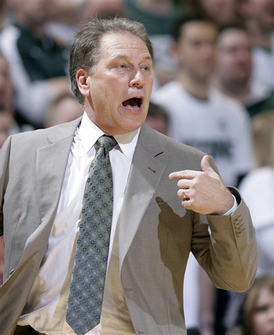 Associated Press
"One problem with being a little bit of a veteran coach is your nightmares and fears come true."
— Michigan State coach
Tom Izzo
after his team put up a rather uninspired 74-60 win over Bowling Green State earlier this season.
"I'm sorry you had to see that. I didn't think this was going to happen."
— Nebraska coach Doc Sadler after his team was handed a 71-40 home thumping by Ohio State in the school's first Big Ten road game. Welcome to the league, Coach.
"I've been doing this my whole life. I'm so focused on the game, my mother could be on the other bench, my late motor -- bless her heart. And you know what, she'd be the same way. … Just win, baby."
— Michigan coach John Beilein after a victory against Bradley earlier this season. Beilein was asked if it was awkward coaching against his son, Patrick, a member of the Bradley coaching staff. Dad won. So, obviously, it wasn't.
"They told me, 'He's OK.' I said, 'Fine, I'll go do this (coaching) stuff.' "
— Ohio State coach Thad Matta on what he had heard from team doctors following a foot injury to star forward Jared Sullinger.
"No offense to Coke, I love Coke products, but I try to stay off those things during the games because I'd go through about eight Diet Cokes, and I don't want to do that."
— Indiana coach Tom Crean on his radio show last week. Crean was asked what he drinks on the sideline during games. Apparently it's an energy drink called 'Liftoff.' And, apparently, Crean values the fight against tooth decay.
"Thank God."
— Northwestern coach Bill Carmody after being informed that Ohio State guard William Buford is in fact a senior, and won't be able to return next season. Buford had just dropped 28 points in an 87-54 win over the Wildcats.
***
Sky High: No. 10 Michigan State (14-2, 3-0)
The Spartans are 3-0 in the Big Ten, have won 14 consecutive games and don't appear to be slowing down.
Also, converted shooting guard turned point guard Keith Appling is turning into a rather impressive floor leader.
Appling had a 25-point, seven-assist, six-rebound effort in a victory against Indiana, and has posted double-figure scoring numbers in his past four games.
Oh, and the Spartans still beat everyone on the glass. Always.
So there's that.
Rock Bottom: Penn State (8-7, 0-2)
The Nittany Lions can't make anything.
And it's starting to get sad.
Penn State led at the half against Northwestern on the road, but an abysmal 18-for-53 shooting night ruined any chance at an upset.
Penn State is shooting 39 percent from the floor as a team. On the season.
Until that number changes, the zero in Penn State's Big Ten win column will remain.
Last week's heavy lifter
Trey Burke, Michigan freshman PG
Who said Cody Zeller had the Big Ten Freshman of the Year award locked up? Burke dropped a career-high 27 points and nearly single-handedly willed Michigan to a win over Minnesota last week. He entered the week with a scoring average of 14 points per game, just two tenths behind Zeller, Indiana's fabulous frosh.
Standout stats
50.2
Indiana's field goal percentage entering the week, the seventh-best number in the country.
314
Penn State's team field goal percentage national ranking entering the week. As of Tuesday, the Nittany Lions were shooting 39 percent from the floor.
14
Years since Michigan achieved a national ranking higher than No. 13. The Wolverines entered the week ranked No. 13 in the USA Today/ESPN Coaches Poll. The last time they were that high, it was No. 12 at the end of the 1997-98 season.
1
The number of leagues in the country, entering the week, with eight teams holding 12 more or more wins. That league? The Big Ten.
Quotable
"What are you gonna do? Violence is out of the question."
— Wisconsin coach Bo Ryan after his team seemingly made a buzzer-beating, game-tying 3-pointer, only to have a clock issue.
Off the Cuff
About that Wisconsin shot?
Consider Michigan State up two miracles to one on Wisconsin for the athletic year right now.
The Spartans got the benefit of the doubt in October when Kirk Cousins found Keith Nichol on a rather ridiculous hail Mary to ruin the Badgers' bid at a perfect season. Wisconsin exacted revenge in the Big Ten Championship game, though, when a mammoth Keshawn Martin punt return in the game's closing minute was wiped out by a roughing the kicker call, giving the Badgers the win.
Then, on Tuesday, Sparty jumped back in front — as an apparent game-tying 3-point heave by Ryan Evans was wiped out due a couple of confused clocks at the Kohl Center.
Michigan State's up 2-1. Wisconsin visits the Breslin Center on Feb. 11.
Expect total chaos.