Posted on
Sun, Dec 25, 2011 : 5:59 a.m.
Ready or not, Michigan basketball, here comes the Big Ten
By Nick Baumgardner
If anyone would know, it'd be Zack Novak.
If there were one player inside the Michigan basketball locker room with the ability to sniff out a pretender from a contender, or shovel through all the preseason hype to figure out exactly what he's working with, it'd be him.
Novak's seen the genuine article (twice) and witnessed a fraud (2009-10).
So, is this team prepared to run the two-month Big Ten gauntlet?
"We're ready to go." said Novak, whose team opens league play Thursday at home against Penn State. "We've prepared hard, and we had a good preseason.
"And now it's time to take that next step."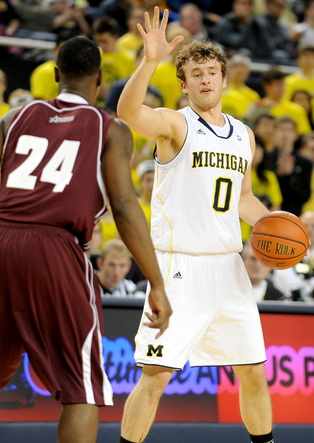 Angela J. Cesere | AnnArbor.com
Novak's description of MIchigan's first 12 games as a "preseason" couldn't be any more accurate.
In college basketball, November and December can provide team-bonding experiences, the occasional shot at a resume-building win and usually an all-expense paid trip to somewhere near a beach.
Outside of that, though, it's about as important as the wrapping paper on a Christmas present.
Words used to describe the early portion of the schedule start to take on a different tone once January hits. Suddenly, fewer people shout terms like "potential," or "upside."
Those phrases are traded in for "toughness" and "winner."
For Michigan, there's been plenty of the former early on, but we'll have to wait and see if they develop into the latter.
Freshman point guard Trey Burke has been a sparkling surprise for the Wolverines, scoring in double figures (13 points per game), leading the team in assists (five per game) and playing more minutes than anyone on the roster (397).
He's played beyond his years, no doubt. But, is he mature enough to avoid a rookie wall in February, when Michigan is a month into conference play and needs him the most?
A similar question can be posed for sophomore forward Evan Smotrycz, who has grown from a scrawny kid into a potential all-league player in one off-season. Smotrycz is shooting 58 percent from 3-point range, has posted back-to-back double-doubles and looks unguardable at times.
But can he take performances against Alabama A&M and Bradley and repeat them in East Lansing and Columbus?
For every Michigan basketball truth (Tim Hardaway Jr. has pro-potential), there's a question (Hardaway vanishes for long stretches at a time).
Can Jordan Morgan stay out of foul trouble? If Jon Horford's injury is serious, who replaces him? Does Michigan have anyone else that can run the point? Which Stu Douglass will show up this winter?
But these questions are nothing new, the Wolverines faced similar queries entering league play a year ago. And, despite a few bumps in the road, they ultimately answered them — advancing to a second NCAA tournament in three years.
Michigan is a young basketball team, but that doesn't mean it's not experienced. Smotrycz, Hardaway and Morgan all played huge minutes during Big Ten play as freshmen a year ago, and both Novak and Douglass have been at this game for four years now.
Plus, John Beilein's in his fourth decade as a college head coach.
"Last year, we didn't really have anybody," Novak said of Big Ten experience. "Some guys had one year, me and Stu had two years, so we kind of knew. But that was it.
"This year, I think we're much better suited for it."
Are these Wolverines built to last this winter? Or will they be another casualty of the Big Ten, a team with promise that ended up lost in the shuffle of an incredibly deep league.
Novak, he's seen both sides in his career. He's been to two tournaments, and he's seen a team with promise get eaten alive by the rigors of this league.
"We'll be ready to go," he says straight-faced.
Novak's confident his team's prepared.
The rest of us?
We'll find out Thursday.
Nick Baumgardner covers Michigan basketball for AnnArbor.com. He can be reached at 734-623-2514, by email at nickbaumgardner@annarbor.com and followed on Twitter @nickbaumgardner.
Want to stay connected to Wolverine basketball in your Facebook newsfeed? "Like" AnnArbor.com's Michigan Basketball News & Views.