Posted on
Tue, Jan 31, 2012 : 4:08 p.m.
Recruiting analyst explains Mitch McGary's ranking slide, says Michigan basketball still has 'terrific' '12 class
By Nick Baumgardner
The Michigan basketball program made national waves in November by signing five-star big man Mitch McGary to its 2012 class.
Earlier this month, McGary made more waves in recruiting circles, and not in an overly positive manner, either.
McGary, once pegged as the No. 2 overall prospect in the country by Scout.com and ESPN.com, has fallen considerably in the national rankings.
ESPN dropped McGary to No. 21 earlier this month, and Tuesday, Scout followed suit by moving him down to No. 20.
"I think we may have gotten a little aggressive after the summer (with McGary), he had a terrific summer, but there are concerns," Scout.com's national basketball recruiting analyst Evan Daniels told AnnArbor.com. "His lack of ability to score consistently is one, and maybe we over-valued him a little over the summer.
"That said, he's still a terrific player, and he's still a guy who will have a pretty big impact at Michigan and should be able to produce right away. ... Michigan is still getting a terrific player."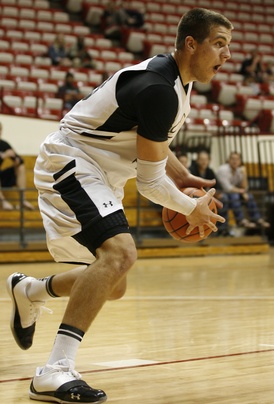 Bloomington Herald-Times
McGary is in the midst of his final season at New Hampshire's
Brewster Academy
, a prep school that features five Division I signees for 2012, and another (Jakarr Sampson) who is a four-star, uncommitted prospect.
Brewster Academy does not make its statistics public, but McGary did play on national television against top 2013 big man Nerlens Noel last month. McGary was 1-for-8 from the floor with three points against Noel. He did, however, grab 12 rebounds.
"Every time we see these kids, we're re-evaluating them," Daniels said. "His effort and play-level (this fall) wasn't consistent with what we saw over the summer. It wasn't one game, either. We watched him during (several) high school games, and I think we just over-valued him during the summer.
"I'd like to see him give the same effort for a full game at both ends of the floor."
Daniels also shrugged off any notion that McGary's talented surroundings at Brewster have led to a dip in his offensive statistics or touches, saying if anything, the ability he plays with each night should be helping him.
"Brewster's a tremendous school with a tremendous team and Jason Smith is a tremendous coach, he's got a lot of talent around him and it should be helping," Daniels said. "He's playing with arguably one of the best point guards in the country in Semaj Christon (an Xavier pledge).
"He's been rebounding well, but his offensive output and his ability to score (has been a concern)."
Daniels maintained that McGary's dip shouldn't be looked at as any type of devastating blow for Michigan, saying the Wolverines are getting a player who can compete right away in the Big Ten.
As for the remainder of Michigan's 2012 class, Daniels offered high praise.
Lake Central (Ind.) wing Glenn Robinson III jumped from No. 38 to No. 27, and is on the verge of becoming a five-star prospect.
Daniels said Robinson is now closer to 6-foot-7, and is a player he believes could become an NBA prospect.
"I'm a big fan of his game in general," Daniels said. "He's got a big, strong athletic body, he rebounds, he shoots well off the catch, and I think he'll also be a really good defender. He's a guy who I think has the potential to play in the NBA one day.
"I didn't think I had him high enough in the summer, but he's a guy who keeps getting better, and I think he'll have a great career."
As for St. Mark's (Mass.) shooting guard Nik Stauskas, Daniels moved him into Scout's top 100 on Tuesday. Stauskas ranks at No. 83, and is a four-star prospect.
"Nik Stauskas fits perfectly, and he's more than just a shooter," he said. "He's a skilled guy that's a pretty good passer that can score. He's a perfect fit.
"In general, this is a really strong group. A terrific group. I think all three of these guys can come in and help this team from the get-go."
Nick Baumgardner covers Michigan basketball for AnnArbor.com. He can be reached at 734-623-2514, by email at nickbaumgardner@annarbor.com and followed on Twitter @nickbaumgardner.
Want to stay connected to Wolverine basketball in your Facebook newsfeed? "Like" AnnArbor.com's Michigan Basketball News & Views.