Michigan women's basketball adds three assistant coaches, director of operations
Posted on Thu, May 17, 2012 : 7:22 p.m.
New Michigan women's basketball coach Kim Barnes Arico has found herself a coaching staff.
The university announced the hiring of three assistant coaches and a director of operations on Thursday.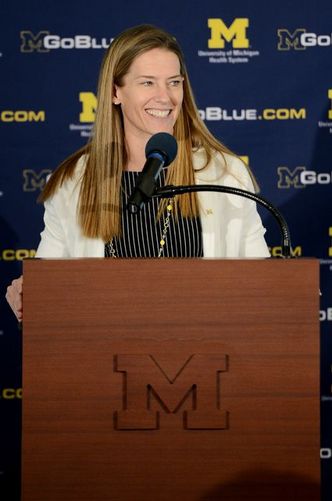 Melanie Maxwell | AnnArbor.com
Joining the Wolverines' staff is former St. John's assistant
Joy McCorvey
, former Princeton assistant
Melanie Moore
and former Kansas assistant
Chester Nichols
.
Amy Mulligan, formerly a member of the media relations staff at Virginia, is the team's new director of operations.
"Michigan emphasizes being the leaders and best," Barnes Arico said in a statement. "The individuals selected are really leaders and have shown to be the best at what they do. That's why it was really important for me to have them on board.
"I think it was important for me to take my time to surround the program with great people. In my opinion, I feel fortunate enough after the process, that we have the best staff in the country."
McCorvey played for Barnes Arico at St. John's from 2006-10 and was an assistant coach last year. She worked primarily with the the Red Storm's post players.
Moore spent the last five seasons at Princeton, also primarily working with post players and serving as the program's recruiting coordinator. She had previous stops at Siena College (2002-04), Indiana State (2004-06) and Dayton (2006-07).
Nichols was the recruiting coordinator and perimeter coach at Kansas the last two seasons after stops at West Virginia (2003-09) and Central Florida (2009-10).
Mulligan also previously worked with Barnes Arico at St. John's.
"The staff is comprised of a bunch of winners and that's really what they know, that's really what they're going to bring to our program here," Barnes Arico said. "I think we have a great blend of individuals; they are a tremendous mix with strengths that will help take our program to the next level. I'm really enthused about having them on board and I'm looking forward to getting started."
Following are comments from Barnes Arico on each staff member, courtesy of MGoBlue.com:
Joy McCorvey: "I think you get to meet special people and probably only a handful of them stay with you for an extended period of time. For me, Joy will always be a special person. She was not only a great basketball player for me but she's also a great person. She knows what my expectations are and how demanding I can be. I think she has a good balance of really understanding me and being able to communicate to young people the points that I'm trying to get across. She has a great relationship with the players and is terrific in the community and with coaches. She's young, energetic, vibrant, and has a bright future in this game."

Melanie Moore: "Melanie is a tremendous hire because of her background, her experience, and also her Midwest roots. She's an Ohio native and has coached at some universities in this area. During her time at Princeton, she brought great players into the program and helped the Tigers win championships. Melanie understands the academic importance of the University (Michigan), Midwest recruiting and basketball, in addition to what kind of institution Michigan is, and what it stands for. She's another tremendous addition to the staff."

Chester Nichols: "Chester is an unbelievable addition to our staff as well. He brings a great blend of youth and experience. Everywhere that Chester has been, they've won, and that really is a tribute to what kind of assistant coach he has been over the years. He's known for being one of the best recruiters nationally but he brings so much more to the program than just recruiting. He has a great rapport with the players, he has a great connection with the staff, and he's very committed."

Amy Mulligan: "Amy is going to be a great addition to our staff. She is coming from a great academic institution in Virginia. I think she really understands our academic reputation here at Michigan. For her to come on board and bring her wealth of knowledge, whether it is in media relations, or as a camp director, it just adds value to our staff. I know that she will handle the daily operations of this program in a first-class manner."