Posted on
Mon, Nov 28, 2011 : 5:06 p.m.
Road trip: Michigan basketball team preps for first true away game at Virginia
By Nick Baumgardner
Even though its last three games took place more than 4,000 miles away from Crisler Arena, the Michigan basketball team hasn't truly hit the road yet.
That's about to change.
The 14th-ranked Wolverines will play their first official road game of the season Tuesday when they visit Virginia (7 p.m., ESPN2) as part of the ACC/Big Ten Challenge.
The atmosphere in the Lahaina Civic Center for the Maui Invitational was foreign, but it wasn't hostile.
"Everybody's got to travel, it's part of what you sign up for," Michigan senior guard Zack Novak said. "We've just got to be tough and get through it."
The Wolverines will play their fourth game away from home in the past eight days against Virginia, and for the second straight season, will play on the road in the ACC/Big Ten Challenge.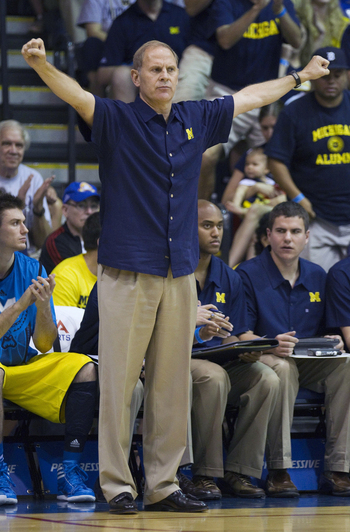 AP Photo
Michigan basketball coach
John Beilein
said he wasn't expecting a second straight road game in this challenge (Michigan beat Clemson on the road last season), but there's no sense in whining about it now.
Instead, Beilein says he'll use it as another test to gauge where his group is at mentally.
"When we were in Hawaii it was 2,400 people and probably 500 from each fan base there. This one will be different," Beilein said. "It's hard, but it's something we have to do. We have to (travel) nine times in our league. We still have to go to Oakland (at The Palace of Auburn Hills) and at Arkansas.
"There's times when you have to do this and it's all part of the process."
The Wolverines were 5-5 in true away contests last season. Down the stretch, Michigan won three of its last four road games and scratched its way to an at-large berth in the NCAA Tournament.
When Michigan returned nearly its entire roster, plenty of positives resulted -- one of which, Novak says, was the ability to play on the road.
"We've got a lot of the same guys back, guys that have been there before," he said. "That's the biggest thing about winning on the road. Once you get one win there, you learn how to do it.
"You've got to play a little bit differently, you've got to keep their crowd out of it and play a little more conservatively on the road. But, we've got guys who have been there and done that."
One guy who hasn't been there or done that just yet is Michigan freshman point guard Trey Burke.
Burke has been impressive during the Wolverines' first six games, averaging 11 points and four assists while holding a plus-10 assist-to-turnover ratio.
He's been calm, patient and aggressive while leading Michigan's offense -- but he's never done it on the road.
Are the Wolverines worried?
"I just want him to play his game," Novak said. "It's more something where as the game's going along you might pull him aside and say 'we're on the road now.'
"But, shoot, there's not many things I've had to tell him not to do."

Tired legs?

Beilein said he's not overly concerned about Michigan entering Tuesday night's game with tired legs due to extensive travel over the past week.
After wrapping up the Maui Invitational, Michigan flew home Thursday and worked out in three separate sessions Friday before taking Saturday off and returning to the court Sunday.
"I think we did what we needed to between rest and working them," Beilein said. "I've never done a Hawaii trip, I've only done an Alaska trip. We tried to do the things we knew how to do to keep them fresh.
"They had two days off, even though one of them was spent in an airplane. We'll see how they respond."

Zone coming along

Michigan switched up its defense several times throughout the Maui Invitational, swapping between man-to-man and both the 2-3 and 1-3-1 zones.
Beilein said he hasn't spent as much time early this season in a zone as he has at other times throughout his career. Still, he wants to change defenses periodically throughout games.
"It's still not where it needs to be, but we'll keep working at it and keep it in our pocket and use it when we have to," he said. "In some years, we've (used) changing defenses more than other. Last year, we were primarily man-to-man the whole time because we had to get good at one thing before moving on to both.
"I think, defensively, if you're changing up and changing back it can hurt you, but it could also really help you."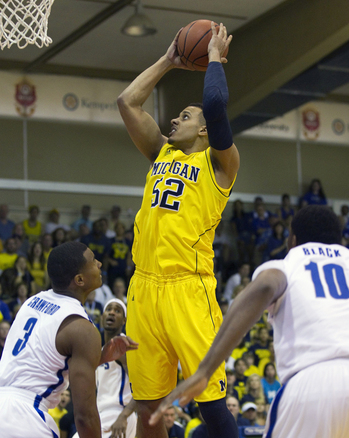 AP Photo
Morgan working
on foul issues
Michigan sophomore forward Jordan Morgan played 11 minutes against both Memphis and UCLA during the Maui Invitational due to early foul trouble, something that plagued him all of last season.
Beilein said Morgan's biggest problem results from being overly hyped prior games and that, in turn, hurts his technique defensively.
"He's got to get into early position so he's not trying to get back in front (of a guy) and part of it is he's a young kid who has to learn how officials call games," Beilein said. "And (he also gets) so passionate about his role, that he's overdoing it.
"I think he's disappointed. ... We're hoping he can stay out of foul trouble, it's not good to have that. I just want him to be able to be in the game and be able to play at 100 percent without having to worry about that."

Nothing official on Bielfeldt redshirt

Michigan freshman forward Max Bielfeldt has not played a minute this season, meaning he's still eligible for a redshirt. However, Beilein said the staff hasn't decided whether Bielfeldt will sit out this season.
"We don't want to put him in there until we know for sure what our needs are," Beilein said. "We don't ever have to declare (he's a redshirt). But, if there's a reason why we haven't put him in those games, (possibly saving the redshirt) would be it."

Odds and ends

Beilein said he'll continue to use the starting lineup of Novak, Burke, Morgan, Tim Hardaway Jr. and Evan Smotrycz against Virginia. ... Virginia senior forward Mike Scott, the team's leading scorer and rebounder, is a player Beilein recruited while he was West Virginia. ... Michigan is 4-6 all-time in the ACC/Big Ten Challenge. A win Tuesday would give the Wolverines back-to-back victories for the first time in the history of the event.
Nick Baumgardner covers Michigan basketball for AnnArbor.com. He can be reached at 734-623-2514, by email at nickbaumgardner@annarbor.com and followed on Twitter @nickbaumgardner.