Posted on
Thu, Mar 17, 2011 : 10:33 p.m.
Senior Cassie Schrock leads Eastern Michigan to 67-59 WNIT victory against Michigan women's basketball team
By AnnArbor.com Freelance Journalist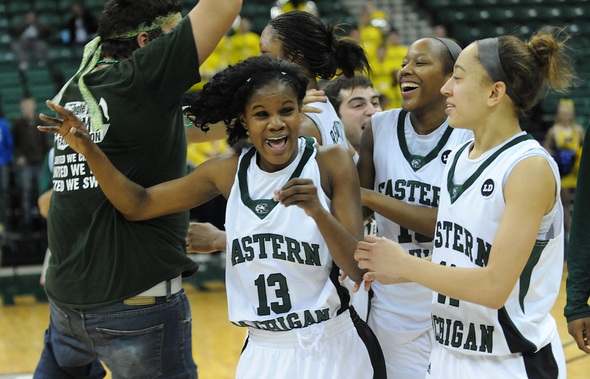 Melanie Maxwell | AnnArbor.com
Justin Souva For AnnArbor.com
Cassie Schrock struggled to score, but she found other ways to lead the Eastern Michigan women's basketball team to a 67-59 victory Thursday against Michigan in the first round of the Women's National Invitation Tournament.
Schrock, a senior guard, had a career-high 13 assists - 11 in the first half - and just two turnovers. She entered the game averaging 14.5 points a game and was held to six points on 2-of-11 shooting.
When Schrock was injured early in the second half, Eastern Michigan coach AnnMarie Gilbert was nervous.
Schrock was stepped on under the basket after falling while attempting to grab an offensive rebound. She stayed down for a few minutes and briefly visited the locker room.
"She was really beat up today," Gilbert said of Schrock. "There's a lot of miles on her. I'm very afraid to not have her on the floor, because she's our leader."
Tavelyn James, who led Eastern Michigan with 21 points, wasn't as nervous as her coach when Schrock went down and missed nearly four minutes of the game.
"She was a true point guard today, a true leader," James said. "I knew she was going to get up. I know Cassie very well."
Eastern, 23-12 overall, will go on the road to face UNC-Wilmington at 7 p.m. Monday in the second round of the WNIT. Michigan (17-13), pulled within three points with just more than four minutes remaining, but couldn't catch the Eagles.
Michigan, which had a 13-7 record after beating No. 24 Ohio State on Jan. 27, lost six of its last 10 games.
"It was a roller coaster of a season, full of ups and downs," Michigan guard Veronica Hicks said. "Somebody said something about peaking too soon, so I guess maybe we hit a hot streak a little early."
Eastern Michigan lost to Bowling Green in the Mid-American Conference championship game and a with it a chance to play in the NCAA tournament, but Gilbert and James said the Eagles focused hard on beating their Washtenaw County neighbor.
"It's the biggest win of our program's history, under our tenure," said Gilbert, who is in her fourth season as EMU's coach.
Eastern Michigan went on a 10-0 to end the first half and take a 31-25 lead In the second half, Sydney Huntley made two 3-pointers at the shot clock buzzer as Eastern built eight- and 10-point leads.
"That's definitely deflating," Hicks said. "This time of the year, those type of shots you kind of are like, 'Yeah, it will go in,' (but) it can't go in. You got to credit them for knocking it down on their home court."
Sophomore center/forward Rachel Sheffer led Michigan with 20 points.
Michigan coach Kevin Borseth said he was disappointed with the way his team finished the season, losing three of its last four games.
"When the game is fast and physical, we didn't do very well this year, and that's how this game is played," Borseth said.