Posted on
Wed, Dec 14, 2011 : 2:50 p.m.
Slump snapped: Michigan basketball guard Matt Vogrich finally finds a 3-point rhythm
By Nick Baumgardner
No one inside the Michigan basketball locker room was worried about Matt Vogrich's shooting slump.
Head coach John Beilein insisted Vogrich was putting in good work at practice, and teammates continually maintained it was only a matter of time before one of the club's top marksman found his groove.
No one was worried.
Except, well, Vogrich himself.
"That's the first time that's ever happened to me," said Vogrich, who entered the 63-50 win against Arkansas-Pine Bluff with just one 3-point make on the season. "That was really frustrating."
So when his early-season slump finally ended Tuesday against the Golden Lions as Michigan improved to 8-2, Vogrich's reaction came as no surprise.
"It's about time," he said with a sigh and a smile.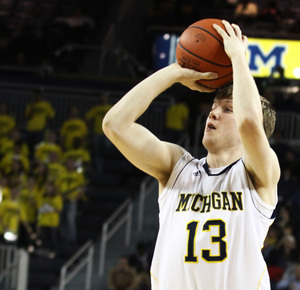 Jeff Sainlar | AnnArbor.com
Early in the second half Tuesday, it looked like Vogrich's mini-nightmare may continue, as his 3-point shooting drought began to approach 300 minutes of game action following a miss two minutes in.
After finishing last season as Michigan's most accurate 3-pointer shooter (38.7 percent), Vogrich found himself shooting just 7.1 percent.
But, as any true shooter is taught to do, Vogrich kept shooting. And 47 seconds later, he finally rattled home a triple.
He followed with another 66 seconds later, and another seven minutes later.
After starting the season 1-for-14 from 3-point range, Vogrich hit three in a row in the span of eight minutes.
Slump over.
"That was really big for him to come in and hit a three, and then it was three in a row," Beilein said after the win. "I think he needed it more than I did. I have a lot of confidence in him and I can say what I want, 'keep shooting, keep shooting.'
"It was good for him (to hit those) and it really helped us."
Having never really experienced a shooting drought before, Vogrich admitted he wasn't sure how to handle the situation.
Beilein told him to put up 500 extra shots each week after practice, which he did, but to no avail.
He made a conscious effort to drive to the basket more and attack the glass on the defensive end, hoping he'd be able to find a rhythm elsewhere.
Again, though, it didn't work.
The only thing that seemed to help was a tip he shared from senior guard Stu Douglass, who also had fits with shooting skids this season.
"All shooters go through spells like that," Vogrich said. "But you've got to have shooter's amnesia. It's a tough thing to have, but you've got to have it."
Vogrich said he and Douglass didn't talk much about their respective slumps early this season, but often reminded each other to forget the last miss as quickly as possible and move on.
On Tuesday, Douglass missed his first three 3-point attempts before hitting the fourth. And after making the shot, he walked by Vogrich with a message of encouragement.
"He just came over and said, 'Shooter's amnesia,' " Vogrich said. "You've just got to forget about it."
With Vogrich and Douglass appearing to finally heed their own advice and put their respective long-distance shooting woes in the past, the Michigan offense suddenly takes on a new dimension.
Vogrich and Douglass both shot better than 35 percent from 3-point range a year ago. This season, Trey Burke (35.4 percent), Tim Hardaway Jr. (36.5 percent), Zack Novak (41.7 percent) and Evan Smotrycz (50 percent) have all proven to be dangerous from the outside.
Four competent shooters are more than enough for most teams.
But six?
That's a different ballgame.
"He's, if not the best, one of the best shooters we have," Smotrycz said of Vogrich. "That's definitely good to see."
Vogrich isn't getting ahead of himself, though. He's still got work to do, and he's still only shooting 22 percent from downtown, nowhere near sizzling.
But for now, he's just glad the hard part's over.
And it's about time.
"It was tough (to go through), I worked on my shot a lot during the summer and shot well the last two years," he said. "To start the year off like that was tough, but you've got to keep your head up.
"You've got to keep shooting."
Nick Baumgardner covers Michigan basketball for AnnArbor.com. He can be reached at 734-623-2514, by email at nickbaumgardner@annarbor.com and followed on Twitter @nickbaumgardner.
Want to stay connected to Wolverine basketball in your Facebook newsfeed? "Like" AnnArbor.com's Michigan Basketball News & Views.