Darius Morris has third triple-double in Michigan basketball history as Wolverines beat Iowa, 87-73
Posted on Sun, Jan 30, 2011 : 8:21 p.m.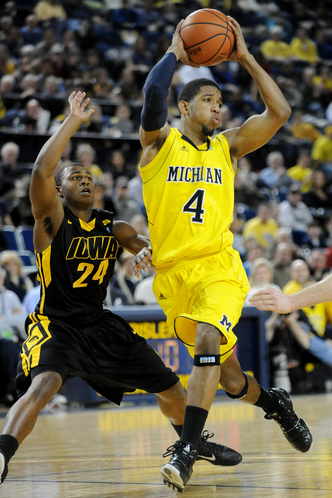 Melanie Maxwell | AnnArbor.com
Updated 8:21 p.m.
As time wound down Sunday afternoon and the Michigan basketball team had its second-straight Big Ten win wrapped up, Darius Morris told teammate Evan Smotrycz to let the next rebound go.
He wanted the ball.
Morris said he didn't know he was one rebound shy of the third triple-double in school history during an 87-73 win over Iowa at Crisler Arena, but he had an inkling.
When Iowa's final miss of the day bounced long off the rim, Michigan players let it go.
Morris grabbed it and sprinted up the court. The crowd erupted. They knew. He knew.
His 12-point, 11-assist, 10-rebound performance put him in a group with Gary Grant, who recorded his triple-double during the second round of the NCAA Tournament in 1987, and Manny Harris, who got his against Division II Northern Michigan in 2009.
Morris, a Los Angeles native, never saw Grant play. But Harris' triple-double came early last season in Morris' first college game.
"It was special," Morris said. "I looked up to (Harris) and I still do. The thing he accomplished, that was great. I wondered if I could ever do that and it is definitely a goal as a player."
From early on, Morris had a chance. Four minutes into the game, he already had two points, two rebounds and two assists. By halftime he had six points and five rebounds, but still only two assists as Michigan led 35-32.
In second half, Morris shined.
Assist No. 8 was perhaps the best pass of Michigan's season, finding redshirt freshman Jordan Morgan underneath the basket for a dunk from beyond half-court to give Michigan (13-9, 3-6 Big Ten) a 66-48 lead.
On the next possession, he almost topped it with a fast break, behind-the-back pass to sophomore guard Matt Vogrich, who made a 3-pointer to give the Wolverines a 69-48 lead.
By then, the Michigan bench knew he had a chance — not that they said anything.
"You don't want to say anything because it's like 'if he gets it, he gets it,'" junior guard Corey Person said. "But you don't want him out there thinking about 'I want to get this, I want him to get a certain amount of rebounds' because at the end of the day, it's about the team.
"You just hope that he does it and he keeps playing the way he does so he keeps staying on track to get it."
Slowly, Michigan's other players recognized what was going on. Freshman Tim Hardaway Jr., who led the Wolverines with 19 points and was on the end of two of Morris' assists, told junior guard Stu Douglass about Morris' pace.
Morris' distribution was part of a season-high 22 assists and he was one of five Wolverines with double-figure scoring totals.
As Morris kept finding open shooters — he had four assists to Morgan to help him score 17 points and three to Smotrycz for part of his 14 points — he kept hearing things from the sidelines.
It helped, too, that Michigan hit 73.1 percent of its shots in the second half, when Morris picked up nine of his 11 assists.
It was that shooting, and Morris' passing, that helped Michigan pull away from Iowa (8-13, 1-8), which got a game-high 25 points and eight rebounds from freshman forward Melsahn Basabe.
From the bench in the second half, assistant coach LaVall Jordan — the man Morris credited earlier this week with accelerating his learning curve — kept telling him to "keep rebounding."
That's how Morris figured he was close, because Jordan only tells him that when his rebounding numbers are high.
Jordan, though, said the message was simply to keep Morris focused on rebounding. In recent games, Michigan's post players have been boxing out and letting guards clean up. Jordan said he didn't pay attention to Morris' points or assists, but knew he was close to double-digit rebounds.
"If you play the right way, which he did, it just kind of happens," Jordan said. "Guys were shooting, getting good shots, and he's always able to get to the basket. When we are making shots, it makes it tough."
As for Morris, he did what any point guard is good at doing. He passed off the praise, deflected the compliments.
"To be in a class like that, only two other players did (that), I'm really honored," Morris said. "But I credit my teammates. They were in there boxing out, clearing out rebounds for me and they were hitting shots.
"If they aren't hitting shots, there are no assists."
.