Posted on
Tue, Jan 10, 2012 : 5:57 a.m.
Spartans stay up top, Wolverines move into contender category in Big Ten basketball rankings
By Nick Baumgardner
As the Big Ten basketball season moves into its third week, plenty of questions remain unanswered.
Will Michigan State ever lose a game?
Can Indiana and Michigan translate home success to road toughness?
How many more expressive faces can Bo Ryan pull off?
Time will tell.
In the meantime, here's this week's Big Ten rankings.
AP Photo
DRIVER'S SEAT
No. 6 Michigan State (14-2, 3-0)

Last week: W 63-60 at No. 18 Wisconsin

Up next: vs. Iowa (today), at Northwestern (Saturday)

The Spartans are on a tear, having racked up 14 straight victories and a No. 6 national ranking. If that weren't scary enough for the rest of the conference, Tom Izzo remarked on the debut episode of "The Journey," on the Big Ten Network, that he felt the team was just "average." Look out, league.

CONTENDERS

No. 7 Indiana (15-1, 3-1)

Last week: W 73-71 vs. No. 16 Michigan, W 88-82 at Penn State

Up next: vs. Minnesota (Thursday), at No. 5 Ohio State (Sunday)

The Hoosiers had to grind last week, but came out unblemished. Christian Watford continued to tear the nets during an impressive home win over Michigan, and the Hoosiers racked up a season-high 16 3-pointers in a six-point win at much-improved Penn State. And, if Indiana can snag a win at Ohio State on Sunday, it can officially shut up all its haters.

No. 5 Ohio State (15-2, 3-1)

Last week: W 71-40 vs. Nebraska, W 76-47 at Iowa

Up next: at Illinois (today), vs. No. 7 Indiana (Sunday)

Ohio State took out the frustration of its Indiana loss on Nebraska and Iowa in a big way. The Buckeyes pasted the Cornhuskers by 31 before stomping Iowa -- in its own building -- by 29. A shot at revenge comes at the end of the week for Jared Sullinger and company, when the Hoosiers travel to Columbus on Sunday.

No. 13 Michigan (13-3, 1-0)

Last week: L 73-71 at No. 12 Indiana, W 59-41 vs. No. 18 Wisconsin

Up next: vs. Northwestern (Wednesday), at Iowa (Saturday)

Michigan moves into the "contender" category for two reasons. First, the Wolverines played poorly at Indiana and still almost earned a victory. Second, Michigan absolutely slammed a reeling Wisconsin team. The Wolverines were clearly the better team Sunday, and they acted that way.

ON THE FRINGE

No one.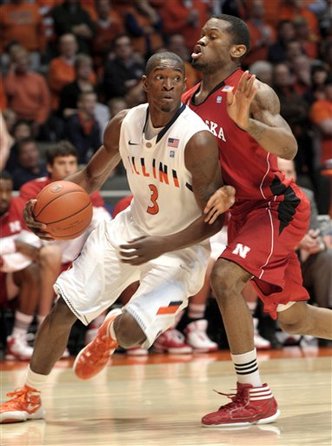 AP Photo
HANGING AROUND
Illinois (14-3, 3-1)

Last week: W 57-56 at Northwestern, W 59-54 vs. Nebraska

Up next: vs. No. 5 Ohio State (today)

The Illini didn't have a pretty week, but they did go 2-0. Illinois came back to nip Northwestern on the road before holding off a rather unimpressive Nebraska bunch at home. Illinois still has the potential to be a sleeper team this season, but it has to start scoring again. The Illini are averaging 60 regulation points per game over its first four Big Ten tilts.

Wisconsin (12-5, 1-3)

Last week: L 63-60 (OT) vs. No. 10 Michigan State, L 59-41 at No. 16 Michigan

Up next: at Purdue (Thursday), vs. Nebraska (Sunday)

The Badgers are off to the worst Big Ten start of Bo Ryan's tenure in Madison, and already have two home losses. Wisconsin hung tough against Michigan State before having its heart broken in overtime, but it looked like an absolute mess on the road at Michigan. The only pass here is that the schedule wasn't exactly forgiving. Oh, and Jordan Taylor looks like a shell of his former self -- shooting 39.5 percent on the year.

Purdue (13-4, 3-1)

Last week: L 65-45 at Penn State, W 79-66 vs. Minnesota

Up next: vs. Wisconsin (Thursday)

I was all set to jump Purdue over Wisconsin, but I remembered: The Boilermakers lost by 20 at Penn State. I know the Nittany Lions are improving, but come on. That can't happen. Purdue can leap the Badgers this week though, as they host Wisconsin on Thursday.

Northwestern (11-4, 1-2)

Last week: L 57-56 vs. Illinois

Up next: at No. 13 Michigan (Wednesday), vs. No. 6 Michigan State (Saturday)

Northwestern had a nice win against Illinois within reach last week, but couldn't seal the deal, falling by a point at home. John Shurna racked up 17 first-half points against the Illini, but when it mattered most, he finished with just three after the half. We'll find out how serious Northwestern is this season soon, they get the Wolverines on the road and the Spartans at home this week.

OUTSIDE LOOKING IN

Iowa (8-7, 2-2)

Last week: W 64-62 at Minnesota, L 76-47 vs. No. 6 Ohio State

Up next: at No. 6 Michigan State (today), vs. No. 13 Michigan (Saturday)

The Hawkeyes made it two in a row by getting by Minnesota on the road, but were absolutely no match for Ohio State at home. Iowa already has seven losses and will likely be up against it most nights, but in no way is an easy win. The Hawkeyes won't contend for a league title this season, but they will give folks fits for the remainder of the year.

Penn State (9-8, 1-3)

Last week: W 64-45 vs. Purdue, L 88-82 vs. No. 12 Indiana

Up next: at Nebraska (Wednesday), vs. Minnesota (Sunday)
Just when you were ready to hand the Nittany Lions the keys to the basement, they go out and redeem themselves. Penn State trampled Purdue by 20 and gave Indiana all it wanted and more before falling by six. The Nittany Lions don't seem to have the horses to compete in this league right now, but they certainly do play hard. A great sign moving forward for Pat Chambers in his rebuilding project.

Minnesota (12-5, 0-4)

Last week: L 64-62 vs. Iowa, L 79-66 vs. Purdue

Up next: at No. 7 Indiana (Thursday), at Penn State (Sunday)

Tubby Smith's club can't get over the hump. Minnesota managed to keep its head above water without Trevor Mbakwe during the non-league portion of the season. Well, no longer. The Gophers have lost four straight to start the Big Ten season and now have to hit the road for two straight. Could get worse before it gets better.

Nebraska (8-7, 0-4)

Last week: L 71-40 at Ohio State, L 59-54 at Illinois

Up next: vs. Penn State (Wednesday), at Wisconsin (Sunday)

Nebraska entered the week looking for its first Big Ten win. The Cornhuskers are still looking. The only silver lining was that the Cornhuskers didn't get blown out in a five-point loss at Illinois. Outside of that game, the Huskers have been overmatched early on.
Nick Baumgardner covers Michigan basketball for AnnArbor.com. He can be reached at 734-623-2514, by email at nickbaumgardner@annarbor.com and followed on Twitter @nickbaumgardner.
Want to stay connected to Wolverine basketball in your Facebook newsfeed? "Like" AnnArbor.com's Michigan Basketball News & Views.