Posted on
Sun, Apr 22, 2012 : 5:59 a.m.
Michigan basketball recruit Spike Albrecht grew up watching Zack Novak, shares his program-first attitude
By Nick Baumgardner
He wasn't aware of it at the time, but Michael Albrecht and Michigan basketball go way back.
More than just a few weeks, more than a month.
Roughly a decade, actually.
"I've been watching Zack Novak play since the first grade," Albrecht recalls. "He was tough back then, too."
No longer a first grader, and no longer the little kid whose obsession with constantly wearing baseball cleats earned him the nickname "Spike," the undersized Indiana-born point guard is ready to do whatever it takes to make an impact in Ann Arbor.
Just like Novak.
"I was going to be happy no matter where I went," Albrecht told AnnArbor.com earlier this week. "But I'm really happy it ended up being Michigan, because it just doesn't get any better."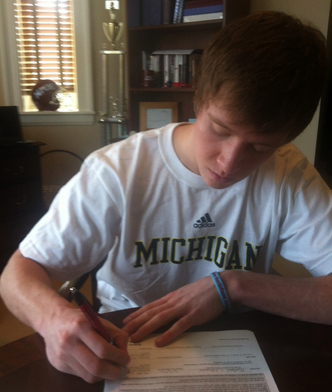 Courtesy John Carroll
Albrecht, a 6-foot-1 point guard from
Northfield Mount Hermon
prep school in Mount Hermon, Mass., became the fourth member of Michigan's 2012 signing class last week.
A player who grew up in the same Hoosier State region as Novak, and fellow Michigan signees Mitch McGary and Glenn Robinson III (both AAU teammates of his), Albrecht starred as a senior at Crown Point High School in Crown Point, Ind.
During his final year of high school ball, Albrecht averaged 21 points and 5.1 assists. But in the eyes of college coaches, it wasn't good enough.
"If you look at me, obviously I'm not overwhelmingly athletic and I'm not going to dazzle anyone, I'm not flashy," Albrecht said. "Coming out of high school, I was playing in the same conference as Mitch, doing really well, scoring, but you're not playing against elite players night in and night out.
"That's why people questioned my game, wondered how I'd do against bigger guards and things like that."
So rather than letting his college basketball dream die, Albrecht enrolled at Northfield Mount Hermon, a school in the prestigious New England Preparatory School Athletic Council.
At NMH, Albrecht got the chance to go head-on with elite players every time out.
And the tougher the competition got, the more he began to shine.
"He just built a great resume as the year went on," said John Carroll, Albrecht's coach at NMH. "He was our tournament MVP, and one thing (Michigan can) expect was what we saw, is that he makes the right decisions.
"He is absolutely clutch."
Albrecht eventually set the school record for assists last season with 241, and also ended his season by leading his club to the NEPSAC Class AAA championship, besting McGary's Brewster Academy club along the way and winning tournament MVP in the process.
But before his season came to a close, Michigan began to take notice.
Albrecht said the Wolverine coaching staff began to make contact with him in early March, long before Trey Burke ever dipped his toes into the NBA testing waters.
The two parties stayed in touch throughout the spring, and Albrecht eventually made his way to Ann Arbor for a visit.
He tried to keep cool on the outside, but inside, he had a one-track mind.
"I was hoping they'd offer me on my visit, I was just waiting, hoping and praying," Albrecht recalls. "Because if they offered, I was committing right on the spot. I guess I'm probably a lot like Zack and Stu (Douglass).
"I didn't start with much, so I've got a lot to prove. I've got to play with a chip on my shoulder and just try to prove people wrong, hopefully."
Michigan coach John Beilein often described Douglass and Novak as a pair of players who were willing to "run through the doors" to play at Michigan. Players that weren't overly hyped in high school, but had an unwavering desire to play basketball in the Big Ten.
Albrecht certainly fits that mold.
Asked what he expects his role to be next season, Albrecht said it's simple, really: to spell Burke, and to help push the co-Big Ten Freshman of the Year each and every day in practice.
Described by Carroll as "the perfect fit" for Beilein's system, Albrecht isn't claiming to be the second coming of Burke or former Michigan point guard Darius Morris.
But he is extremely cerebral. And he's willing to do whatever is necessary to prove he belongs at Michigan, and in the Big Ten.
"I know my role with Trey coming back, he's a phenomenal player," said Albrecht, who hasn't met Burke. "I don't care how much I play, I'm just going to work hard and try my best to help make him better and just be a good teammate.
"(Playing behind Burke will) give me a chance to learn from him and to compete with him every day in practice. I can't wait to work with him."
With Albrecht on board, Michigan now has a valuable piece it didn't have a year ago: a true backup point guard for Burke.
And, perhaps more importantly, Beilein seems to have found another program-first player who would seemingly give the shirt off his own back for a chance to play at a school like Michigan.
Just like Douglass. And just like Novak.
He's not flashy. He's not big. He's not wowing anyone with his athleticism.
But he's a Big Ten basketball player. And one way or another, he intends on letting everyone know exactly why.
"Playing in the Big Ten is something I always wanted, everyone dream's about that growing up in Indiana," Albrecht says. "People from my area look at Zack and they're amazed with what he's done at Michigan. Everyone loves him and he's just a role model to a lot of kids in that area, from what he's gone through to play at Michigan.
"I guess coach Beilein likes the way those Indiana boys play."
Apparently so.
Nick Baumgardner covers Michigan basketball for AnnArbor.com. He can be reached at 734-623-2514, by email at nickbaumgardner@annarbor.com and followed on Twitter @nickbaumgardner.
Want to stay connected to Wolverine basketball in your Facebook newsfeed? "Like" AnnArbor.com's Michigan Basketball News & Views.